New connected solution for efficient management of your district energy system
With our new and improved SCADA solution you can achieve more control of your district energy system with less effort
Optimize your network with Leanheat® Monitor
Leanheat® Monitor is built on strong bases of already established Danfoss solutions with new and improved features for remote monitoring, control and optimization of your district heating.
A reliable and stable control & monitoring solution brings you a cost-effective and energy efficient management. And it lays the foundations for the connected future of your district energy system.
With Leanheat® Monitor you are ready for the next step in the changing world of district energy.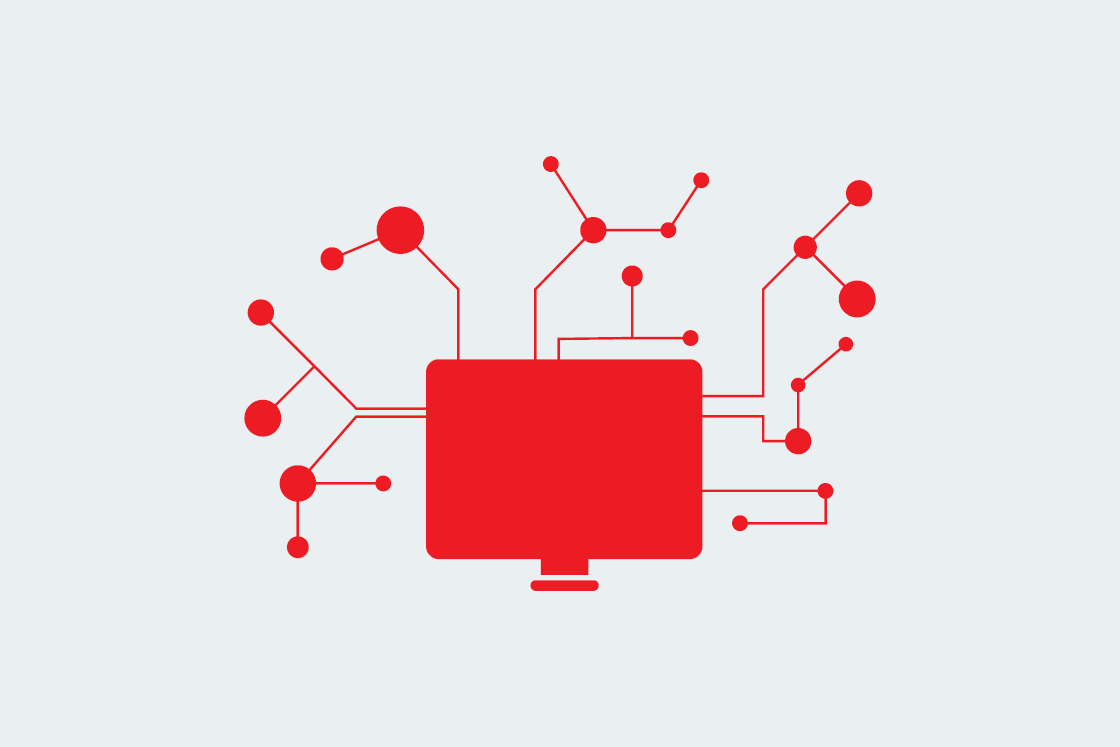 New connected solution for efficient management of your district energy system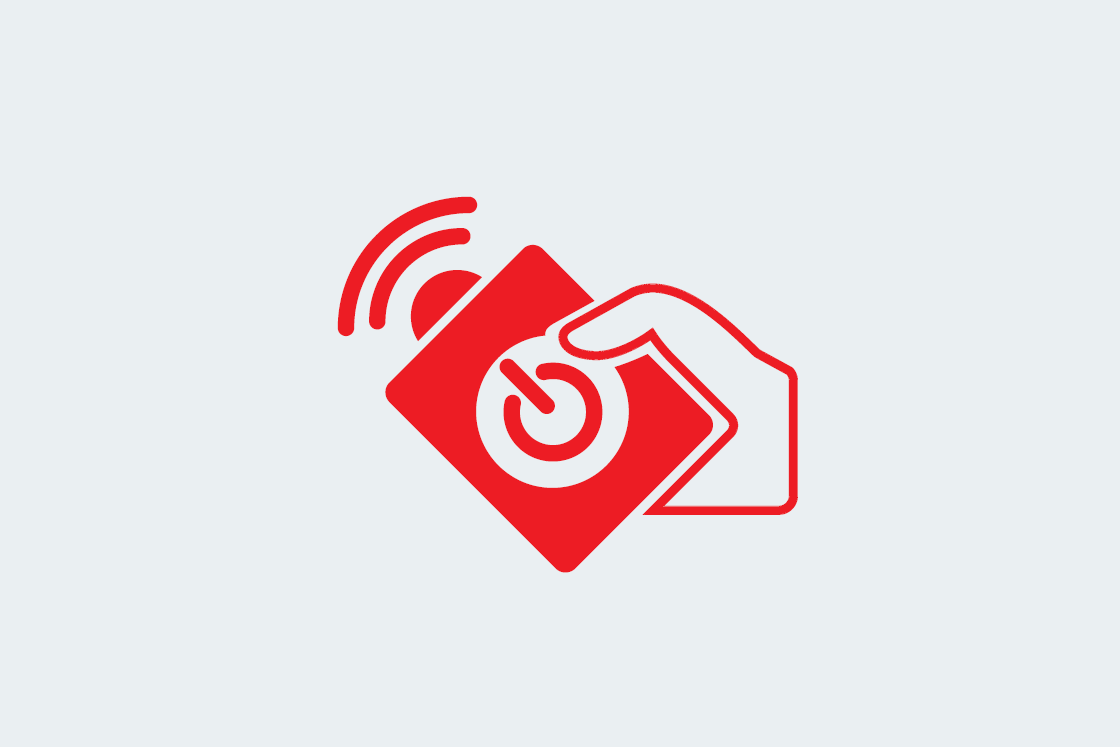 Improve efficiency and control of your operation management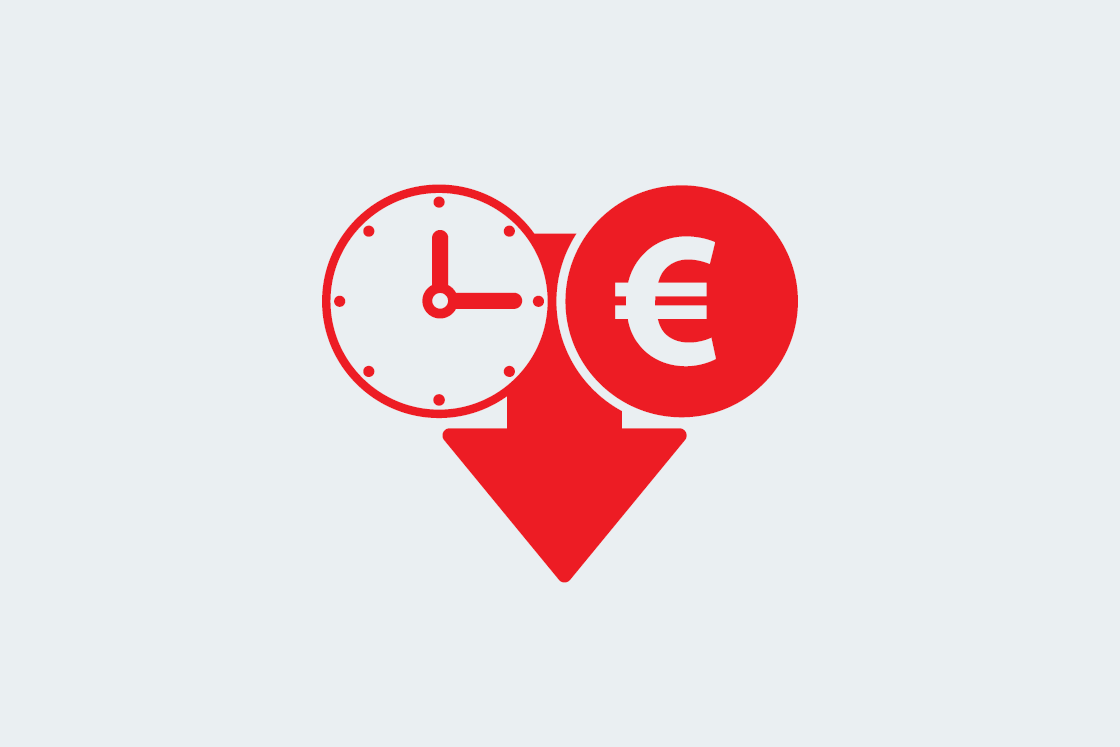 Save time and money by using modern SCADA solution
Features and benefits
Open, connected and transparent 
Connect with any device using standard communication
Easy integration with business intelligence and optimization solutions
Part of Danfoss Leanheat® - Software Suite & Services
Modern web-based solution
Always up-to-date: the latest version automatically available for your use
Clear and customizable user interface
Access from anywhere and from any device (mobile & desktop compatible)
Trusted security mechanisms for safe and secured data storage
Customized for district energy
Improve understanding of actual state of your system with actionable information insights (key performance indicators) on dashboard and flow-diagrams
Work faster with predefined templates for e.g. reports and alarms, or customize them according to your needs
Integrate new devices with ease using auto-commisioning functions for Danfoss ECL controllers. Go from connecting an ECL to having flow-diagram visualized on your screen in less than 1 minute
Lower investment and predictable operation costs
Lower your total cost of ownership and improve return on investment
Reduced IT investments and maintenance costs using software as a service
No local IT infrastructure and knowledge required
Unlock your resources to focus on your primary business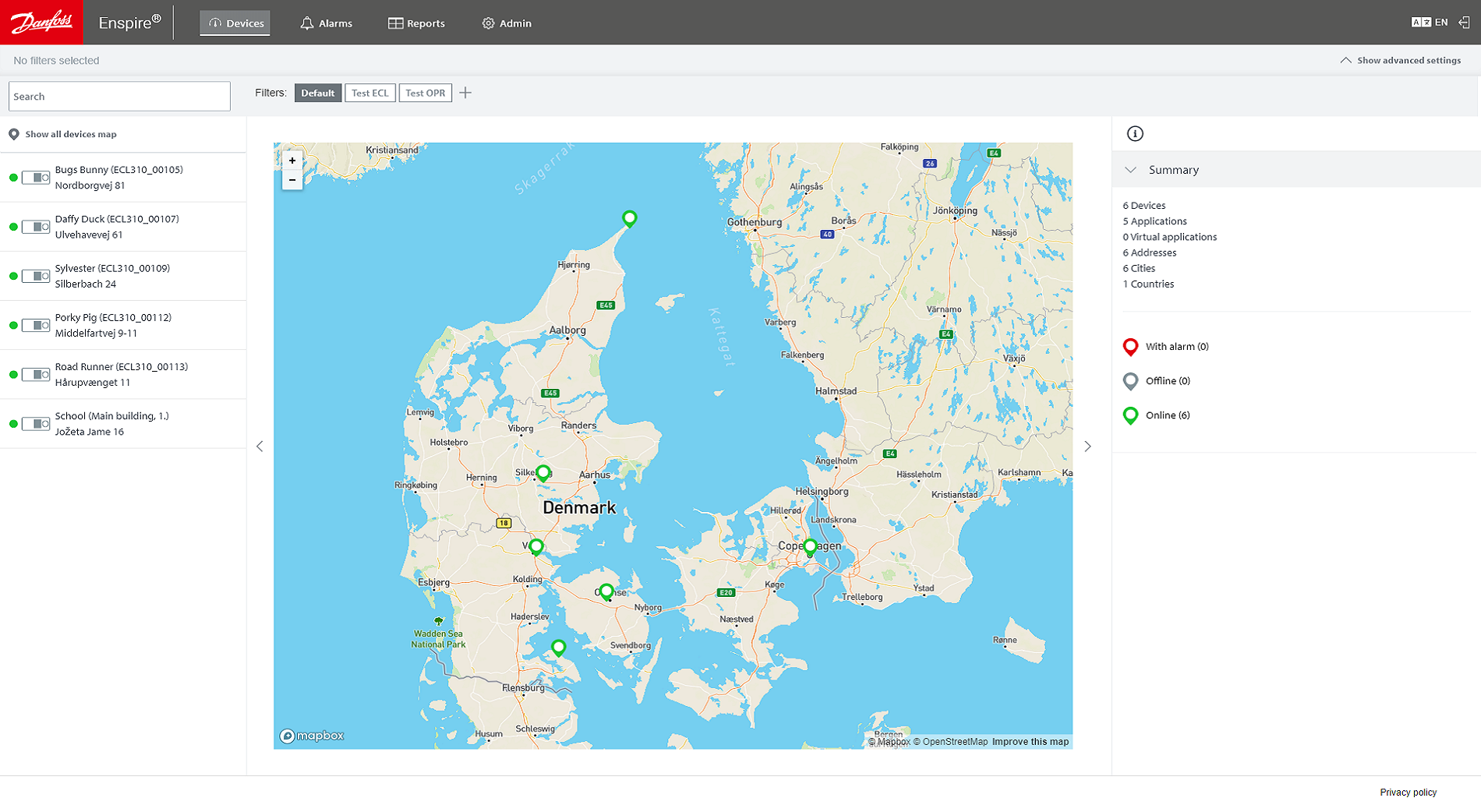 Devices overview
Transparent overview of all devices on one screen (online & offline devices, devices with & without alarms) and overall energy consumption.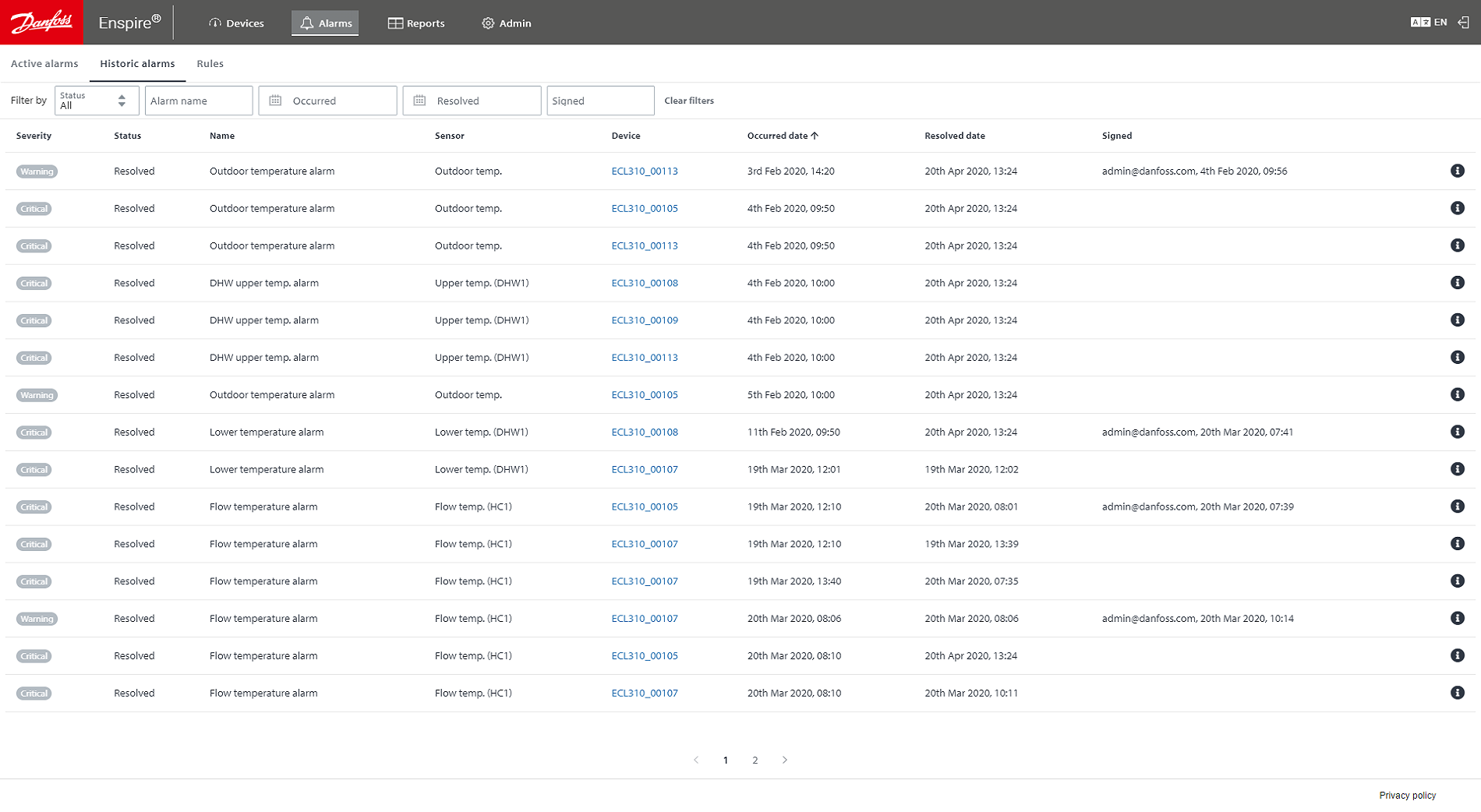 Alarming
Overview of alarms. Use filters to filter alarms by state (active, inactive, signed, unsigned), date or date range.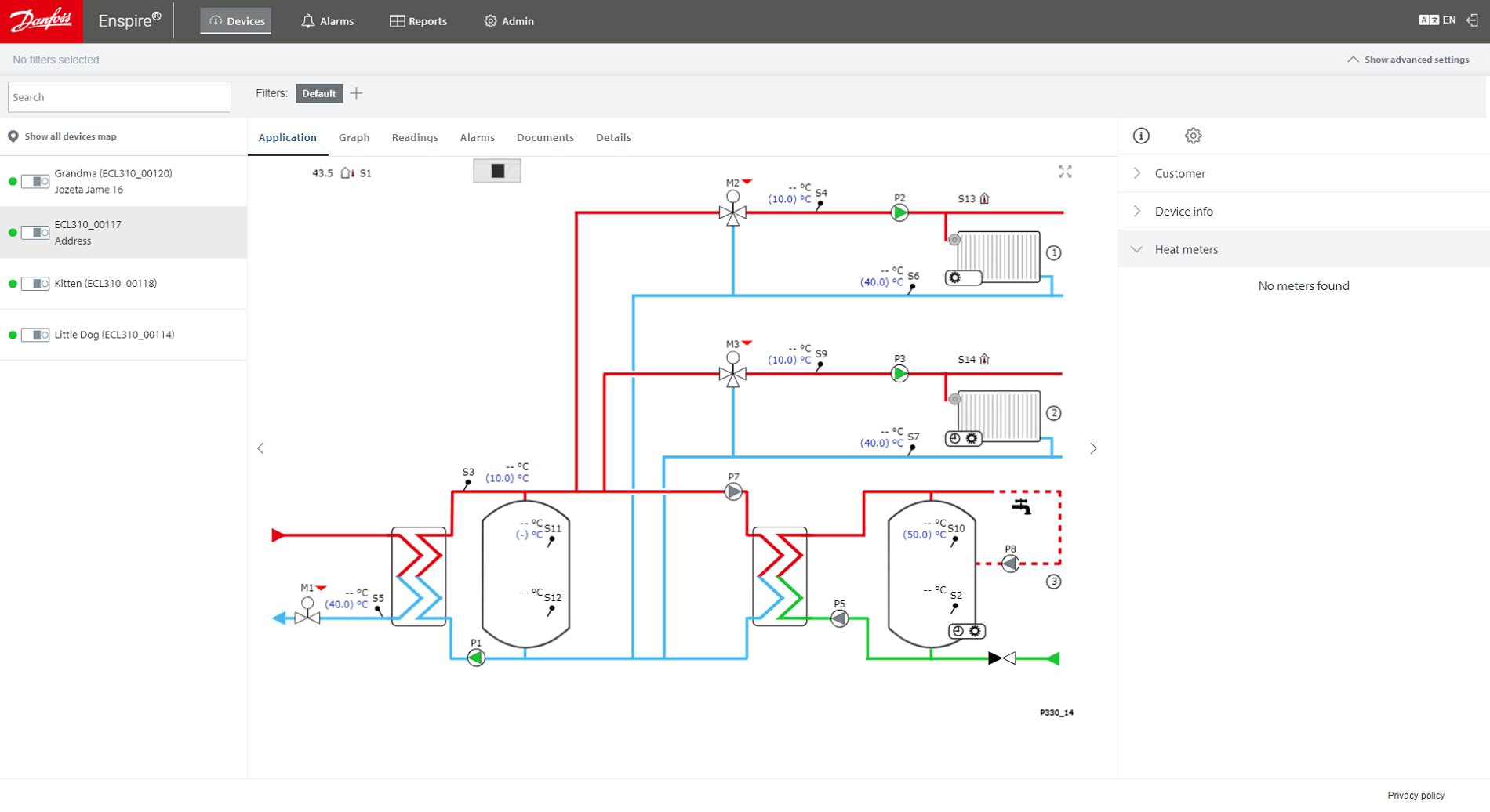 Flow diagram
Heating system flow diagram with Info & Settings dashboard allows easy interpretation of current status and change of all controller settings.
Graphs
All measurements can be shown graphically, to allow easy interpretation, analysis and comparison of data.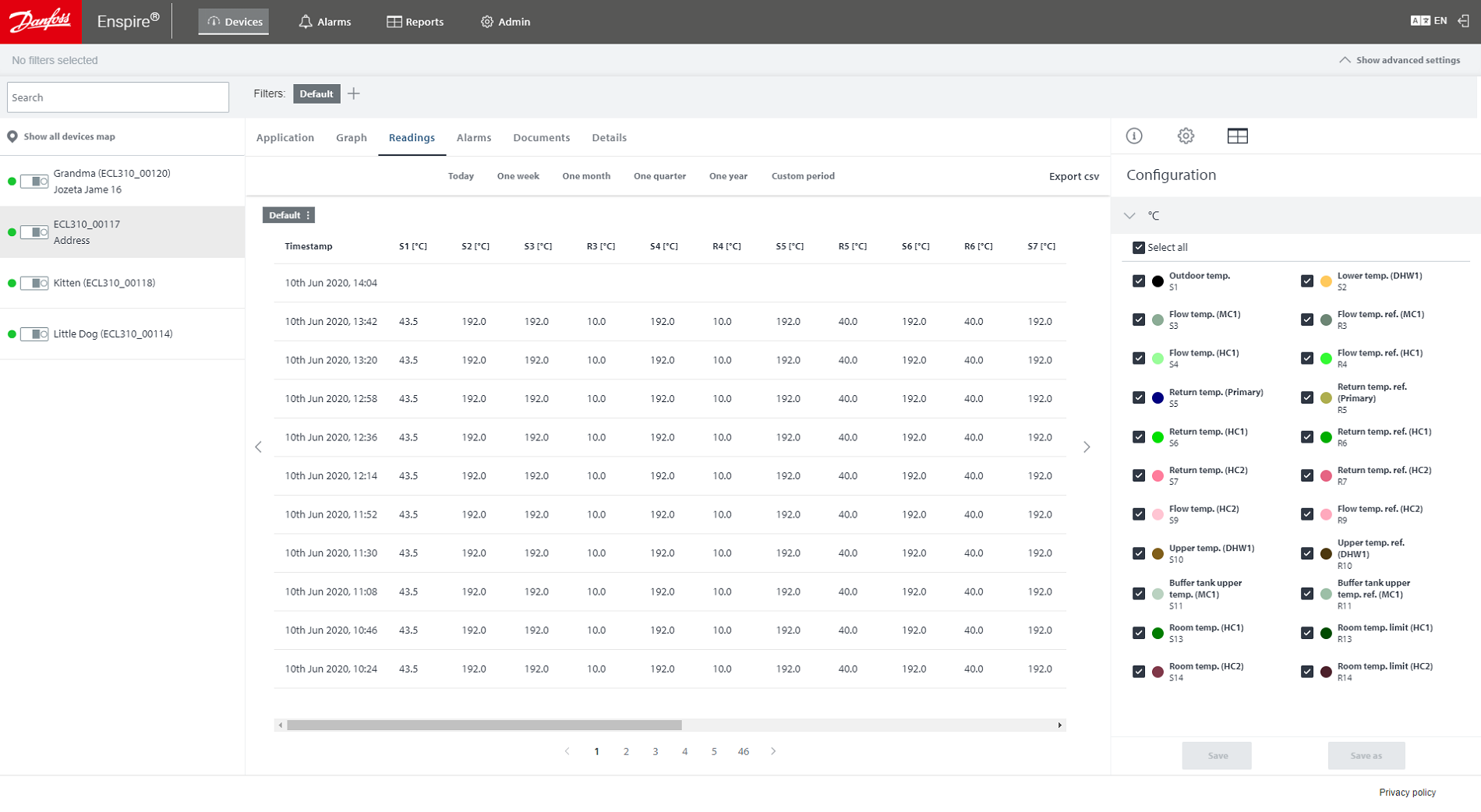 Readings
Use predefined report templates or create your own one-time or automated reports, with integrated report designing tool.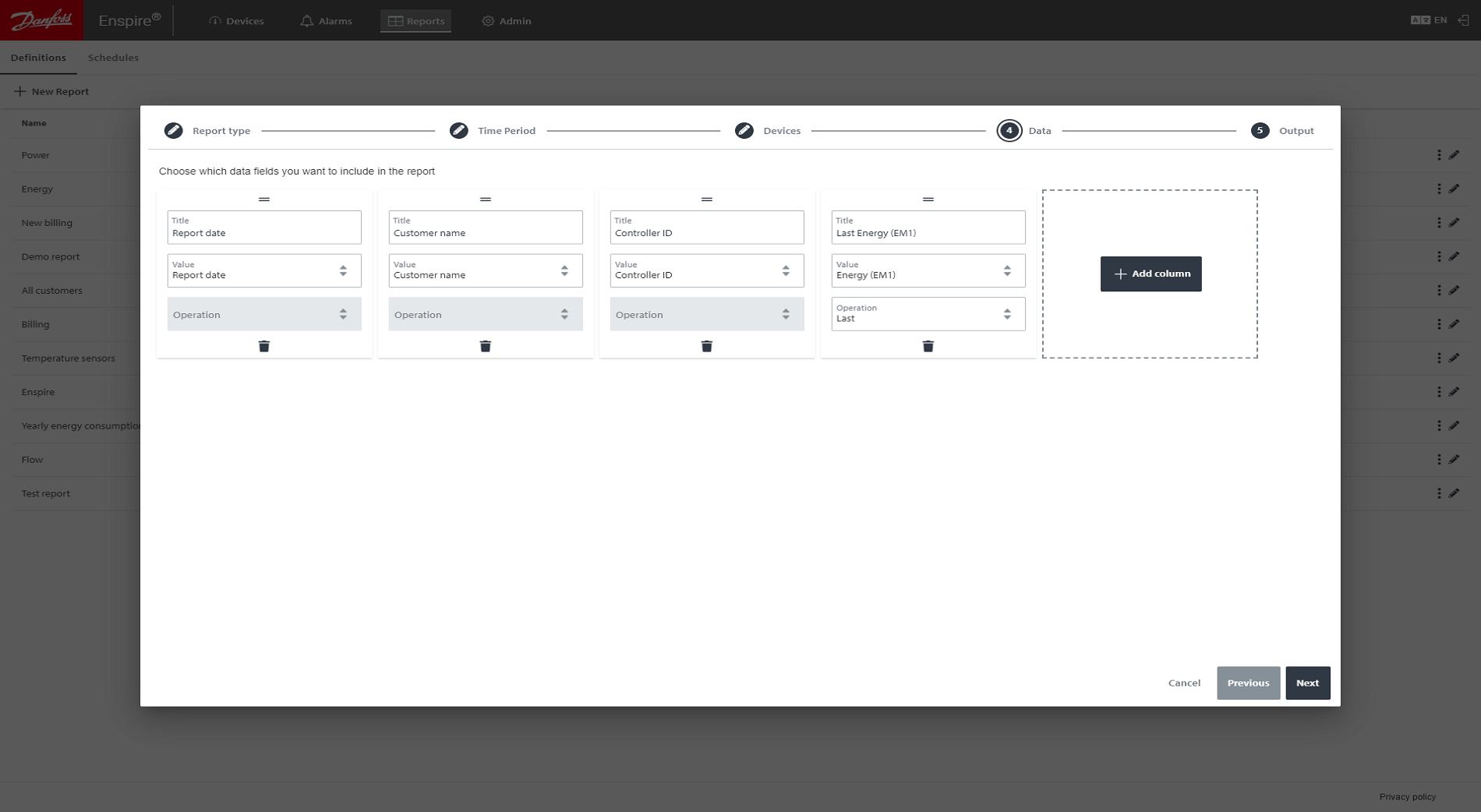 Reportings
Generate reports for a certain time period and selected parameters. The reporting feature allows you to track report history, while your reports are generated and send directly to your email. 

Improve and control your operation management with Leanheat® Monitor
Leanheat® Monitor demo video
Documents

| Type | Name | Language | Valid for | Updated | Download | File type |
| --- | --- | --- | --- | --- | --- | --- |
| Data sheet | Danfoss Enspire® | German | Multiple | 06 Oct, 2020 | 577.6 KB | .pdf |
| Data sheet | Danfoss Leanheat® Monitor | English | Multiple | 14 Sep, 2021 | 1.4 MB | .pdf |
| Service guide | ECL 296 / 310 Modbus service guide | English | Multiple | 17 Aug, 2018 | 1.3 MB | .pdf |
| Service guide | ECL296/310 Modbus service guide | German | Multiple | 09 Dec, 2019 | 1.3 MB | .pdf |
| Data sheet | Energy meters supported by Danfoss SCADA solutions | English | Multiple | 14 Sep, 2021 | 470.6 KB | .pdf |
| Data sheet | Enspire® - list of supported application keys | English | Multiple | 25 Apr, 2018 | 201.7 KB | .pdf |
| Brochure | Leanheat Monitor | German | Germany | 04 Jun, 2021 | 1.3 MB | .pdf |
| Brochure | Leanheat Monitor | English | Multiple | 22 Jan, 2021 | 1.0 MB | .pdf |
Coming soon...
Coming soon...
What are the benefits of a hosted solution compared to local installations?
Improved performance – your local PC is not your bottleneck
Unmatchable security – GDPR compliant
- All customer sensitive data is
encrypted from the controller on
- All stored data is encrypted
- Access to system is encrypted (https) and protected with user authentication
- All data transactions (reading, storing, modifying) is traced
- Datacenters are physically
protected against unauthorized
access, fire and floods
- Our datacenter provider invests 2b EUR annually for data security and has over 40 security certificates globally
Improved accessibility & productivity – access the system from anywhere you have internet access
Improved reliability – multiple
level redundancy assures 99,8% system availability
Lower costs – with "Software as a Service" model, you don't need to invest in expensive licenses.
Global, but local – datacenters can in most cases be restricted only to your country, so no data »crosses the border«
How is district energy system optimized with Leanheat® Monitor?
Leanheat® Monitor enables you to connect all different parts of your district energy system, such as heat meters, substations, production units, network measurements, etc. and also third-party sources (e.g. weather forecast) into one secure system.
This data can then be used for optimization of your system using Danfoss optimization solutions like Leanheat® Network & Leanheat® Building (in a plug & play manner) or any third-party optimization solution using standard API interface.