Annual Report 2017
2017 saw our highest growth in six years, strong earnings and massive investments in the future.
Watch President & CEO Kim Fausing talk about Danfoss' strong results for 2017.
"Throughout the year, we have seen extraordinary, high growth and we delivered a strong bottom-line. At the same time, we have made significant investments in growth initiatives and digitalization and we acquired several key technologies that will help us retain our position as a leading technology provider, thereby creating the best possible value for our customers," says President & CEO Kim Fausing.
Key highlights: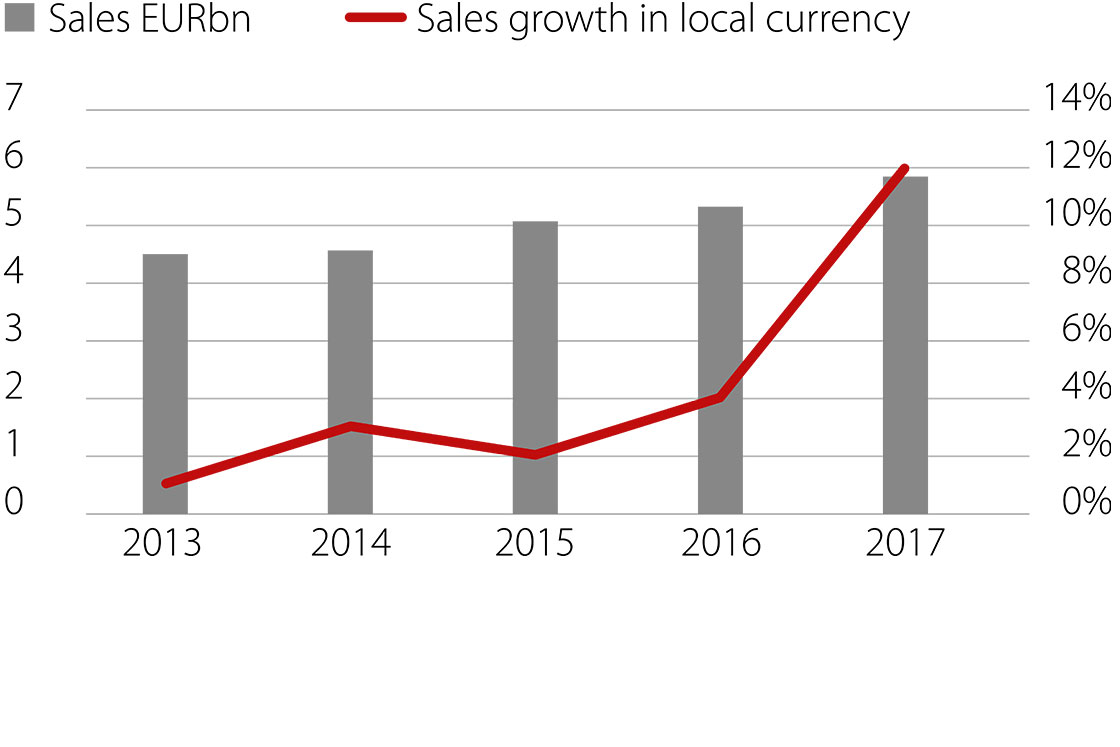 Highest growth in six years
During 2017, we harvested from our targeted efforts to accelerate growth. Sales increased 10%, or by more than EUR 550m, to reach EUR 5.8bn. The growth corresponds to 12% growth in local currency, which includes organic as well as acquisitive growth.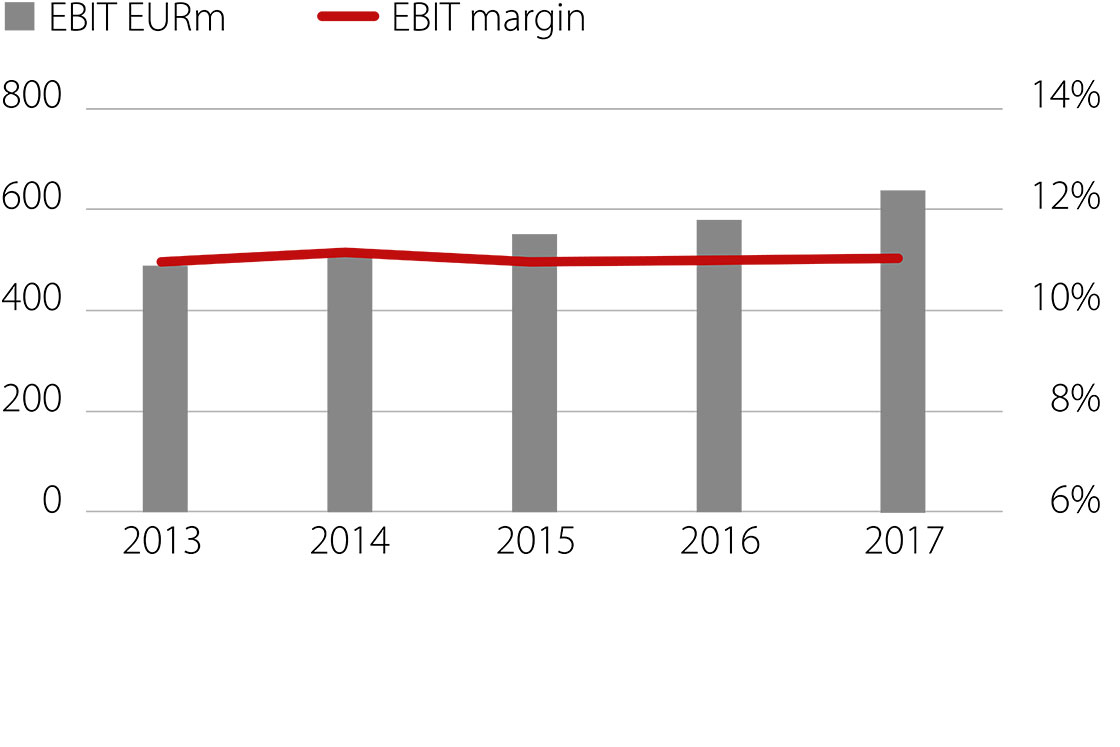 Strong earnings
Danfoss drives profitable growth. Operating profit (EBIT) improved 13%, or by more than EUR 70m, to reach EUR 645m, leading to an EBIT margin of 11.1%. Net profit improved 13% to reach EUR 445m.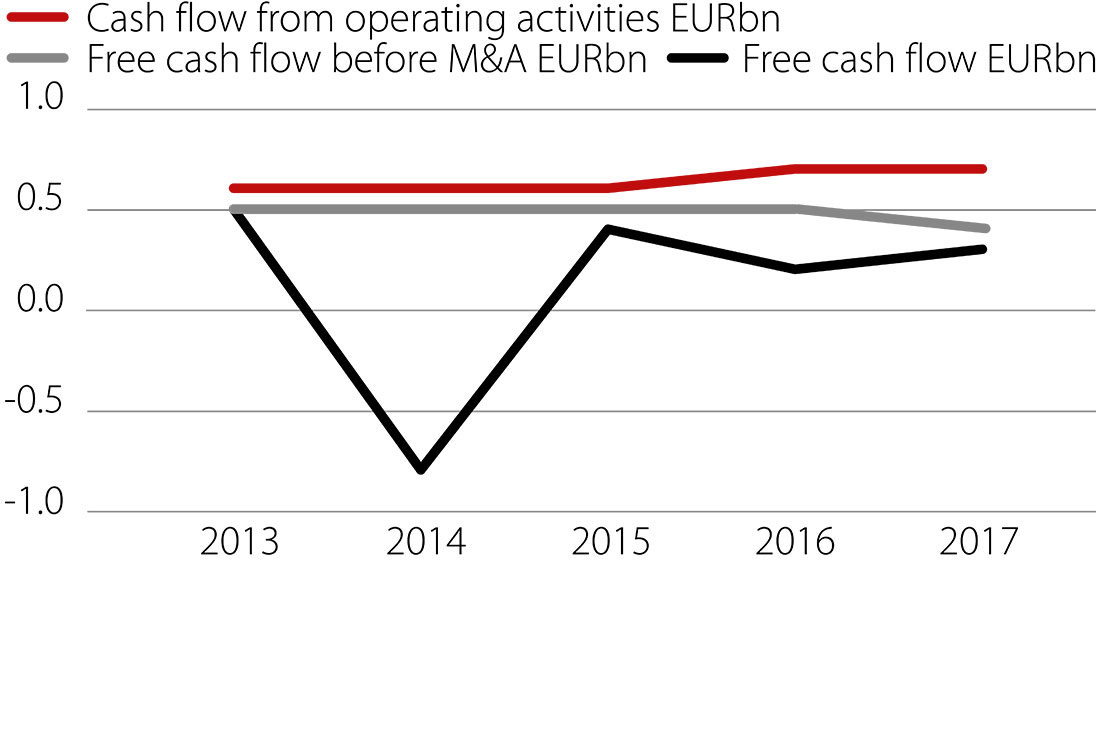 Strong cash flow used for acquisitions
Cash performance for 2017 was driven by a strong cash generation across the Group. Cash generation was kept high with a free cash flow before mergers and acquisitions of EUR 445m and a free cash flow of EUR 337m.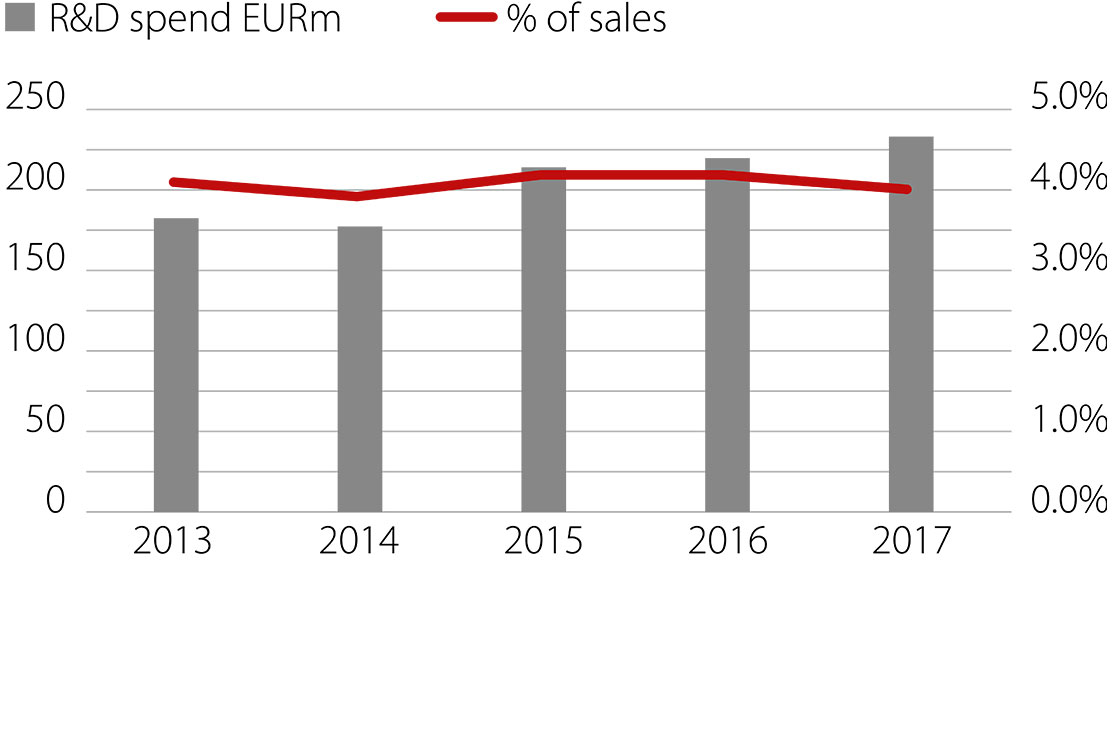 Growing innovation spend for digitalization
The research and development spend grew 6%, or by more than EUR 12m, to reach EUR 234, corresponding to 4.0% of sales. Innovation activities were focused around the digitalization of the portfolio and on developing energy-efficient and value-added solutions in core business segments.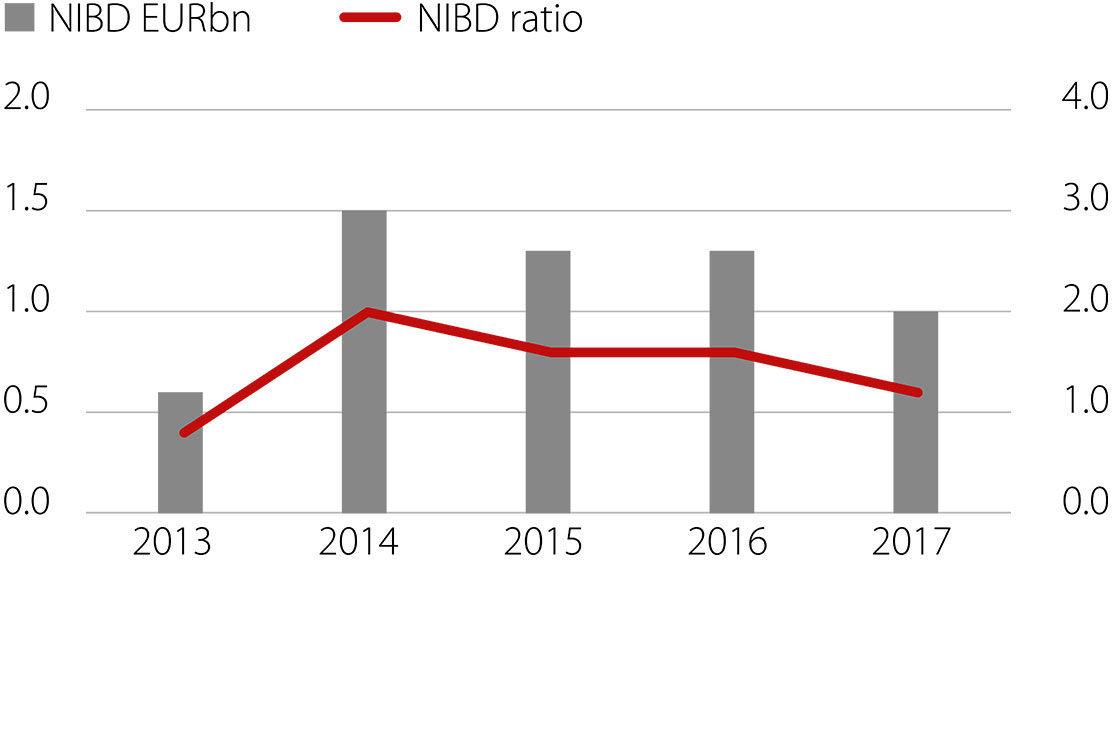 Reduced net interest-bearing debt
On December 31, 2017, our net interest-bearing debt was EUR 1.1bn, leading to a net interest-bearing debt to EBITDA ratio of 1.2 compared to 1.6 in 2016.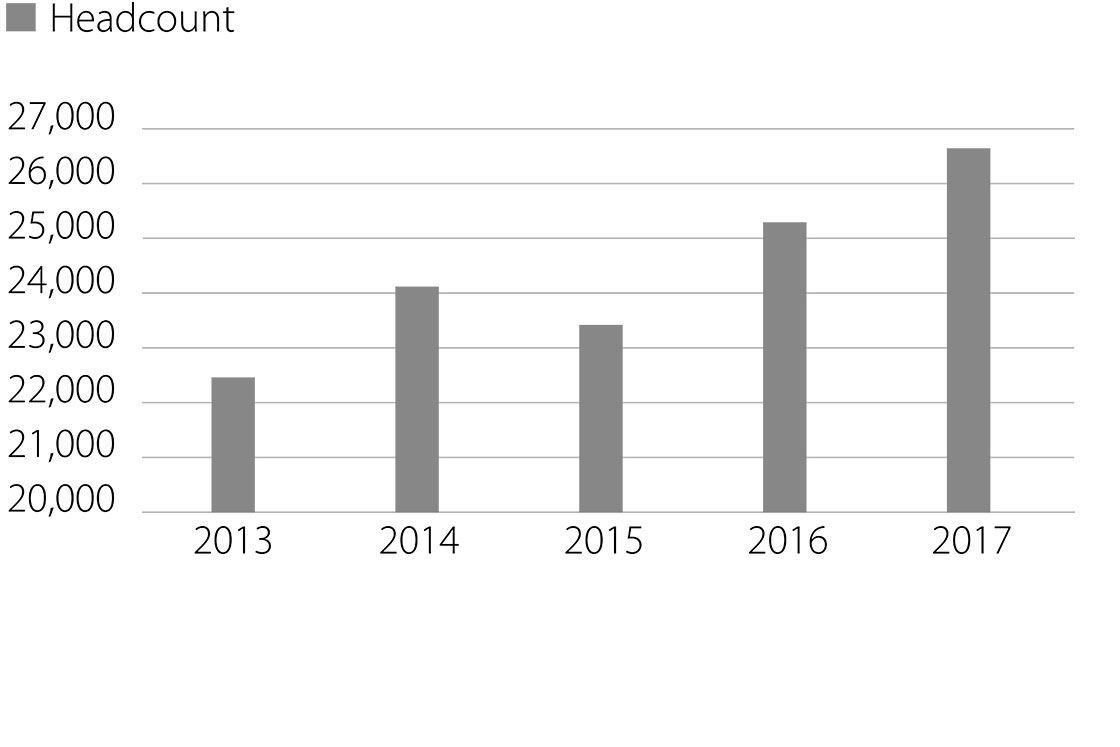 Number of employees up
At year-end, the Danfoss Group had 26,645 employees compared to 25,292 in 2016. The increase is mainly due to the higher activity level.
Supplementary reports 2017: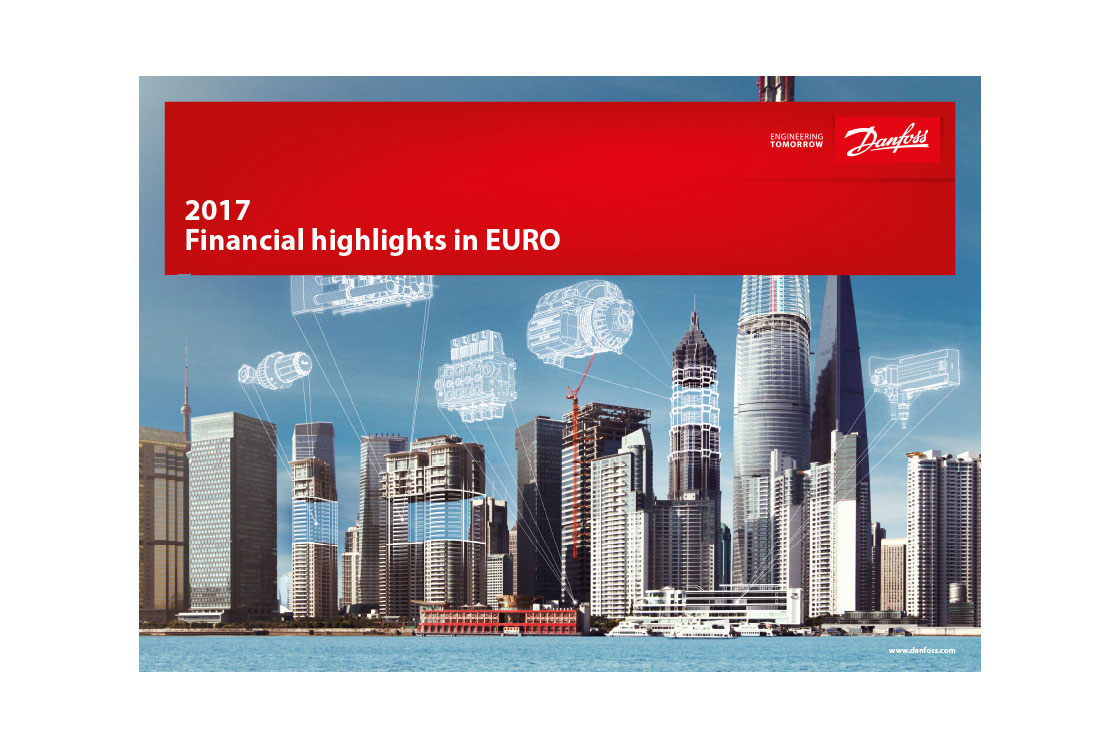 Financial highlights in EUROS
Here you can see key financial figures, income statements, statements of financial position and the cash flow statement with numbers in EURO.
Sustainability Report
This report provides an insight into our initiatives within corporate social responsibility and constitutes the Danfoss Group's "Communication on Progress" (COP) under the UN Global Compact.
Explore more about Danfoss and our business