Our SONDEX® SondBlock heat exchangers (SB/SBL) are designed for the most challenging applications that require the utmost in thermal performance and involve aggressive media, extreme temperatures, and/or high pressure. Such duties are typically solved using large, ineffective shell and tube heat exchangers. However, SondBlock heat exchangers offer better thermal performance and other distinct advantages over their shell and tube cousins. Block heat exchangers in general mark the beginning of a new era of efficient heat transfer, even for the most challenging applications.
What does that mean for you?
As SondBlock heat exchangers are based on plate technology rather than tubes, they need significantly less surface area for efficient performance. The higher heat transfer coefficient achievable with plates allows our engineers to make a heat transfer solution that significantly minimizes installation space requirements and reduces weight compared to shell and tube exchanger.
If you need a heat exchanger constructed from titanium, nickel-based alloys, or other exotic materials, the compact design of the SondBlock substantially reduces the cost of each unit compared to the shell and tube equivalent.
The core of the SondBlock is a fully welded plate pack. The corrugated plate pattern creates a turbulent flow that diminishes the risk of fouling considerably and greatly improves the performance of the heat exchanger, making Sondblock heat exchangers an excellent choice for challenging duties.
Plates also provide a more even flow distribution and much better surface utilization, especially if the heat exchanger needs to be a multi-pass solution.
Easy, infrequent maintenance and cleaning
Apart from poor thermal performance another drawback of shell and tube heat exchangers is the need for frequent cleaning which leads to severe production loss. SondBlock heat exchangers are much less prone to fouling and clogging and only require occasional inspection and cleaning.
Maintenance and cleaning is less time consuming and space demanding as all the panels on the heat exchanger can easily be removed. The entire plate pack is accessible from all sides with no additional space required.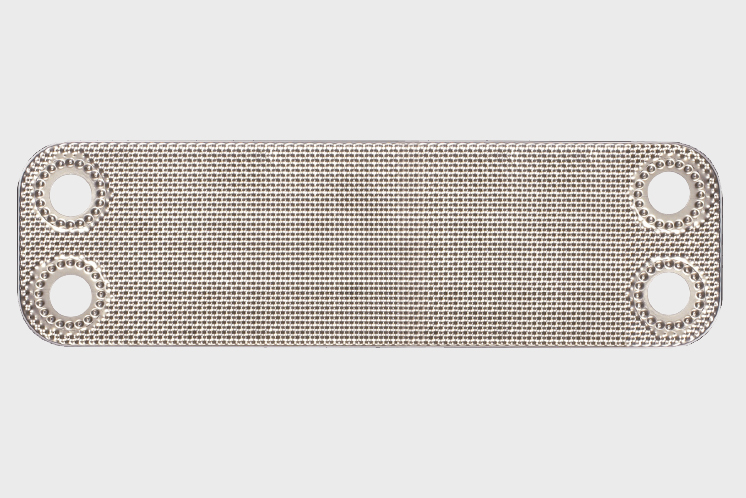 Micro plate technology
Our heat exchangers with the new state-of-the art Micro Plate™ technology feature next-generation efficiency and performance – giving you more from your district heating and cooling applications.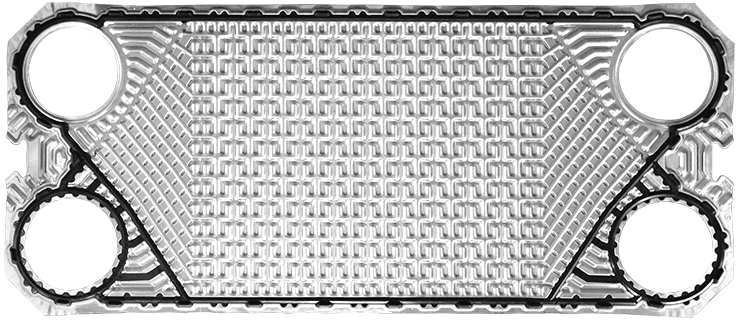 SONDEX® Free flow patterns
The SONDEX® Free Flow pattern is designed to treat media that is unsuitable for regular heat exchangers due to high viscosity, fiber and particle contents, or considerable risk of fouling.
Applications
HVAC industry
Pulp and paper industry
Heavy industry
Mining industry
Petrochemical industry
Chemical industry
Oil and gas production
Steam heaters and reboilers
Partial condensers without condensate sub-cooling
Partial condensers with condensate sub-cooling
Technical specifications
Connections from DN50 to DN1000
(Frames designed according to FEA and PED 2014/68/EU (EN13445) and ASME sec VIII, Div. 1 construction standards)
Plates made from AISI 304/316, titanium. Other materials available upon request
Shell materials: Carbon steel, stainless steel
Working pressure up to 25 bar (363psi). Higher pressure available upon request
Working temperature -40 °C up to 300 °C (-40 °F to 572 °F). Higher temperatures available upon request
Features and benefits
Perfect as condensers that can be configured to handle duties with or without condensate sub-cooling. SondBlock heat exchangers are also good choices as steam heaters or reboilers for non-cyclic duties, and a smooth and stable steam control system.
A very durable heat exchanger that excels at handling aggressive and fouling media. Able to handle aggressive media on both sides, it is a perfect solution for crude oil refineries and petrochemical plants. A top choice for the most challenging duties.
Increased production output due to the extended uptime of the heat exchanger. Very low maintenance and service requirements. Removable side panels provide fast and easy access to the plate pack for inspection or cleaning.
What kind of heat exchanger is right for me?
The choice of heat exchanger depends on many factors. Our skilled sales engineers design the heat exchanger with the appropriate dimensions and correct specifications based on your input and requirements, to ensure that you receive a quality solution that performs optimally.
Which certificates are available for the heat exchangers?
Our heat exchangers are approved and certified according to industry standards and requirements. For specific details, please reach out to your local SONDEX® brand sales representative.
Where can I get a price list?
Please contact your local SONDEX® brand sales responsible.
How can I get a quotation?
Please contact your local SONDEX® brand sales office. For the most accurate quotation, please prepare the following data:
Duty,
Type of media,
Pressure drop,
Flow rate,
Working pressure,
Thermodynamic properties, Temperature,
Working temperature.