Larger ICF valves to meet your needs
With the larger ICF 50-4 and ICF 65-3 valves, the ICF Flexline™ range covers every DIN size, from DIN 15 to DIN 65, allowing industrial refrigeration operators and installation designers to get all their valves from one trusted global supplier. Both the ICF 50-4 and ICF 65-3 offer the unique modularity and easy installation that have made the Flexline™ range the valve range of choice for refrigeration systems.
Modularity means design freedom
Both valves come pre-fitted with an SVA-S stop valve in the first of its module ports and the ICF 50-4 offers the option of inserting an FIA strainer after the first stop valve. In the central module, one of three regulation valves from the Danfoss ICF Flexline™ range can be fitted: the ICS servo operated valve, the ICM motor valve, or the ICLX two-step solenoid valve. The final module port can accommodate a second SVA-S stop valve or a REG-SB regulation valve. Additional side ports allow directly connecting a defrost drain line or for easy service and measurements.
Increased capacity and lower pressure drop
ICF valves have been rigorously tested at the Danish Technological Institute, revealing that the ICF 50-4 operates at a 36% higher capacity than comparable valves. Furthermore, market alternatives have been proven to have a pressure drop 86% higher than the Danfoss ICF 50-4 at comparable cooling capacities. The result is a significantly more efficient valve.
Future-proof space savers
In today's industrial refrigeration, the ability to choose future-proof refrigerants is a vital aspect of planning. All Danfoss Flexline™ valves are perfectly suited for refrigerants such as CO2, ammonia, HCFC, and non-flammable HFC, and can be used in high-pressure installations with an operating pressure of up to 755 psi. With their compact dimensions and minimum number of welds, the new and larger ICF 50-4 65-3 valves allow for easier and faster system design and installation—and reduced service and operational costs.
Features and benefits
Higher capacity and lower pressure drop
Defrost connection saves time and optimizes valve insulation
Saves energy and reduces your environmental impact
Increases system performance
Ideal for high pressure refrigerants
Fewer welds for minimum leak risk
Modular concept with functional inserts
New ICF 50-4 and ICF 65-3
Find more information about the ICF 50 & 65 product range in the dedicated brochure.
Documents

| Type | Name | Language | Valid for | Updated | Download | File type |
| --- | --- | --- | --- | --- | --- | --- |
| Application guide | Application Handbook - Automatic Controls for Industrial Refrigeration Systems | English | Multiple | 10 Oct, 2022 | 8.4 MB | .pdf |
| Brochure | ICF Large | English | Multiple | 08 Dec, 2015 | 3.0 MB | .pdf |
| Data sheet | Spare parts and accessories, Valve station types ICF 15, ICF EVRAT, ICF 20, ICF 25, ICF SS 20, ICF SS 25, ICF 50, ICF 65 | English | Multiple | 11 Mar, 2022 | 3.4 MB | .pdf |
| Installation guide | Valve station ICF 50-4 and ICF 65-3 | German; English; Spanish, Castilian; French; Polish; Portuguese; Russian; Chinese (CN) | Multiple | 22 Nov, 2022 | 3.7 MB | .pdf |
| Data sheet | Valve station, type ICF 15, ICF 20, ICF 25, ICF 50 and ICF 65 | English | Multiple | 09 Feb, 2023 | 22.5 MB | .pdf |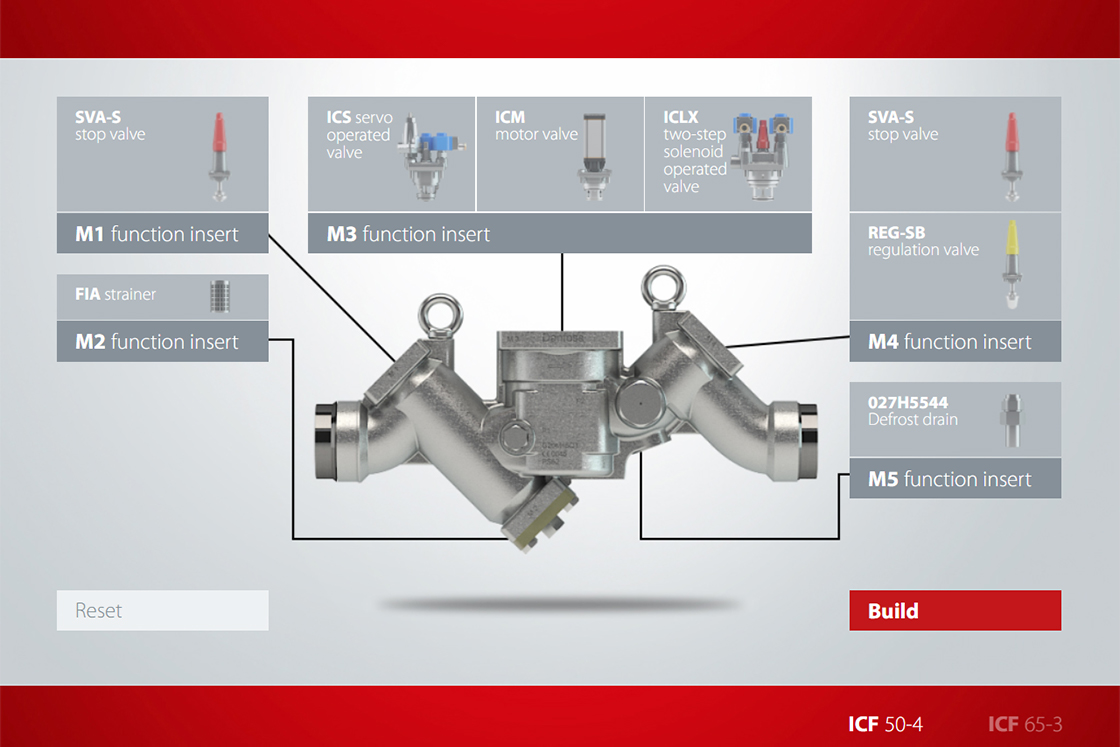 Try the ICF Flexline™ interactive tool!
ICF valves for industrial refrigeration systems - try the online interactive application tool to build and learn more.