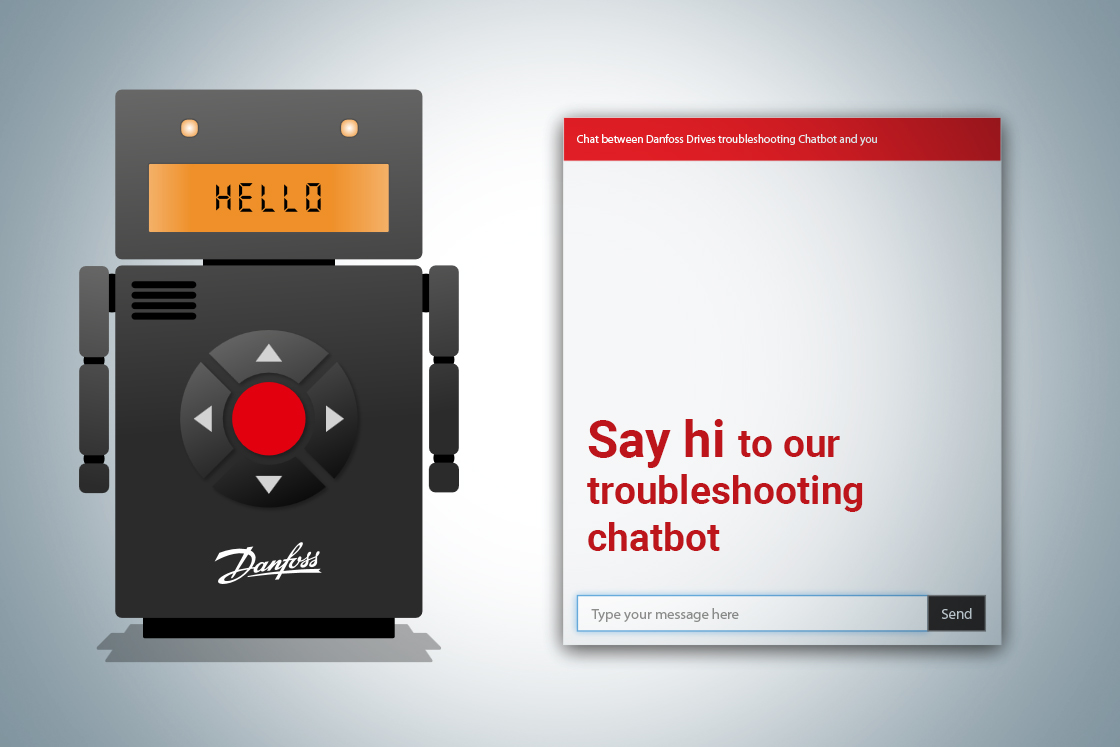 Danfoss Drives just got a new employee who doesn't sleep, has an inhumanly steep learning curve and is available around the clock! So, customers who get a warning, alarm or fault code in their drive and have no user guide nearby to search for information need not to worry! The 'Danfoss Drives troubleshooting chatbot'  has been launched to provide immediate customer support.
A real-time simulated conversation with a computer software really is the new black in our increasingly digital world. Most of us know chatbots already, but in the drives business, it's never-before-seen. The Danfoss Drives troubleshooting chatbot will benefit customers who will experience faster-than-lightning responses to their drive-related headaches around the clock. Danfoss Drives' new technical colleague offers targeted, fast, easy and relevant product troubleshooting in the blink of an eye.
The English-speaking chatbot is estimated to save Danfoss customers' time by quickly finding responses to warning, alarm and fault codes in the drive. Having a bot will elevate the digital customer experience and enable the customer to communicate with Danfoss in a modern way. It's a new way of sharing information in an instant!
Danfoss' new troubleshooter is off to a good start and already knows all the codes for warnings, alarms and faults of all VACON® and VLT® key products. The next learning objectives for this new colleague include the ability to perform programming and installation support and the chatbot will be constantly improved for the benefit of all customers.
The chatbot is Danfoss Drives' first customer front-end application, in which targeted modules of information are released instead of full user guides. And in the future, the modular sharing of pieces of information will be more and more relevant in IoT, AR/VR applications and other digital platforms.
The bot works well on all devices as well as both Android and IOS. When using the bot on desktop, Chrome offers the best user experience.
Read more on our blog FocusOnDrives