Installing Coolselector®2
In order to get Coolselector®2 up and running, if you have not done so already, you can download and install Coolselector®2 from right here by clicking on the button below.
Coolselector®2 is free to use and runs on all Windows PCs.
If you are running a mac or other non-Windows PC, you can access Coolselector®2 online from http://coolselectoronline.danfoss.com.
Download Coolselector®2
Check for latest version
Before you start using the standard PC version of Coolselector®2, please make sure you have the latest version, by going to the "About | Updates" menu: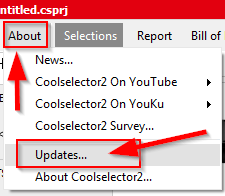 Once you see the Updates screen, click on the "Check for new version" button: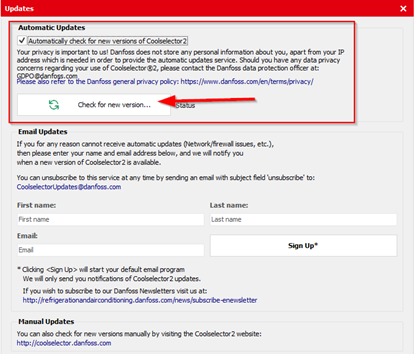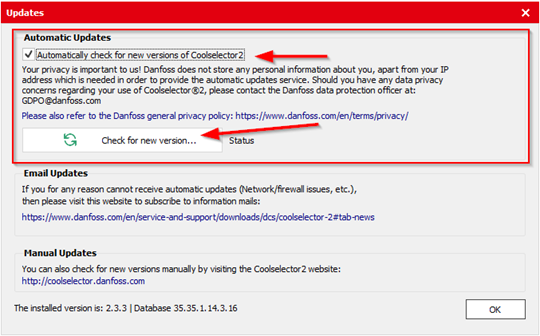 Note that if you cannot update automatically (i.e. due to your company policies), it is possible to subscribe to an email service, which will notify you whenever a new version is released - go to the 'News' section of this page to subscribe.
Once you have clicked the button, Coolselector®2 will notify you if there is a newer version available. If that is the case, you can install the new version directly from the prompt.
Latest Changes
To see the latest changes in Coolselector®2, go to the "About | About Coolselector2" menu and press the <Changelog> button: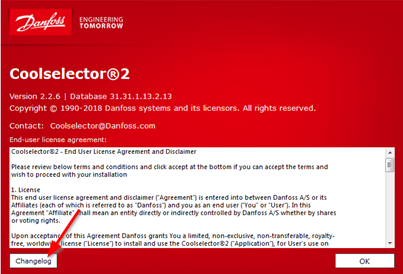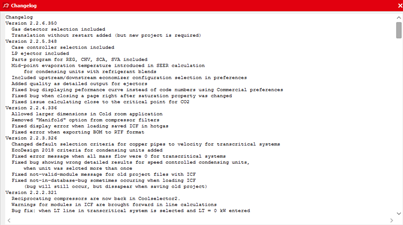 Also, check out the "About | News" menu item for new product releases.
Training Videos
Our training videos are constructed to give you an introduction to each of the main areas of Coolselector®2. The videos show examples of use cases as well as useful tips and tricks for every day use.
Documents

| Type | Name | Language | Valid for | Updated | Download | File type |
| --- | --- | --- | --- | --- | --- | --- |
| Promotion material | Coolselector®2 Exercises | English | Multiple | 04 Jun, 2019 | 13.5 MB | .pdf |
| Installation guide | Coolselector®2 Server Installation Guide | English | Multiple | 18 Nov, 2020 | 1.2 MB | .pdf |
| User guide | Coolselector®2 User Guide | English | Multiple | 04 Jun, 2019 | 4.4 MB | .pdf |
| User guide | Coolselector®2 User Guide | Spanish, Castilian | Spain | 25 Feb, 2020 | 5.8 MB | .pdf |
| User guide | Coolselector®2 User Guide | French | France | 05 Mar, 2020 | 5.5 MB | .pdf |
| User guide | Coolselector®2 User Guide | Portuguese | Multiple | 03 Jan, 2020 | 5.3 MB | .pdf |
| User guide | Coolselector®2 User Guide | Russian | Russia | 25 Feb, 2020 | 4.4 MB | .pdf |
| User guide | Coolselector®2 User Guide | Chinese (CN) | Switzerland | 04 May, 2020 | 25.2 MB | .pdf |