Changing the country and language settings
You can set the preferences for country and language in "Options | User, Language, Country" menu: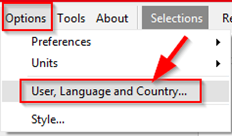 As an example, you can change your country to 'USA' as in the following example;
From the drop down, set your country to 'United States' and click OK: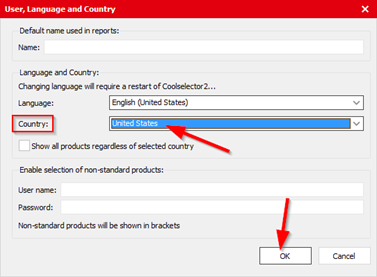 When you change your country to USA, you will see that the available components in "Valves and Line Components" have changed. You will no longer be able to select "Safety relief valves" – the reason being that Danfoss does not sell safety valves for the US market (this might change in the future).
The important thing to note here is that Coolselector®2 will use your country setting to display as relevant as possible information to you (this is even more pronounced for condensing units, where each unit has a specific sales region).
Here, you will find some examples of this:
Country = Denmark (or any other EU country as an example):

Country = United States:

Do not forget to change the settings back to your preferred ones (i.e. your own country).
Training videos
Our training videos are constructed to give you an introduction to each of the main areas of Coolselector®2. The videos show examples of use cases as well as useful tips and tricks for every day use.
Recorded training sessions
Documents

| Type | Name | Language | Valid for | Updated | Download | File type |
| --- | --- | --- | --- | --- | --- | --- |
| Promotion material | Coolselector®2 Exercises | English | Multiple | 04 Jun, 2019 | 13.5 MB | .pdf |
| Installation guide | Coolselector®2 Server Installation Guide | English | Multiple | 18 Nov, 2020 | 1.2 MB | .pdf |
| User guide | Coolselector®2 User Guide | English | Multiple | 04 Jun, 2019 | 4.4 MB | .pdf |
| User guide | Coolselector®2 User Guide | Spanish, Castilian | Spain | 25 Feb, 2020 | 5.8 MB | .pdf |
| User guide | Coolselector®2 User Guide | French | France | 05 Mar, 2020 | 5.5 MB | .pdf |
| User guide | Coolselector®2 User Guide | Portuguese | Multiple | 03 Jan, 2020 | 5.3 MB | .pdf |
| User guide | Coolselector®2 User Guide | Russian | Russia | 25 Feb, 2020 | 4.4 MB | .pdf |
| User guide | Coolselector®2 User Guide | Chinese (CN) | Switzerland | 04 May, 2020 | 25.2 MB | .pdf |