Changing the refrigerant
Coolselector®2 also allows you to change the refrigerant during product selection.
In our previous example we selected a DCR-DA using the standard settings (the default refrigerant for DCR-DA is R134a). Now, let us try to change this to R404A.
Change the refrigerant by choosing R404A in the drop down 'Refrigerant' on the left-hand side: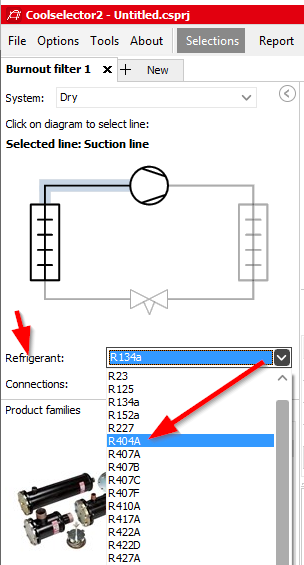 You may notice, that when you change the refrigerant, Coolselector®2 asks for a confirmation, as this change means you are creating a new selection procedure.
By clicking "Yes", a new selection will be made.
Please note that the 'evaporation temperature' and 'condenser temperature' are now changed to 'dew point temperature'. This is due to the fact that R404A is a glide-refrigerant and hence there is reference required for the evaporator and condenser temperatures.
The current suggestion from Coolselector®2 for a best match to the operating conditions is "DCR 0967-DA", which is different from the suggestion made by the exact same properties in the system running with R134a; this is of course due to the different properties of the two refrigerants.
Training videos
Our training videos are constructed to give you an introduction to each of the main areas of Coolselector®2. The videos show examples of use cases as well as useful tips and tricks for every day use.
Recorded training sessions
Documents

| Type | Name | Language | Valid for | Updated | Download | File type |
| --- | --- | --- | --- | --- | --- | --- |
| Promotion material | Coolselector®2 Exercises | English | Multiple | 04 Jun, 2019 | 13.5 MB | .pdf |
| Installation guide | Coolselector®2 Server Installation Guide | English | Multiple | 18 Nov, 2020 | 1.2 MB | .pdf |
| User guide | Coolselector®2 User Guide | English | Multiple | 04 Jun, 2019 | 4.4 MB | .pdf |
| User guide | Coolselector®2 User Guide | Spanish, Castilian | Spain | 25 Feb, 2020 | 5.8 MB | .pdf |
| User guide | Coolselector®2 User Guide | French | France | 05 Mar, 2020 | 5.5 MB | .pdf |
| User guide | Coolselector®2 User Guide | Portuguese | Multiple | 03 Jan, 2020 | 5.3 MB | .pdf |
| User guide | Coolselector®2 User Guide | Russian | Russia | 25 Feb, 2020 | 4.4 MB | .pdf |
| User guide | Coolselector®2 User Guide | Chinese (CN) | Switzerland | 04 May, 2020 | 25.2 MB | .pdf |