Evaporator controls for a variety of refrigerants and operating ranges
Danfoss offers a range of evaporator controls with thermostatic expansion valves or with electric expansion valves. The valves can be used for a variety of refrigerants and operating ranges suited for food retail applications.
The evaporator controls with thermostatic expansion valves are designed to ensure precise control of the injection of refrigerant liquid into the evaporators to ensure optimum performance and low energy consumption.
The evaporator controls from Danfoss have functions for regulating/monitoring temperature, defrosting, doors, rail heating, light and fan operation.
With remote communication as a part of ADAP-KOOL® refrigeration control system, evaporator controls comprise monitoring and control of display cases and cold rooms including alarm monitoring. The Danfoss electric expansion valves enable adaptive, automatic refrigeration control with no manual setting required. This provides additional energy savings.
Introducing the next generation case control series: AK-CC55
Danfoss offers a solution that makes it easier than ever to save on adaptive and reliable food retail refrigeration. The new AK-CC55 case controls deliver energy savings of 6-10% compared to the next best alternative. It relies on acknowledged and advanced Danfoss adaptive super-heat algorithms to control refrigerated display cases and cold rooms.
The new ADAP-KOOL® Case Control generation ensures the system providing the same great value as always and now delivers a much better user experience, no matter if you're an OEM, installer, service technician, or food retailer. For example, the large terminals on the AK-CC55 make it easy to loop the pressure transmitter cable from one controller to the next one.
Features and benefits
Significant energy savings with adaptive super-heat control algorithms and adaptive defrost.
Simplified installation and service with smartphone app and large terminals.
Suitable for any store size with Compact, Single Coil, and Multi Coil variants.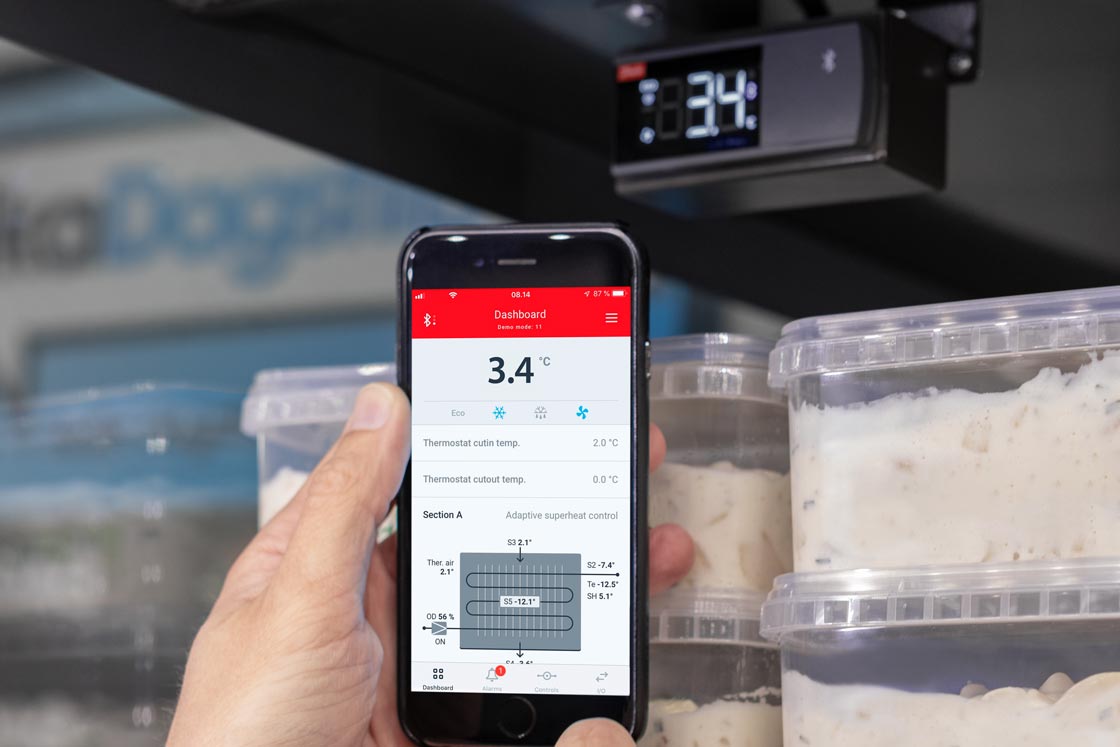 Take user friendliness to the next level with AK-CC55 Connect app
AK-CC55 Connect app is an industry first wireless tool for configuration and service of AK-CC55 controlling refrigerated display cases and cold rooms.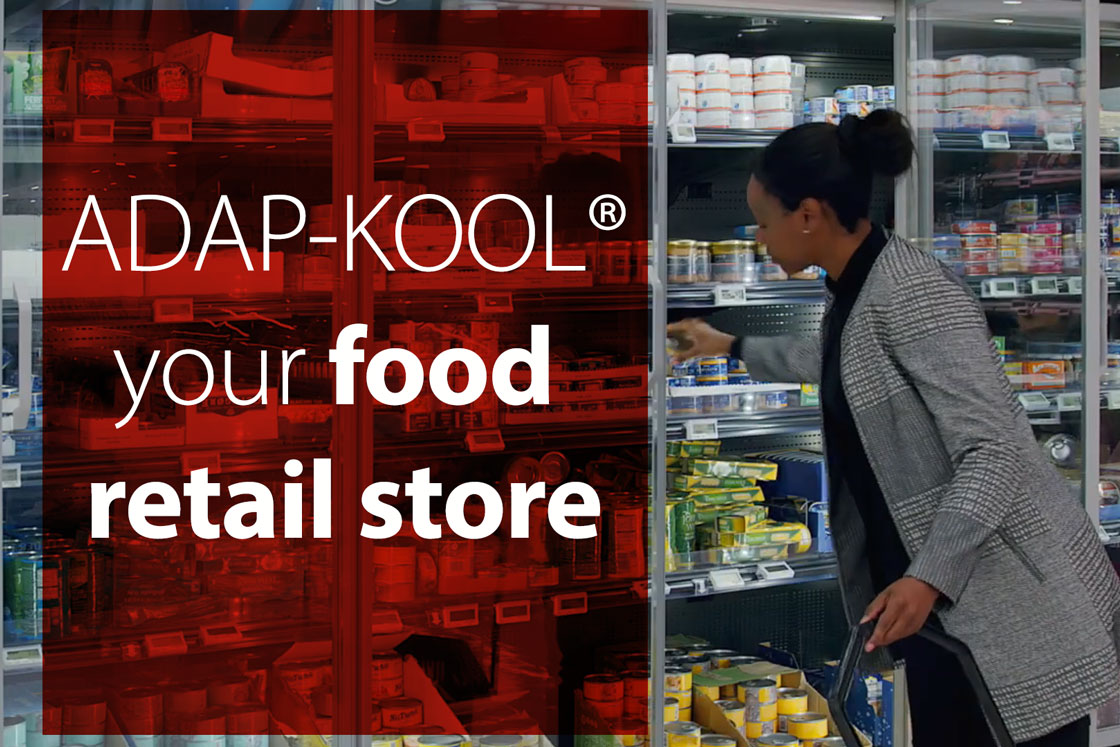 ADAP-KOOL® your food retail store | Enjoy peace of mind 24/7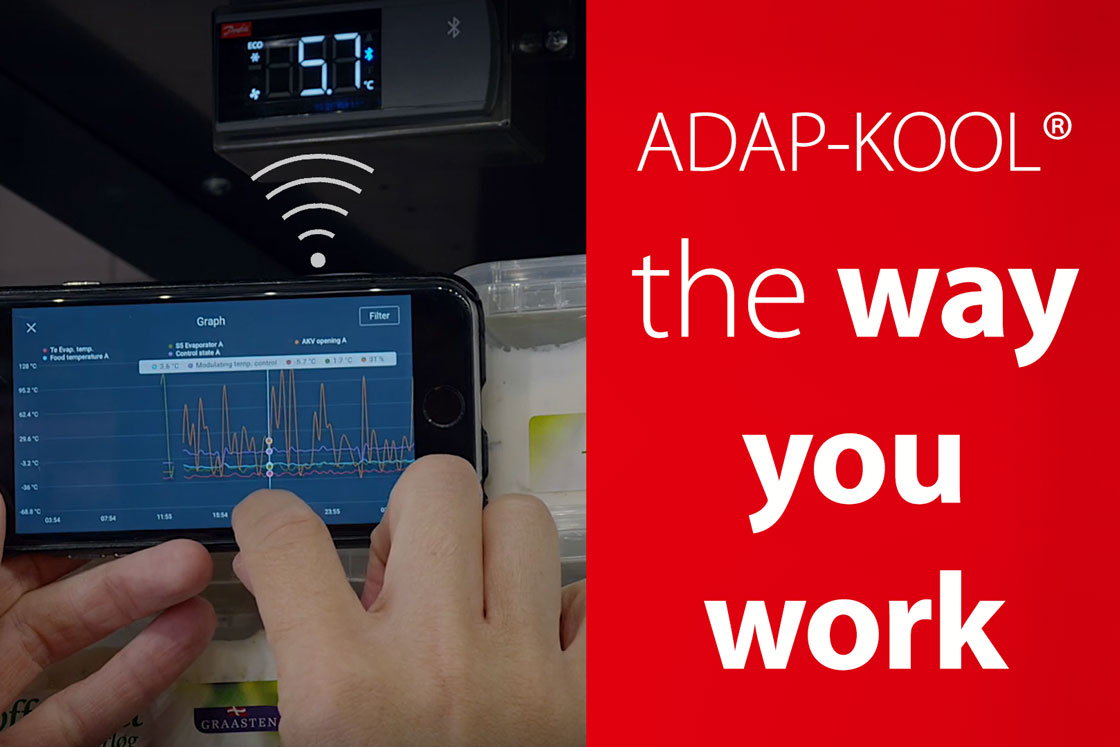 ADAP-KOOL® the way you work | The new AK-CC55 case controller
AK-CC 450

AK-CC 450 is a complete brine cooler control unit adaptable to all types of cases and cold rooms. AK-CC 450 features energy optimization of the complete case and predefined application types for quick adaptation to different cases or cold room setups. AK-CC 450 is used with thermostatic expansion valves and features built-in display and data communication facilities.
| Type | Name | Language | Valid for | Updated | Download | File type |
| --- | --- | --- | --- | --- | --- | --- |
| Brochure | Brochure_ADAP-KOOL_Evaporator_Controllers | Polish | Poland | 16 Mar, 2020 | 1.9 MB | .pdf |
| Brochure | Brochure_ADAP-KOOL_Evaporator_Controllers | French | France | 17 Mar, 2020 | 1.1 MB | .pdf |
| Brochure | Overview brochure: Evaporator Controllers | English | Multiple | 13 Feb, 2020 | 1.6 MB | .pdf |
Coolselector®2: We did complex — you do awesome
Coolselector®2 features unbiased calculations for the selection of refrigeration and air conditioning components based on the user's requirements or based on standard operating conditions.
Refrigeration pressure transmitters

Refrigeration pressure transmitters are used for commercial air-conditioning and for commercial and industrial refrigeration applications. They are made in stainless steel to be compatible with fluorinated and natural refrigerants and laser welding with no soft seals ensure hermetic tightness for decades.

Refrigeration temperature sensors

Refrigeration temperature sensors are used for applications within air-conditioning as well as commercial and industrial refrigeration applications. The Pt 1000 sensor element meets the DIN/IES 751 class B requirements and ensures an accurate and reliable temperture signal applicable for regulation, safety and data logging.
How smart refrigeration case control makes energy saving simple

As food retailers look to reduce energy bills, every incremental savings counts. Increasing price competition means operating costs have an immediate impact on competitiveness and profitability—and, after staff, energy is the biggest bill most supermarkets have.
What's new with CO₂ : New solutions and trainings for Food Retail applications

CO₂ is taking the Food Retail industry by storm and is shaking up how we do business. It offers an eco-friendly and efficient alternative to many refrigerants that are currently being phased out – if you have the right technology, tools, and know-how in place. That's where we can help.