The Danfoss electrical actuators for combination with our control vales provide a new level of convenience through excellent control performance and quality features. The actuators provide risk reduction trough improved overload protection, which ensures trouble-free operation of the actuator inside the system.
The motorized control valves ensure stable and accurate control of water. This in turn improves temperature control, leading to enhanced comfort for the end-user. Good control ratios and rapid response times to changes in domestic hot water supply requirements are just some of the features needed to ensure optimum control performance.
Actuator features:
Anti-oscillation
Control ratio
Stroke limitation
Split characteristics
Modification of controls characteristic (65X actuators)
Features and benefits
Easy selection, installation, commissioning and maintenance mean less time, money and effort
Built-in thermic and overload protection of the electromotor
External LED visualization and signaling save time and effort during installation and commissioning of MCVs
Documents

| Type | Name | Language | Valid for | Updated | Download | File type |
| --- | --- | --- | --- | --- | --- | --- |
Heat Selector
Danfoss Heat Selector is the best-in-class online selection tool that optimizes planning process for heating application experts.
District heating application guide
We share experience, application expertise and make recommendations on optimum performing DH applications and key applied control components
Application guide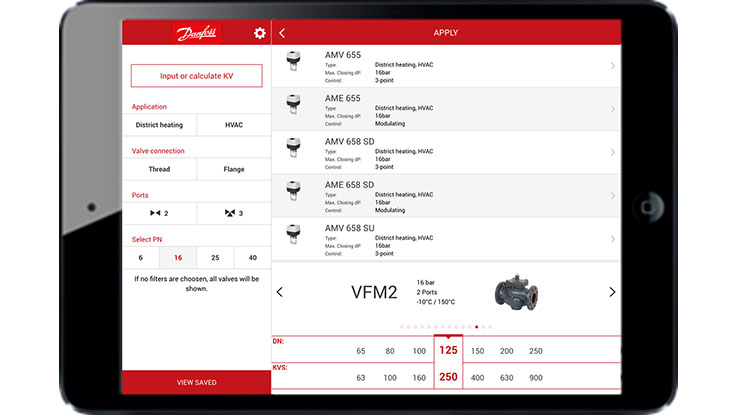 Valve ruler app
Valve Ruler App from Danfoss is available for smart phone or tablet, allows you to select and connect valve types and actuators for the application at hand. You can input or calculate KV by entering the required flow and inlet/outlet pressure. You can also select application type, and specify valve connection, ports and PN for the application.
What is the difference between AMV and AME actuators?
AMV or AME are designations that describe how the actuator is controlled. AMV means that the actuator is either 2-point or 3-point controlled, AME means that the actuator has modulating control. This is a very important difference since not every type of control is appropriate for every application.
Modulating, or AME actuators, are appropriate for precise regulation of the flow as they also have feedback signal and can position themselves very precisely in accordance to the signal from the controller. Furthermore, AME (sometimes also called the electronic version of actuators) actuators provide more features on DIP switches and provide much more flexibility and control variations for the customer.
AMV actuators usually by default have no active return signal, unless there is a potentiometer used inside, and are not so precise when it comes to the flow control, but still offer a very good solution for customer requirements.
What is a suitable replacement for an AME 85 actuator?
A suitable replacement could currently be AME 655 or AME 55 actuators. In future there will also be a AME 685 actuator which can be used.
See the technical details for AMB 162/182 actuators: http://products.danfoss.com/productrange/list/heatingsolutions/control-valves/actuators-for-rotary-valves/amb-162-182-/#/
Can the actuator also work on DC voltage? What can be done, if it doesn't work?
Most actuators do not work on AC and DC voltage because they have synchronous motors technology. Now new BLDC motors are coming and this technology can work on AC or DC actuators due to the so-called serial connection between stator and rotor of the electric motor.
This kind of actuators, like AME 435 and AME 655/658/659, are able to work with AC or DC voltage but only for 24V in one or 230V in another version of the actuator, not both at the same time. If you have DC voltage in the system and have an AC actuator, we recommend to look for a suitable replacement or install an inverter in your system.
See the technical details for AME 435 actuators: http://products.danfoss.com/productrange/list/heatingsolutions/control-valves/actuators-for-seated-valves/actuators-for-heating-cooling-/actuators-without-safety-function/amve-435/#/
How does AUX switch work?
AUX switches are additional switches in the actuator that send signals to the recipient (can be other actuator, boiler, pump or controller) when the certain point of the actuator position is passed, this usually means when actuator end positions are reached (totally open or closed).
How does the safety function, or the so-called spring return function, work and what does SD and SU mean?
The safety function is a feature of the actuators, which is mandatory by law or customer requirement, to close or open the valve in case of a power failure. It often happens that the power is out and the valve is therefore not under control anymore. This could lead to catastrophic consequences for the application/industry and most importantly for the safety of everyone in the vicinity of the valve as it can have more than 130°C of pressurised water in the system.
The safety function enables you to close or open the valve automatically (via the spring inside the actuator) each and every time the power goes out. SD means spring down, which will move the actuator to lowest end position, SU means spring up which will move the actuator to highest end position. You can find both versions in the Danfoss portfolio.
See the range of actuators: http://products.danfoss.com/productrange/heatingsolutions/control-valves/actuators-for-seated-valves/#/
Can we change the characteristic of the actuator?
The answer is YES. Usually, actuators have linear characteristic, but with the new AME actuators like e.g. in the AME 435 and AME 655/658/659 actuators, you can change the characteristic of the actuator with DIP switch settings. For more information about this, please look in the data sheets.
Can actuators be driven by voltage or current signal?
All the AME actuators have the possibility to choose either voltage input signal from the controller (U) or current signal from the controller (I) on a DIP switch. There is also an additional option to choose that the actuator either will work from the 0(2)-10V or the 0(4)-20mA signal from the controller.
Is the speed of the actuator fixed and permanent, or can I modify/change it?
The speed of the actuators that are using synchronous motors is fixed on a frequency that is used in the supply 230V AC voltage. You can increase the speed of the actuator, if you use a 60Hz supply voltage. This solution is, however, not recommended as you will not be able to know how much faster the actuator is actually moving.
We recommend that you choose Danfoss AME actuators with BLDC motors technology as they have speed selection possibility on DIP switch. For example AME 655/658/659 actuators can move at either 2 s/mm or 6 s/mm, depending on the setting on the DIP switch. To check which actuators have selectable speed, please contact our sales organization.
If the stroke of the valve is shorter than stroke of the actuator, what do I do - how do I commission the actuator?
It often happens that the actuator has larger stroke than the valve. Danfoss actuators have a self-commissioning protocol where they find the end positions of the valve on which they are mounted automatically. The actuator remembers these positions itself and adapts its stroke to the valve. This is how a lot of time and trouble can be saved when installing / commissioning the actuator on the valve.
Do I need to use an adapter for the combination of VF 2/3 DN65-80 and AMV(E) 56?
Yes, an adapter is needed for this combination due to a different design of valve neck for the range DN 65-80. The needed adapter for the actuator to be able to be mounted on the valve is 065Z0312.
HVAC Flexibility and Energy monitoring in multi-tenant healthy & smart office

Building: Office
Application: Hydronic balancing and remote control of 4-pipe heating/cooling change-over system.
Challenge: Gaining BREEAM credits for energy monitoring and ensure fast, fail free installation.
Solution: Digital NovoCon S actuator combined with AB-QM 4.0 PICVs and ChangeOver6 Energy. The combination balances the system hydronically, allow remote access via a BMS and provides actual energy consumption data per climate panel during both heating and cooling operation.

Solar heating plant reduces CO2 emissions by 15,700 tonnes annually

The world's largest solar heating plant in Silkeborg, Denmark harnesses energy to heat the homes and workplaces of 40,000 citizens. It supplies 18-20% of the annual heat consumption in the city of Silkeborg, Denmark, which has an ambitious target of CO2 neutrality in heat production by the year 2030.