Safe and soft hot gas injection
Hot gas defrost is a very common and efficient method used within industrial refrigeration. Sound design practices and specific design features should always be considered carefully to prevent safety risks, which may be caused by even a slight change in operating conditions.
If not controlled carefully, the injection of hot gas into the evaporators may cause hydraulic shocks in the refrigeration system and represent a safety risk. Therefore, it is important to make the hot gas injection in a controlled and smooth way to ensure maximum operation and system safety.
Features and benefits
Complies with latest IIAR safety recommendations on soft gas applications
Easy to upgrade and install as it is fully compatible with Danfoss ICV platform
Easy system design with the Coolselector®2 application tool
Saves space thanks to its compact design
How the ICSH valve functions
See our animation on the working principle.
ICSH for safe gas injection
Dedicated for the hot gas line, the Danfoss ICSH valve ensures a controlled, 2-step injection of hot gas into the evaporators. The dependent configuration of 2-step opening helps prevent negative pressure impact to your refrigeration system.
Based on the Danfoss ICV platform and built-in design flexibility the ICSH dual position solenoid valve is backwards compatible with Danfoss ICS & ICF large valves.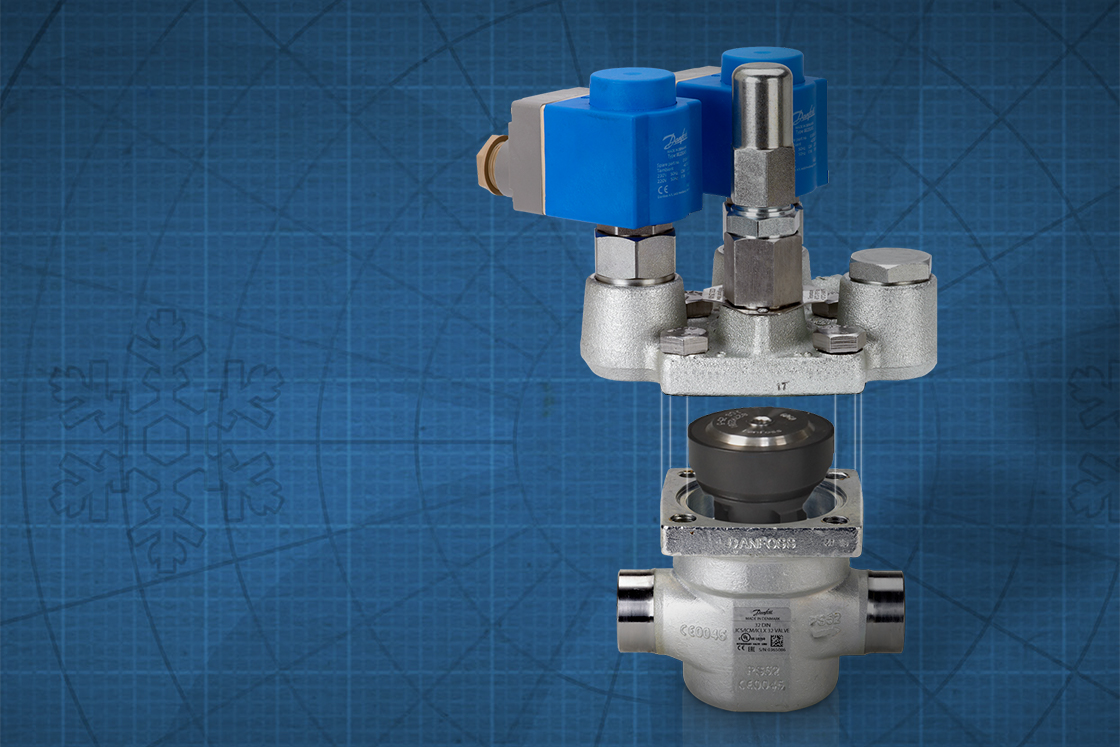 Improved safety for hot gas injection
The ICSH Dual Position Solenoid Valve is designed for gradual and safe opening of the hot gas flow to the evaporator, featuring an extra-safety-configuration to prevent hydraulic shocks in the system.
Documents

| Type | Name | Language | Valid for | Updated | Download | File type |
| --- | --- | --- | --- | --- | --- | --- |
| Application guide | Application Handbook - Automatic Controls for Industrial Refrigeration Systems | Arabic; Bulgarian; Czech; Danish; German; Greek (modern); English; Spanish, Castilian; Estonian; Persian; Finnish; French; Irish; Hebrew (modern); Hindi; Croatian; Hungarian; Indonesian; Icelandic; Italian; Japanese; Kazakh; Korean; Lithuanian; Latvian; Macedonian; Norwegian Bokmål; Dutch, Flemish; Polish; Portuguese; Romanian, Moldavian, Moldovan; Russian; Slovak; Slovenian; Serbian (RS); Swedish; Tamil; Thai; Turkish; Ukrainian; Vietnamese; Chinese (CN) | Multiple | 06 Oct, 2020 | 17.3 MB | .pdf |
| Installation guide | Dual Position solenoid valve - ICSH 25-65 | German; English; Spanish, Castilian; Russian; Chinese (CN) | Multiple | 25 Apr, 2018 | 1.3 MB | .pdf |
| Installation guide | Dual Position solenoid valve - ICSH 25-65 | Ukrainian | Ukraine | 15 Apr, 2020 | 1.3 MB | .pdf |
| Data sheet | Dual position solenoid valve - Type ICSH 25-80 | French | Multiple | 03 Sep, 2018 | 3.4 MB | .pdf |
| Promotion material | ICSH Dual Position Solenoid Valve for Improved safety for hot gas injection | Arabic; Bulgarian; Czech; Danish; German; Greek (modern); English; Spanish, Castilian; Estonian; Persian; Finnish; French; Irish; Hebrew (modern); Hindi; Croatian; Hungarian; Indonesian; Icelandic; Italian; Japanese; Kazakh; Korean; Lithuanian; Latvian; Macedonian; Norwegian Bokmål; Dutch, Flemish; Polish; Portuguese; Romanian, Moldavian, Moldovan; Russian; Slovak; Slovenian; Serbian (RS); Swedish; Tamil; Thai; Turkish; Ukrainian; Vietnamese; Chinese (CN) | Multiple | 05 Apr, 2018 | 1.4 MB | .pdf |
| Installation guide | ICSH Repair kit - Code numbers 027H8413, 027H8414, 027H8415, 027H8416, 027H8417, 027H8418 | English | Multiple | 22 Feb, 2018 | 384.0 KB | .pdf |
| Application guide | Manual de Aplicação - Controles Automáticos para Sistemas de Refrigeração Industrial | Portuguese | Multiple | 21 Mar, 2018 | 12.3 MB | .pdf |
| Application guide | Manual de Aplicación - Controles Automáticos para Sistemas de Refrigeración Industriales | Spanish, Castilian | Multiple | 21 Mar, 2018 | 12.2 MB | .pdf |
| Application guide | Manuel d'application - Principe de régulation des systèmes de réfrigération industrielles | French | Multiple | 21 Mar, 2018 | 12.3 MB | .pdf |
| Data sheet | Pilot operated servo valve, type ICSH 25-80 | English | Multiple | 26 Feb, 2021 | 3.1 MB | .pdf |
| Application guide | Przykady zastosowa - Elementy Automatyki do Przemyslowych Ukladow Chlodniczych | Polish | Multiple | 21 Mar, 2018 | 12.3 MB | .pdf |
| Data sheet | Válvula solenoide de dos posiciones - Tipo ICSH 25-80 | Spanish, Castilian | Multiple | 03 Sep, 2018 | 3.3 MB | .pdf |
| Data sheet | Zweistufiges Magnetventil - Typ ICSH 25–80 | German | Multiple | 03 Sep, 2018 | 3.3 MB | .pdf |
| Data sheet | Двухступенчатые электромагнитные клапаны - Типа ICSH 25-80 | Russian | Multiple | 03 Sep, 2018 | 3.3 MB | .pdf |
| Application guide | Руководство по проектированию - Промышленных холодильных систем | Ukrainian | Ukraine | 20 May, 2020 | 12.5 MB | .pdf |
| Application guide | Руководство по проектированию - Промышленных холодильных систем | Russian | Multiple | 21 Mar, 2018 | 12.5 MB | .pdf |
| Data sheet | 双位电磁阀 型号 ICSH 25-80 | Chinese (CN) | Multiple | 03 Sep, 2018 | 3.4 MB | .pdf |