Danfoss scrolls: Wide offer for optimized commercial applications
Danfoss scroll compressors H and S series have been used for more than 10 years in R410A HVAC units. With a very wide application envelope they suit varied applications such as rooftops, chillers or process cooling, reducing the number of items held in reference and inventory. The Danfoss Scrolls with IDVs come with an even wider operating envelope for higher flexibility in system designs for a wide range of applications.
New technology implemented in 2016: Danfoss Scrolls with IDVs - DCJ (7.5-10T), DSH (7.5-40T)
Features and benefits
Wide range with wide application envelope suit varied applications
Innovative IDV technology further enhances part-load efficiency with minimal redesign costs
Bringing a new level of compressor robustness and system reliability
Manifold configurations with high reliability for staged modulations
Innovative features for higher system reliability
A new level of compressor robustness and system reliability:
Intermediate discharge valves: Reduce the load on mechanical parts at start up, provide safer operation at high condensing and evaporating temperatures and contribute to better liquid management
Surface coating on thrust bearing and polymer bearings: Improves compressor robustness in low lubrication conditions (start-up)
Organ pipe: Maintains safe oil level at part-load in manifold configurations
Integrated discharge temperature protection*: Prevents operation outside the operating envelope
Integrated non-return valve*: Reduces refrigerant migration from high-pressure to low-pressure side after compressor shutdown
Modified gas flow path (snorkel) and sealed lower bearing: Improves flooded start capabilities and overall compressor robustness against liquid slugs. Additional Reverse Vent Valve on DSH 090 to DSH 184 prevent damage from reverse rotation in case of wrong phase connections. On the large platform (DSH 240 to 485), it is monitored by the electronic board.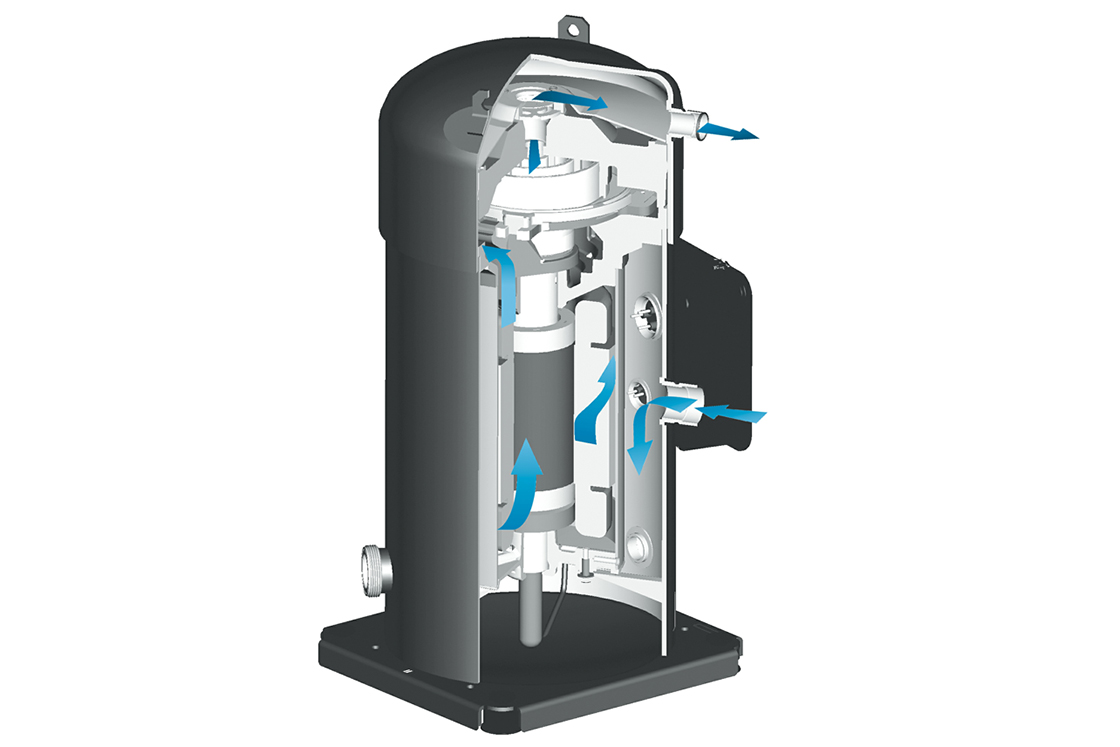 Unparalleled manifold compressor performance
15-120TR per Circuit
Today, almost 90% of all commercial scroll air conditioning systems use manifold compressors.
Compressors in manifold configurations offer:
Flexibility in staging
High part-load efficiency 
Improved uptime 
Low applied costs 
Lower sound levels
Mastering the manifold designs over the years, Danfoss addresses the complex challenges that our customers face in extending their system capacities when using multiple scroll compressors. 
Our safe compressor operations with static and dynamic manifold piping design offers best in class performance under both full-load and part-load conditions. Each of the Danfoss large compressors is equipped with an oil equalization connector and oil sight glass rendering it ready for use in single, tandem or trio configuration with no additional cost. 
The Danfoss manifold configurations offer a wider capacity modulation. Our even and uneven manifold configurations up to 120TR in one circuit offer wide staged capacity modulation. For example, a system with six manifold compressors in two circuits offers capacity modulation from 17% to 100%. This enables higher part-load efficiency compared to screw technology in a system of equivalent capacity. Danfoss IDV technology, implemented in the 7.5-40 ton range of the fixed-speed Danfoss Scrolls DSH and Danfoss inverter Scrolls, further enhances energy efficiency under part-load conditions.
Mechanically, the sound level is also significantly lower than alternative compression technologies in larger capacities.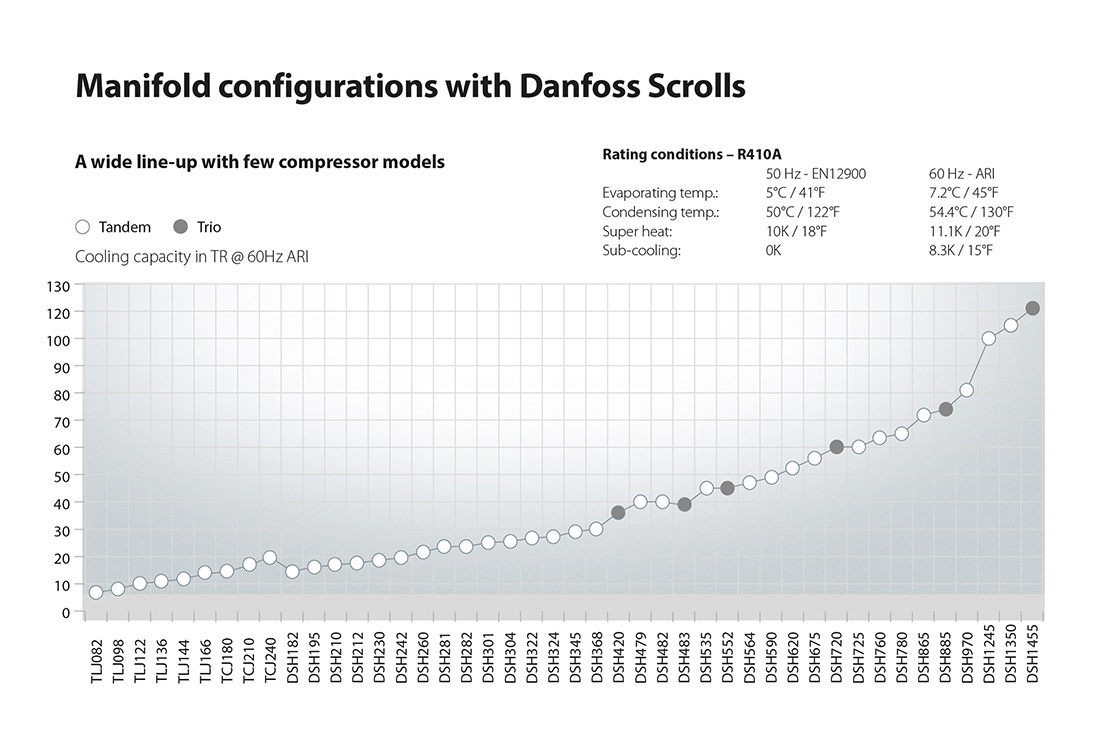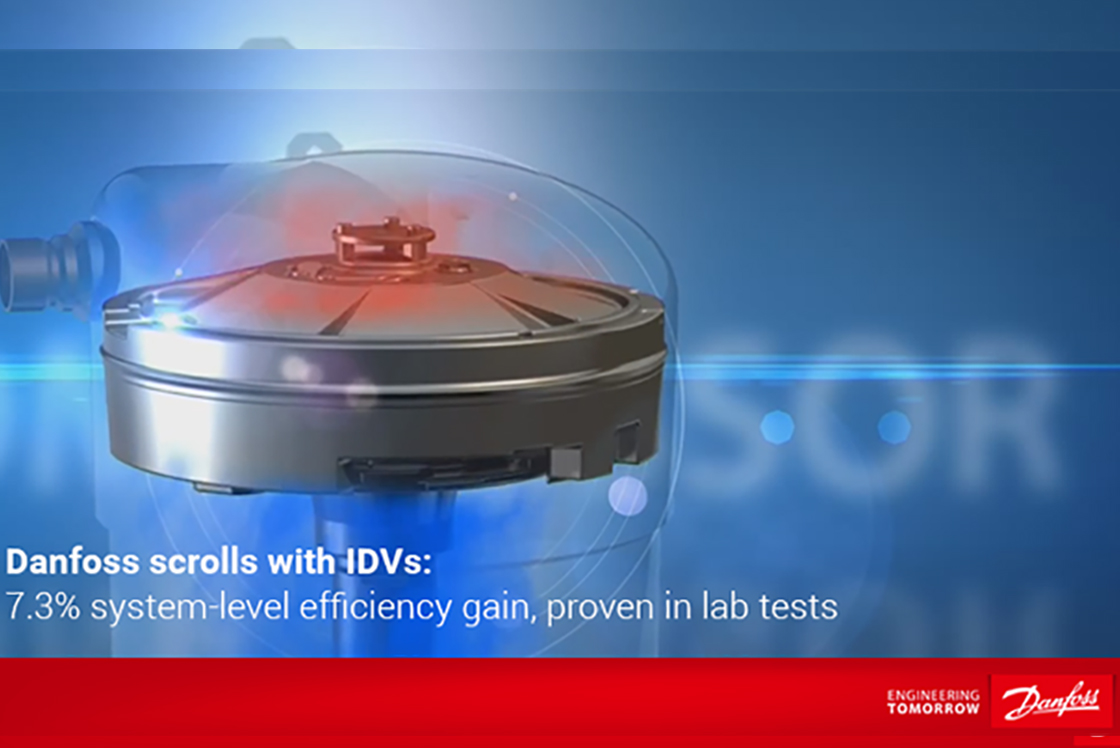 Scrolls with IDVs
Danfoss scrolls with IDVs deliver system-level efficiency gain.
| Type | Name | Language | Valid for | Updated | Download | File type |
| --- | --- | --- | --- | --- | --- | --- |
| Brochure | Brochure SH Serie - SH485-40 ton scroll compressors for Air conditioning - R410A | Italian | Multiple | | 625.8 KB | .pdf |
| Brochure | Brochure SH485-40 ton and SH scroll compressors for Air conditioning - R410A - Chinese | Chinese (CN) | Multiple | | 509.8 KB | .pdf |
| Installation guide | Instructions DSH/ SM / SY / SZ / SH / WSH compressors | German; English; Spanish, Castilian; French; Italian; Chinese (CN) | Multiple | 30 Jan, 2019 | 9.8 MB | .pdf |
| Catalog | Quick ref - Danfoss scroll SH - GB - 60 Hz - SI | English | Multiple | 28 Mar, 2019 | 2.9 MB | .pdf |
The truth is Cool(selector®2)
Coolselector®2 features unbiased calculations for the selection of refrigeration and air conditioning components based on the user's requirements or based on standard operating conditions.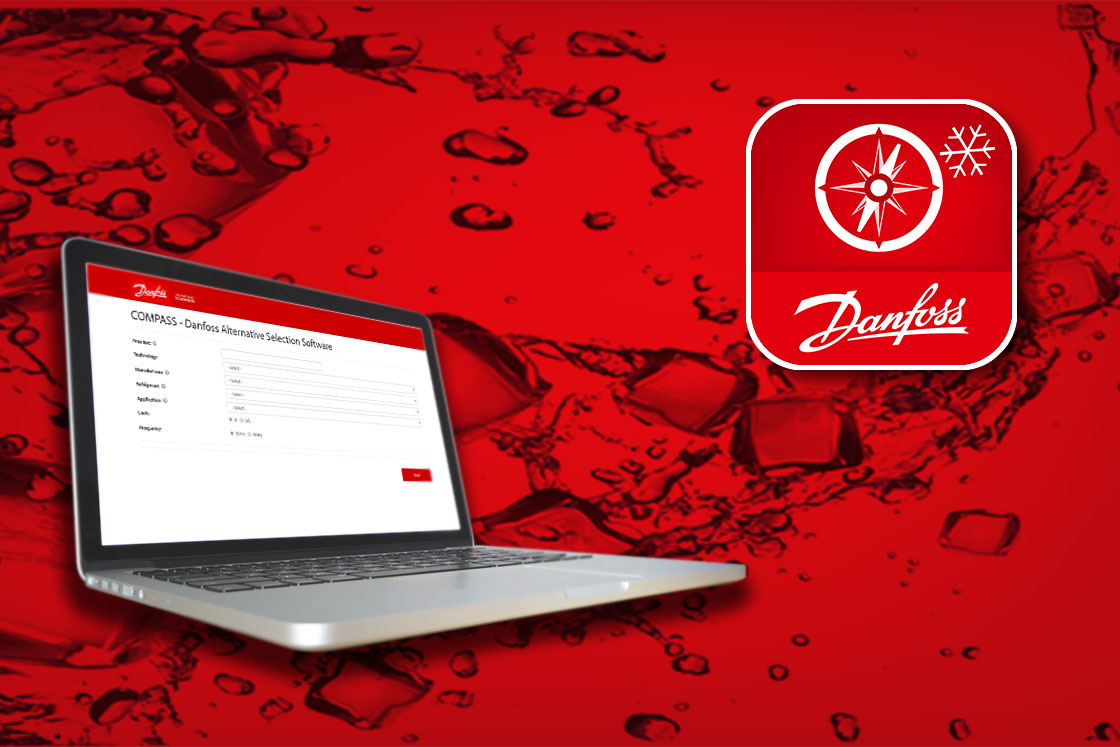 COMPASS
COMPASS is a software program that helps you to find the best Danfoss alternative for compressors for replacement. The purpose of COMPASS is to provide a direct comparison between Danfoss and competitor products.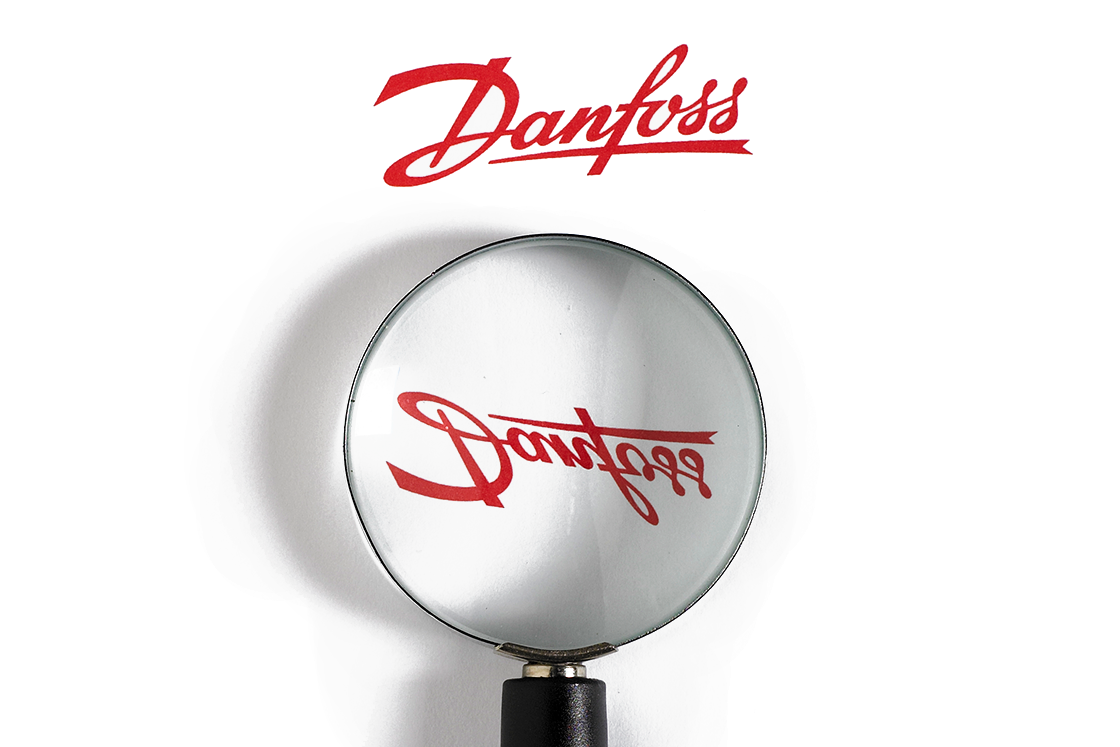 Watch out for counterfeits to protect your image
Fake products give your business as well as our company a bad name. Therefore, we are doing everything we can to fight the counterfeits. Read more about how to make sure that the product you buy is genuine Danfoss quality.