Worldwide training in CO₂ refrigeration
CO₂ is emerging as the go-to solution in the food retail market as traditional HFCs are phased out and retailers look for new ways to reduce their carbon footprint. Danfoss launched the Mobile CO₂ Training Unit in September 2016 to provide easy-to-access, hands-on training for the thousands of installers, service technicians, and OEM engineers worldwide that want to take full advantage of the natural refrigerant.
The Mobile CO₂ Training Unit makes both the technology and understanding of CO₂ refrigeration immediately available to industry professionals. Danfoss CO₂ experts will present CO₂ systems and solutions, which include simple gas-bypass systems as well as more complex parallel compression solutions, with or without heat reclaim. They will also introduce our new Multi Ejector Solution™ that can enhance the energy efficiency of systems by up to 20% on the hottest day of the year, enabling the use of trans critical CO₂ systems in much harsher climates.
Learn more about:
Trans critical system design: simple booster system, parallel compression, parallel compression with ejector
Commissioning of CO₂ systems
Set up of pack and case controls
Service procedures
Troubleshooting and correction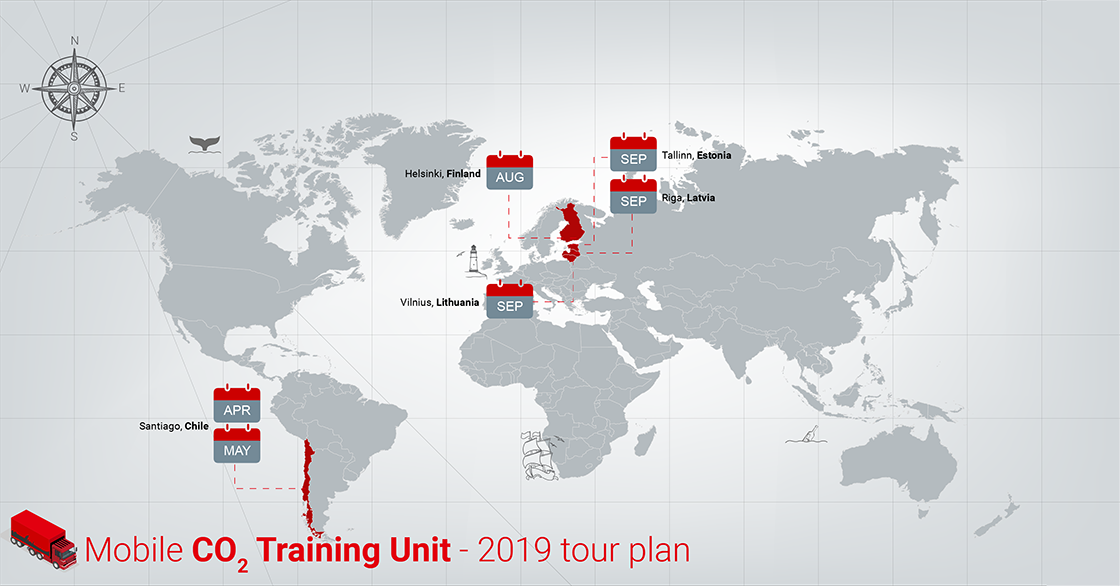 CO₂ on the move in 2019
CO₂ training is coming your way! For the 3rd year running, the Danfoss Mobile CO₂ Training Unit will travel the world to provide hands-on CO₂ training to industry professionals. The first stop in 2019 is Chile and the tour plan will be updated with more details shortly.

Trending on CO₂ for food retail applications
CO₂ is emerging as the preferred refrigerant by a growing number of global, regional and local retailers. Learn more about Danfoss solutions for CO₂ refrigeration.
Refrigeration pressure transmitters

Refrigeration pressure transmitters are used for commercial air-conditioning and for commercial and industrial refrigeration applications. They are made in stainless steel to be compatible with fluorinated and natural refrigerants and laser welding with no soft seals ensure hermetic tightness for decades.

CCMT electric regulating valves, transcritical CO₂

The CCMT is an electric operated valve designed specifically for operation in CO2 systems. The valve is capable of functioning either as an expansion valve, as a pressure regulator for the gas cooler or as a gas bypass valve with back-pressure regulation in trans-critical or subcritical applications.
Danfoss Mobile CO2 Training Unit - 2017 World Tour
Mobile CO2 Training Unit Brings CO2 Refrigeration Training Worldwide
Danfoss CO2 Training Unit in France 2018
What's new with CO₂ : New solutions and trainings for Food Retail applications

CO₂ is taking the Food Retail industry by storm and is shaking up how we do business. It offers an eco-friendly and efficient alternative to many refrigerants that are currently being phased out – if you have the right technology, tools, and know-how in place. That's where we can help.

Aligning the stars: Three ways to revolutionise Asia's cold chain operations

We are featured on FoodNavigator-Asia on our thought leadership on providing sustainable and energy efficient cold chain in Asia. This is from the in-depth conversation at our 'Tomorrow's Cities: Engineering the energy transition' event held end of March which engaged the audience on 'A cleaner cold chain for climate change'.