Dedicated products for wind turbine applications
Today, the increasing energy demand and the need for a cleaner environment, has resulted in heavily investments in renewable energy world wide like Wind Turbines. As the demand for sustainable energy increases, there is a growing need for highly efficient, robust and reliable wind turbines. The proven reliability of our products helps secure the optimal uptime of the turbines throughout their life.
Danfoss Industrial Automation provides sensors, transmitters, and switches for almost all applications in the nacelles of wind turbines, such as:
Cooling system - Ensure optimum operating conditions
Gear box – ensures the right speed of the generator according to the current wind speed
Hydraulic systems – controls the pitch, yaw and brake of the wind turbine
Wind power conversion
The general trend towards larger wind turbines at remote sites, often offshore, places new demands on the turbine equipment and sets new standards for maintenance during the turbine life cycle. Furthermore, the extremely harsh environments of the offshore wind farms lead to increased risk of pressure pulsation peaks and vibrations occurring in the ever larger wind turbines. This calls for ultimate performance of all turbine components. 
In order to ensure long and maintenance-free service life it is imperative to choose nacelle components that are designed particularly for use in heavy-duty hydraulic applications and protected by acid-resistant stainless steel (AISI 316) casings to avoid corrosion in marine environments. When it comes to reliable products for wind turbine applications, Danfoss Industrial Automation has you covered.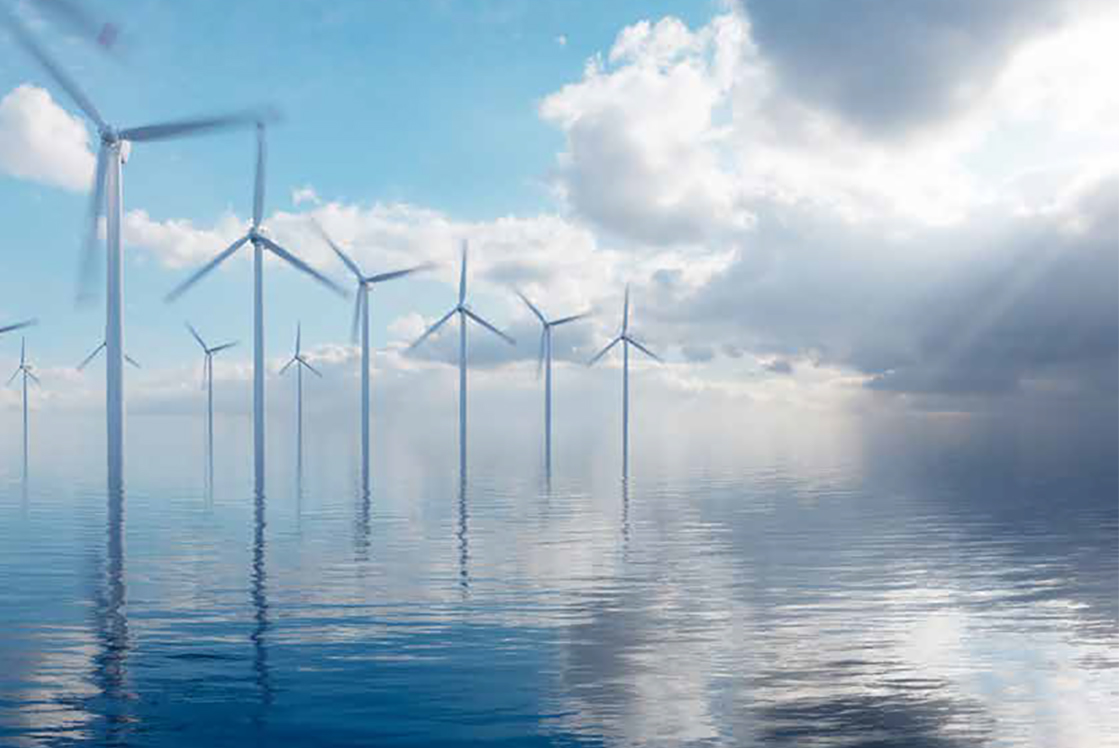 Wind turbine brochure
Learn more about our product offerings for the wind industry.
| Type | Name | Language | Valid for | Updated | Download | File type |
| --- | --- | --- | --- | --- | --- | --- |
MBS 3000 series, compact pressure transmitters

The compact pressure transmitter MBS 3000 is designed for use in almost all industrial applications, and offers a reliable pressure measurement, even under harsh environmental conditions.
The flexible pressure transmitter programme covers all standard output signals.
MBT 153, cable-type temperature sensor

The MBT 153 is a heavy-duty temperature sensor that can be used for controlling cooling water and ventilation systems within general industry and marine applications. This temperature sensor is based on a standardized Pt100 or Pt1000 element, which gives a reliable and accurate measurement.

MBT 3560, temperature sensor with built-in transmitter

With MBT 3560 we have combined the technology of our standard temperature sensors and the electrical connections from the MBS pressure transmitters with a new developed electronics which has resulted in a compact temperature sensor with a built-in transmitter. 

MBT 5250 and 5252, heavy-duty temperature sensors

Heavy-duty temperature sensors for controlling cooling water, lubrication oil, hydraulic oil and refrigeration plants within general industry and marine applications. These temperature sensors are based on a standardized Pt 100 or Pt 1000 element, which gives a reliable and accurate measurement.
MBC 5100, compact pressure switch

MBC pressure switches are used in marine applications where space and reliability are the most important features. MBCs are compact pressure switches, designed according to our new block design to survive in the harsh conditions known from machine rooms onboard ships.

The MBC 5100 is also available in stainless AISI 304 steel.

RT, pressure switch

The RT single pressure switches series consist of a variety of ordinary controls including neutral zone pressure switches, safety pressure switches for steam boiler plant, and gold plated fail-safe controls for applications in which safety or economical consequences are critical factors.
Wind power conversion

The Danfoss power stacks reliably convert the kinetic energy from the wind turbine blades into a form that can be fed directly into the electrical power grid. This ensures that maximum energy is harvested from your wind turbine whilst offering durable and dependable  electricity supply.
The future of efficient and reliable wind power

The next decades should see both global onshore and offshore wind markets continuing to expand fast. In Europe alone, the installed wind power is expected to reach 213 GW by 2020 according to the European Wind Energy Association (EWEA). The growth is driven by the upward trend in energy prices, and by national and international legislation aiming at de-carbonization of the energy sector to abate global warming and to obtain security of energy supplies.