As a leader in the China slaughterhouse industry, the Tangrenshen Group is a well-known company located in Hunan, a province in central China. In 2008, their new 100,000 ton food processing plant was regarded as a new technical direction for the Tangrenshen Group. Danfoss provided a complete hot-gas defrosting solution for its ammonia refrigeration system that provides the processing plant's cold storage. It was in this project that the first ICF valve stations were installed in China. We are very pleased to report; they are performing today just as well as they did when commissioned in 2009.
Mr. Yang Xinchun, Tangrenshen Group lead refrigeration engineer with greater than 20-year experience in refrigeration system construction & management believes that this project's objectives were very clear; safety & high efficiency. Considering the large amount of ammonia refrigerant used, safety is the utmost concern since the system is installed in downtown Zhuzhou, a very populated city in Hunan province. Conventional manually controlled systems rely heavily on the experience & responsiveness of the operators, therefor safety can't be 100% guaranteed. Manual systems also cost more time and labour to operate, which also factored into Tangrenshen decision process.
Danfoss is Your Cool Partner for Slaughtering Houses with Accuracy, Efficiency, Safety and Environmental Friendly Solutions
Meat, no matter if it is chilled or cooked, has to be processed and stored in a stable temperature controlled environment. When done properly, the growth of germs can be eliminated and the shelf life can be extended, ensuring excellent product quality and good taste. The Tangrenshen Group has very strict requirements for this plant (-18℃ storage temperature and 0-4℃ for the entire process). Therefore, an efficient & stable refrigeration system was instrumental to the success of this project.
Danfoss offered the hot-gas defrost automatic control solutions with the ICF Flexline™ Valve Stations for the Tangrenshen Group, in order to bring high running efficiency, minimal downtime, and high energy conservation for the system. Benefits include: 
Modularised ICF valve station is used in the liquid pipe and defrost hot gas pipe of the evaporator. The compact design saved a lot of space in the system and efficiency with security of maintenance;
2-step main valves with pilot solenoid valves can effectively eliminate the pressure shock after defrost, and ensure a safe system running. 
Overflow valve with outstanding back seating can ensure appropriate defrosting pressure with stable, safe and efficient process.
This solution significantly increases the evaporator heat transfer efficiency in the refrigeration system, and the clean evaporator coil reduces the effective operating time of the compressor, in order that better refrigeration & efficiency effects can be achieved. Compared with manually frost sweeping or flush defrosting, this solution saves a lot of money on labour.
When this project finished, the other cold storage projects of Tangrenshen Group also applied similar solutions from Danfoss.
The six ICF valve stations applied in liquid pipe of the refrigeration system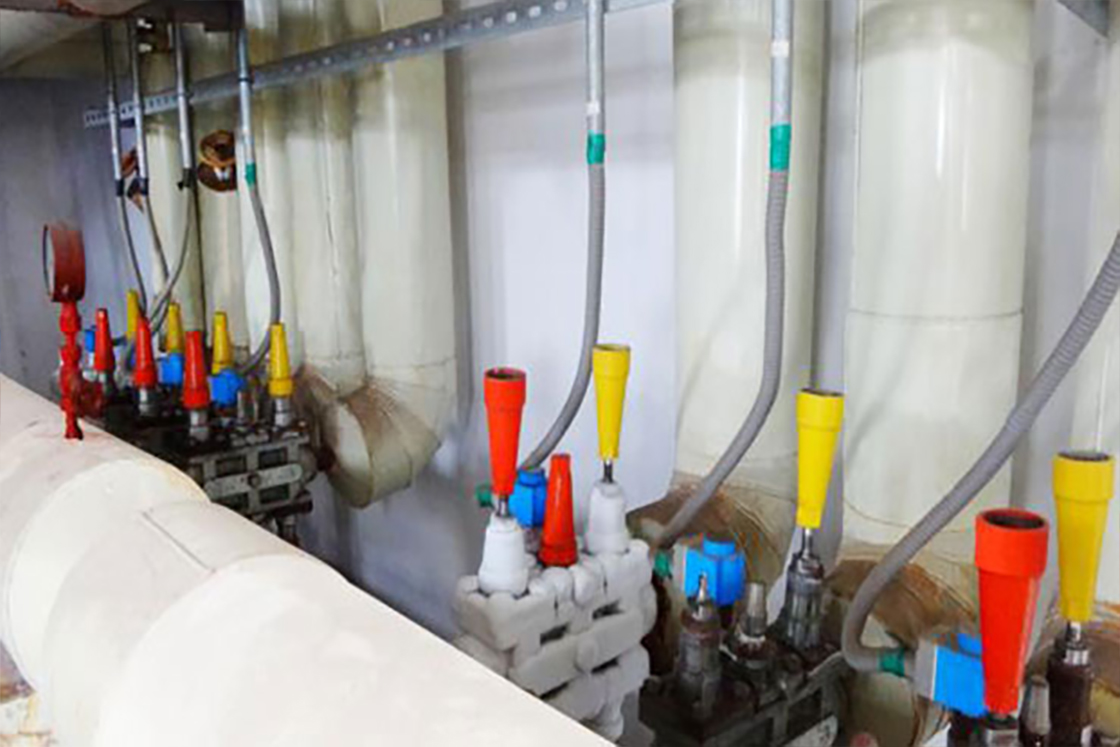 The First Danfoss ICF Valve Stations Installed in China
Mr Yang says, "The quality of Danfoss products is unbelievable. Our projects realized many benefits in the areas of safety & efficiency. I think it is valuable to use Danfoss valves because our requirements can be reached completely."
For the refrigeration operator in the group, the hot gas defrosting system with ICF valve station "never bring troubles". For Danfoss, it is also a landmark because this was the first project that used our ICF valve stations in China. Approximately 30 ICF valve stations now ensure the safety and efficiency for our customers. Mr Yan Lixin, National Sales Manager of Danfoss Industrial Refrigeration, was the responsible employee for this project. When the plant was completed, he gave the plant operator and refrigeration engineer two hands-on training sessions on how to install, operate, and maintain refrigeration system and Danfoss valves. Since then, there has been no failures or breakdowns reported. 
ICF valve station has a same design concept as the Flexline™ platform. The multi-ported ICF valve train is approximately 12 inches long. The body is a modular design that accepts a variety of ready-made inserts that are simply pushed into the precision-machined opening to offer the desired function. Function modules that can be mounted on an ICF housing include: stop valves, strainers, solenoid valves, check valves, stop/check valves and motorized or hand expansion valves. These multi-functional modules are available for customized solutions.
Compared with conventional multi-welded valves, a qualified Danfoss ICF can be installed at the jobsite. Only two welds ensure the safety and fast installation with an improved efficiency.
Furthermore, according to the design requirement, the project needed to be installed on the roof. The weather in South China is cold in the winters and hot in the summers, with a lot of rain during the entire year. Due to this harsh outdoor environment, the ICF valve stations were designed to be very robust. The ICF solutions are Zinc-Chromated to provide corrosion protection and system integrity.
With the fast development of China cold chain industry, now more than 2,400 ICF products are now operating in China. The reliable products and advanced solutions from Danfoss Industrial Refrigeration continue to serve more and more China cold chain partners.
Mr Yang Xinchun, Refrigeration Lead Engineer in Tangrenshen Group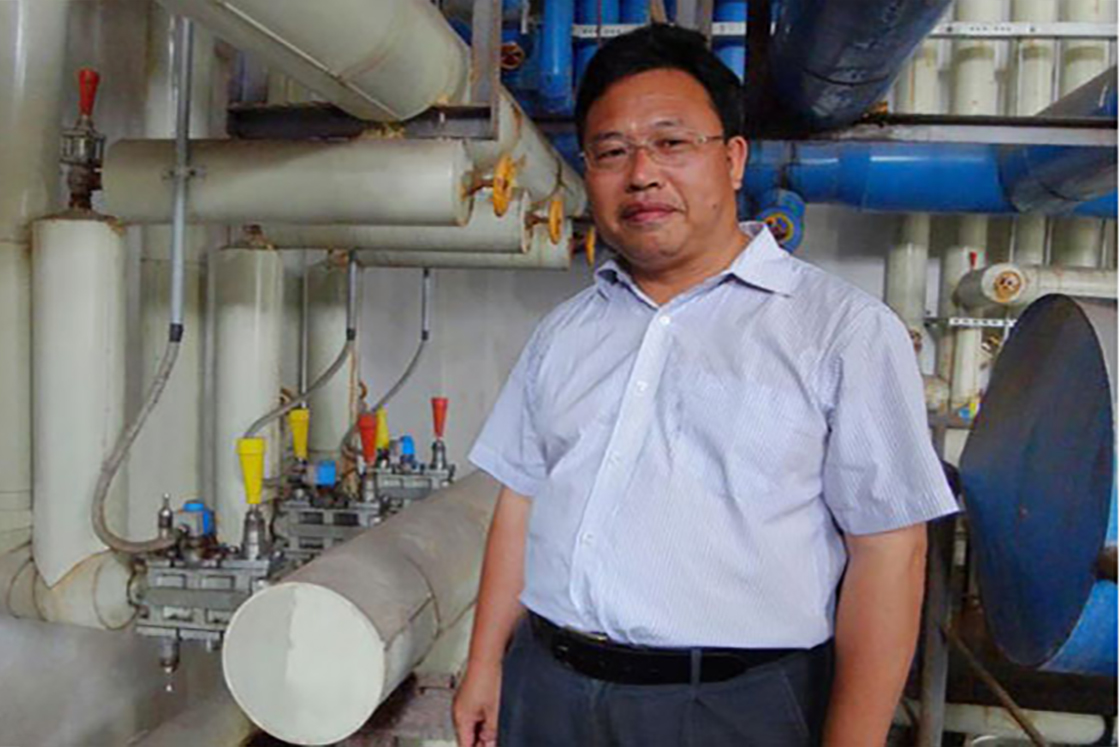 Tangrenshen Group's predecessor, Zhuzhou feed factory, was established in 1987. In 1995, Zhuzhou meat factory was emerged in the group to develop in slaughtering industry. Now, Tangrenshen Group is one of the national agricultural industrialization leading enterprises. The group is committed to the slaughter chain integration industry, and after 20 years of development, great achievement has been reached, such as "Tangrenshen" and "Camel" brands are famous trademarks in China. Now the group is ranked top ten in the Chinese slaughtering industry and top 500 in Chinese manufacturing industry.
For slaughtering house industry, refrigeration runs through the entire process. Accurate and stable low temperature control is crucial in such key processes as preliminary processing, cutting and packaging, quick freezing, chilling and carcass PH rate declining and storage. With vast experience in this field, Danfoss provides many leading slaughtering house enterprises in Europe and America with professional component and technical support. Danfoss is becoming the leading refrigeration enterprise in the global slaughtering house industry. Danfoss has a series of reliable, efficient and environmental-protection professional refrigeration solutions to provide customers with accurate temperature control and stable system operation.