NETTO, a Danish supermarket chain with 1,241 stores in Denmark, Poland, Sweden and Germany, has been a Danfoss customer since 1999. International Technical Manager Per Holm Johansen has been a key person in introducing CO2 solutions from Danfoss to NETTO, and throughout his career he has been a frontrunner for the use of CO2.
All New NETTO Stores Are Based on A CO₂ Solution From DanfossToday, all new NETTO stores are based on a CO₂ solution from Danfoss, and according to Per Holm Johansen the key to success is the long-term relationship between the supplier, Vojens Køleteknik, NETTO and engineering technology from Danfoss: 
"It is all about collaboration and mutual understanding of refrigeration techniques. NETTO and I have had a long-term business relationship with Danfoss and family-owned Vojens Køleteknik, the supplier of the complete refrigeration systems. The three of us have turned out to be an excellent combination, and we benefit from knowledge sharing, willingness to take chances and the fight to obtain energy reductions. Additionally, I have received excellent backup from my company and the management team at NETTO. It is crucial to have reliable backup in the refrigeration business, and NETTO has been 100% supportive in all kinds of attempts to reduce energy and save costs in order to secure that the customers get the best price for the groceries. It has been a true journey of value for money."
Jørn Petersen, Vojens Køleteknik, Per Holm Johansen, NETTO, and Preben Alfred Bertelsen from Danfoss Electronic Controllers & Services.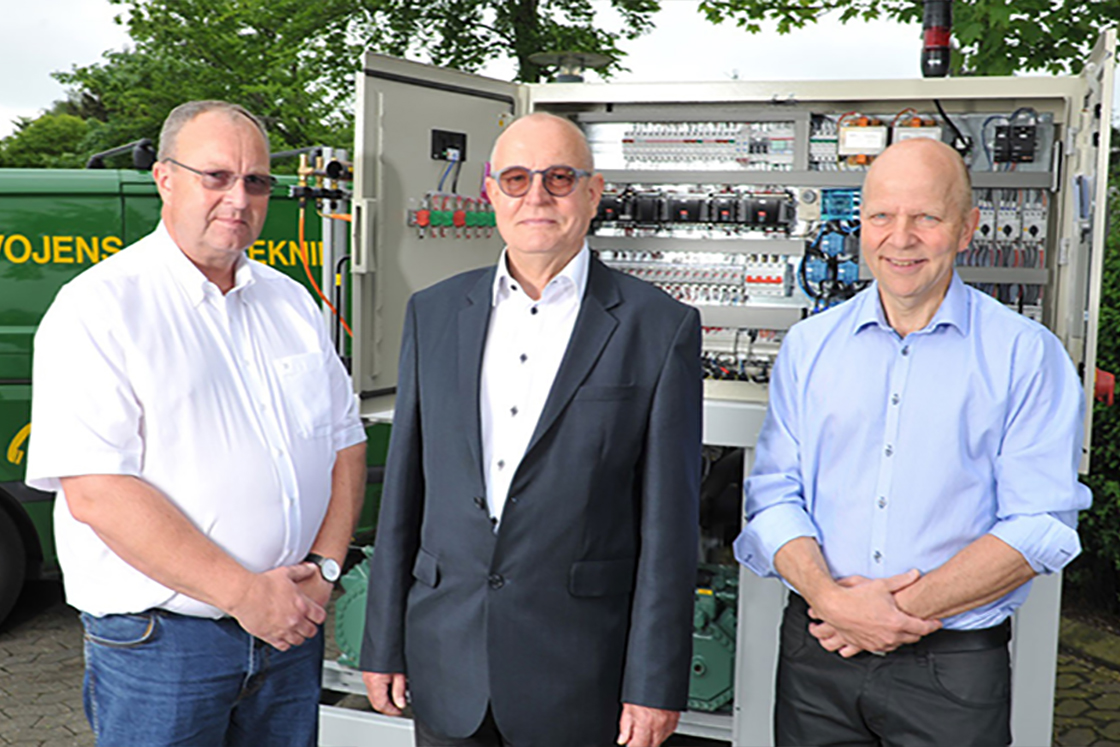 Refrigeration systems with a heart and soul
Per Holm Johansen has been part of the ADAP-KOOL® development since the very start, and in the beginning, he was not fond of the Danfoss refrigeration controller ADAP-KOOL® - the global control and supervisory solution for the food retail industry and now part of 50,000 supermarket solutions worldwide. But Per rapidly changed his mind: 
"I am and have always been a pioneer and I was willing to try a new controller from Danfoss. Refrigeration systems have a heart and soul, and none of them is similar. In the initial phase, we adjusted all systems and we did not save money or energy to start with, but after having adjusted the systems, savings arrived – on service and energy, exactly as Danfoss had promised. Preben from Danfoss slept in the store for a week, but it was worth it," Per comments. 
Fighting F-gases since 1999
In 1999, a new Danish law prohibited the construction of refrigeration systems with more than 10 kilograms of synthetic refrigerants, the so-called F-gases, and once again, major attention is on the F-gases.
On December 16, 2013, the European Parliaments' Environment Committee, Council and Commission finally agreed on a phase-down of F-gases. Specific areas, such as commercial refrigeration and air-conditioning, will be restricted while remaining sectors for safety reasons will still have the opportunity to use F-gases, for safety reasons. The new F-gas Regulation will ensure 79% reduction in climate impact by 2030. 
"The F-gas regulation has put a lot of pressure on the industry, and this is real progress seen from an environmental point of view. The industry has to realize that natural refrigerants like CO2 are also economically attractive, especially in the perspective of the long-term costs. In 2003, the Danish Government introduced taxes on HFC refrigerants and it pressed every button, and therefore NETTO and I started to look into trans-critical CO2 solutions. On behalf of NETTO, I am happy that we changed the concept for new refrigeration systems to trans-critical CO2 solutions. Today, all our new stores utilize CO2. We have retrofitted a lot of HFC-stores and changed them to CO2 trans-critical solutions over the past years, and even if it were possible we would never return to the HFC and glycol solutions again," Per explains.
The size of the refrigeration rags have changed over the years and throughout Per's career. Per Holm Johansen and Preben Alfred Albertsen in front of the rags. To the right: A brand new rag for NETTO, and to the left: An old model from the 80s.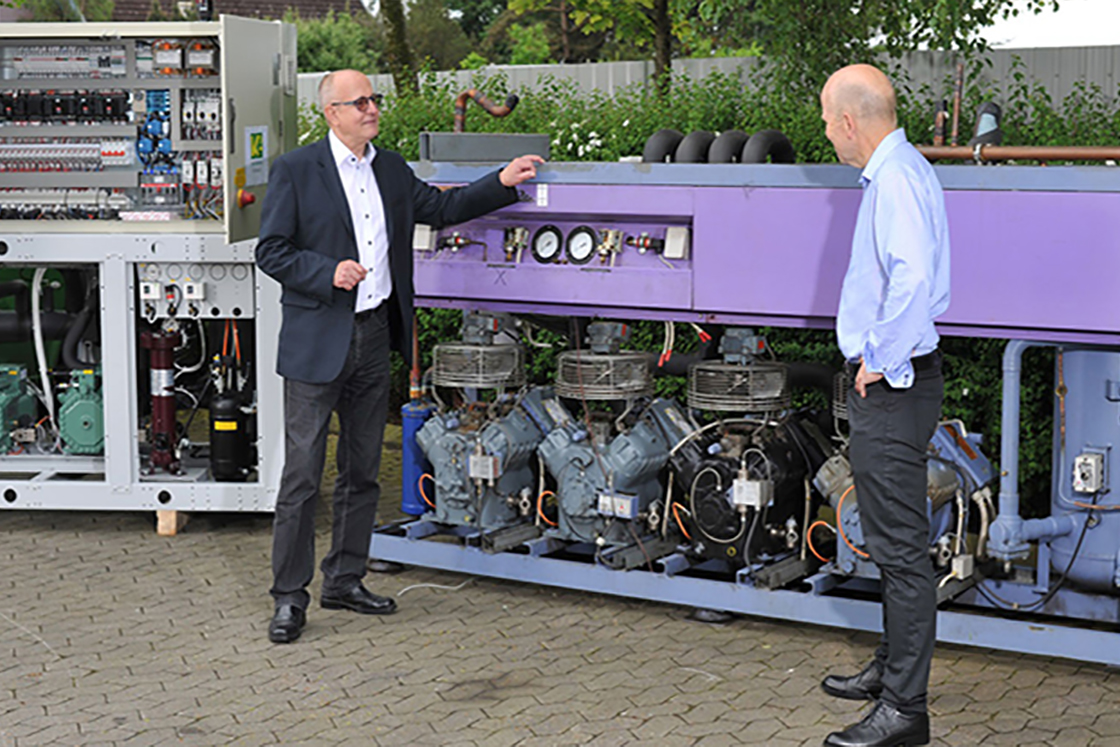 Food safety is our number one priority
Today, NETTO has achieved 15-20% energy savings in all stores, but at the end of the day, it is all about food safety. 
"Food safety is our number one priority, and the CO2 solutions are enabling NETTO to secure that the food stays fresh and that we have a good indoor climate for our employees," Per comments. 
Even though Per will soon retire, he will not stop fighting for CO2, and in his new role he will continue to set up refrigeration systems in new countries. 
"I will retire, but I have one more project to finish, and it includes engineering from Danfoss, Vojens Køleteknik and, of course, CO2. NETTO has had one target right from the start – to save money on energy and we have realized the target thanks to Danfoss and Vojens Køleteknik. It makes me proud that we have a standard package and an easy set-up for future stores with between 15-20% energy savings," Per Holm Johansen concludes.