Electric underfloor heating for all types of floors
Electric heating is an energy-efficient and environmentally friendly floor heating solution. It is flexible for new build homes and renovations for both wet and dry installation.​

Quick-responding heating systems are easy to control. They enable great comfort and convenience with their user-friendly navigation providing long-lasting effects according to the highest-ranking quality standards.​
Features and benefits
For any room in your home
Prevent slipping on wet tiles in bathrooms or kitchen
Electric heating is a good choice for low-energy houses
Fast-responding floor heating​
High durability and no maintenance​
Long lifetime with 20-year full warranty

Benefits of electric underfloor heating
A comfortable ambient temperature and quick response time are just a couple of the benefits electric heating offers. Learn more about these and other benefits of electric heating.
Flexible solution for comfort or total heating concept
Electric heating can be utilized as comfort heating (as an additional heat source) or as the primary heat source.​
The electric floor heating system consists of three main components:​
heating element (cable, thin heating mat, or heating element for laminate floors, etc.)​
thermostat with air and/or underfloor temperature sensors
accessories

DEVI - Electric Heating Systems
When choosing electric underfloor heating from DEVI you can have a system that complies to EcoDesign.

Comfort floor heating with DEVIflex heating cables
In this animation we'll show you how to reach the best effect of your cable heating system with most comfortable temperature on the floor surface considering DEVIflex cable to cable distance, output per square meter and cable installation depth.
Floor type: ceramic tiles, natural stone or terrazzo floors
Ceramic tiles and marble floors, granite, and terrazzo are smart, easy to maintain, and almost indestructible. There are many advantages to choosing a stone floor. However, unheated stone floors are very uncomfortable.
On the other hand, cold stone floors can be combined with electric underfloor heating. Our heating cables or mats can be placed directly under the stone floor to help ensure warm feet and a comfortable temperature in the room.
Electric underfloor heating is suitable for stone floors as they lose heat quickly. However, such floors also heat up quickly when heating cables or mats are placed directly under the floor. This is accurately controlled by our advanced room thermostats. They not only control the heat precisely, they also ensure maximum energy efficiency. This ensures excellent comfort and economy. The comfort temperature of the floor depends on the floor covering. For tiles, stone, and terrazzo, this is 26 – 29°C.
Floor type: wooden parquet and laminates
Wood is a natural material which contracts or expands depending on the temperature. This creates demand for a floor heating system to distribute the heat in a gentle and controlled way.
 
The electronic thermostats with floor temperature sensors are the perfect choice for wooden floors. They ensure that the temperature in the floor construction is always in accordance with the tolerance level recommended by the manufacturer of the wooden floors.
Under all circumstances, it is important that the floor is well insulated underneath to ensure the best heating comfort and most economical result.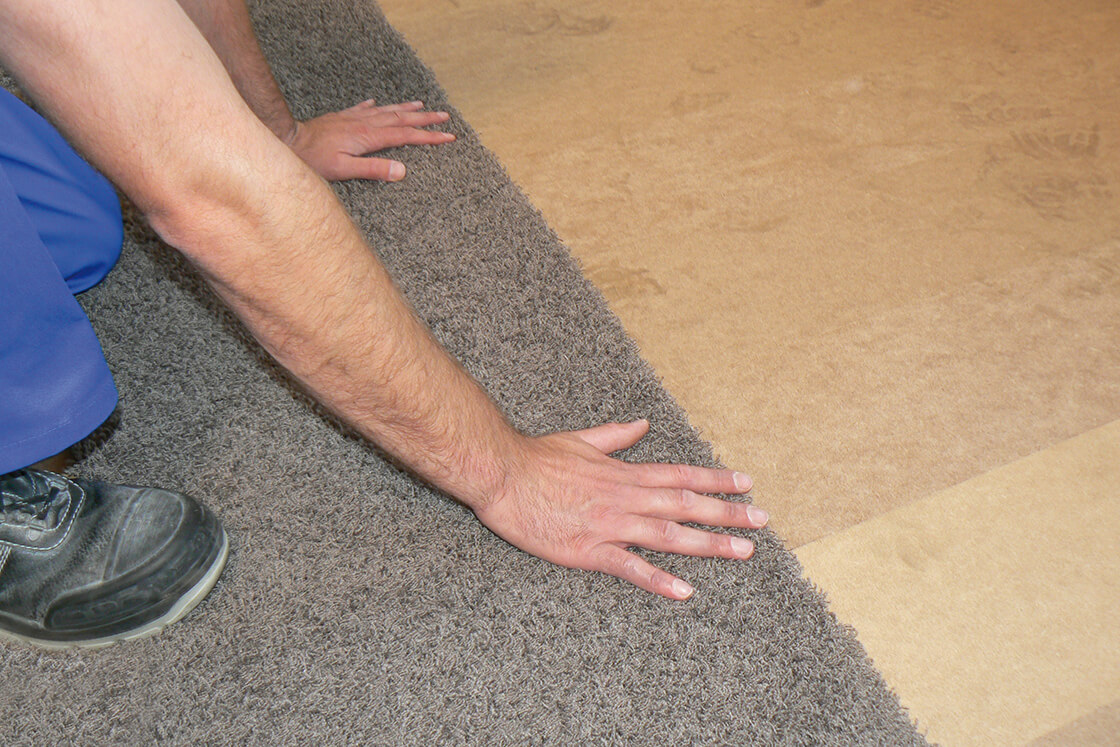 Floor type: wall-to-wall carpeting
Wall-to-wall carpets (or fitted carpets) are warm by nature. However, a carpeted floor can still be advantageously heated using electrical underfloor heating. The heating cables or mats must be covered with a layer of tile mortar or self-leveling floor screed with a minimum thickness of 6 mm. This provides a good, even distribution of heat over the floor's surface.
Carpets have a slight insulating effect on underfloor heating. This means that an underfloor heating system installed beneath a thick woolen carpet may take slightly longer to react to changes in the room's temperature.
 
Choosing any type of floor covering, please consider the limitations provided by the floor supplier.​
You are welcome to contact us at any time for help or questions at EH@danfoss.com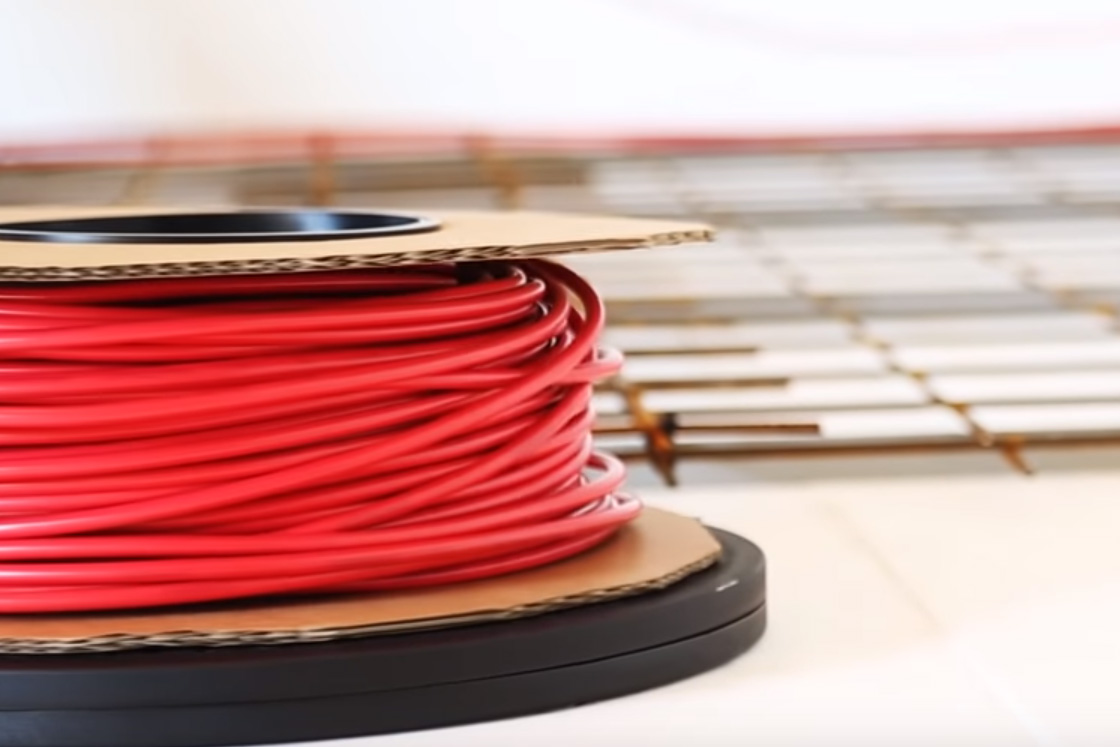 Easy installation
Installing electric underfloor heating is easy. See how it's done for DEVIflex™ heating cables for indoor applications.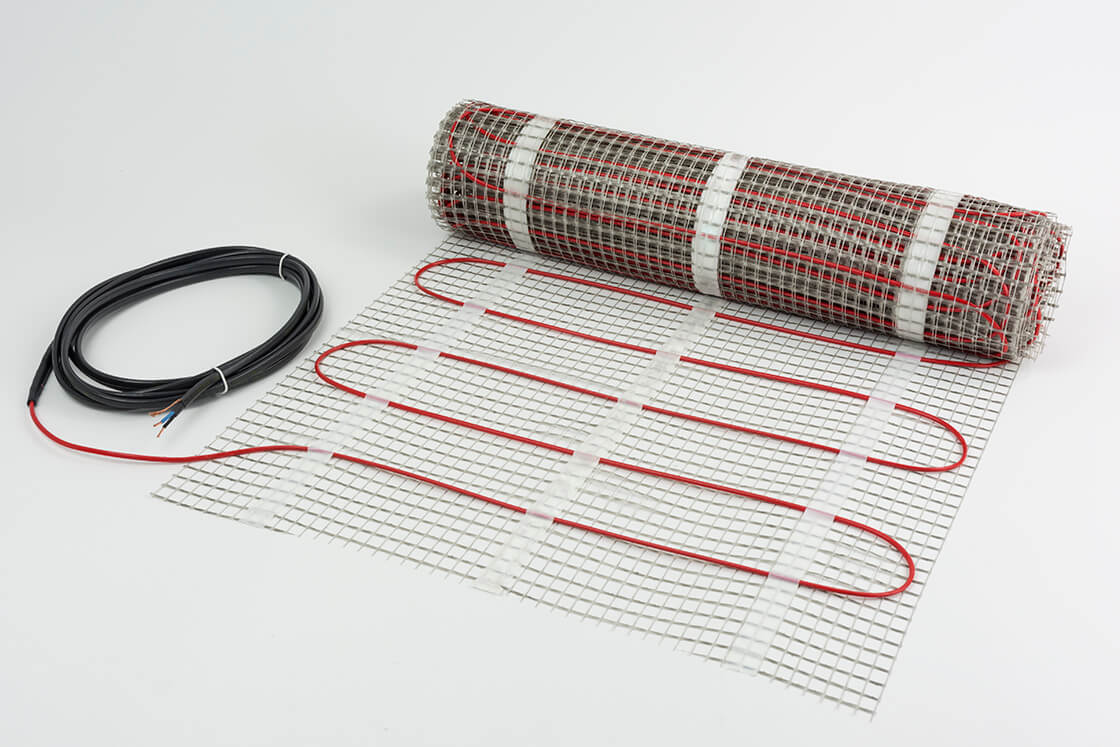 Danfoss ECmat™ Heating Mats
The heating mat can be applied directly to the surface of any old flooring and is installed within the thickness of the tile adhesives and therefore adds no significant height to the floor level.
Documents

| Type | Name | Language | Valid for | Updated | Download | File type |
| --- | --- | --- | --- | --- | --- | --- |
| Catalog | Danfoss Product catalogue | English | Multiple | 05 Dec, 2022 | 25.7 MB | .pdf |
Electric Heating
Total heating, also called primary heating, means that electric floor heating is used as the only source of heat in a house. Electric floor heating is an effective heating system that can easily heat up your house as the only heating source. The Electric total heating system is designed to cover total heat loss and provide full heating. 
Normally, DEVIflex™ / ECflex heating cables for indoor are placed in the lower part of a reinforced concrete layer with a maximum thickness of 5 cm. 
Are there restrictions on what furniture I can have on top of my underfloor heating system? 
Underfloor heating relies on the heat produced being unrestricted. If it is restricted, it may cause "hot spots" and, at worst, discolor the floor. Things such as beanbags, mattresses laid directly on the floor may cause problems. Any object that allows air movement underneath it is OK. 
How long does the heating system take to warm up? 
This depends on various factors, such as: 
What system has been installed and where (under tile or in slab)?
Type of screed that has been laid?
Depth of the floor screed? 
Warm-up time could be anything from 30 minutes for an indoor heating mat placed under tiles through to 5 – 7 (or more) hours for an in-slab storage system.  
Heating Bathrooms
Do I need to change the flooring when I want to install an electric floor heating in my bathroom? 
An easy and clean solution such as a heating mat gives you possibility to leave an old floor without removing it and creating unnecessary mess. The thought of broken up floors and craftsmen running in and out of the house used to be enough for most people to simply drop the idea of having their feet and floors heated. 
Today, there is no need to shiver when thinking about floor heating. You are able to get a warm floor without going through the expenses, dirt, and fuss of having to break up the old floor. 
The heating mat is only between 2.3 mm and 4 mm thick, depending on type. It can therefore easily be fitted directly on to your existing floor, whether it is concrete, timber or even an old tiled or terrazzo surface, without needing to cut up the existing floor construction. 
The heating mat is installed within the thickness of the tile adhesives and, therefore, adds no significant height to the floor level. Consequently, there should be no need to reduce door heights, raise skirting boards, etc. 
Electric Heating Installation
What type of tile adhesive/leveling compound/tiling grout do you recommend? 
The covering has to be flexible or have a flexible additive. Talk to your tiler for advice.
How thick does the layer of tile adhesive/leveling compound need to be? 
The adhesive bed has to be thick enough to cover the cables; generally 4-5mm is sufficient. 
How long do I have to leave the heating system, after tiling, before I can switch on? 
We recommend that the adhesive used is allowed to dry/cure naturally and to follow manufacturer's recommendations. Turning the floor system on too early can result in damage to the floor (to quick drying out). 
How long do I have to leave the heating system, after screeding, before I can switch on? 
It is recommended that any screed be allowed to cure naturally, and this would also depend upon its thickness. Generally, the length of time from the screed being laid and the system being ready to switch on is sufficient for it to dry out. 
Installation - Required output 
The required output heat can be anything from 40-150 W/m². It must be based on a detailed calculation of the room heat loss in W/m² from an architect, consulting engineer or your local DEVI / Danfoss office. 
The next step is to determine the heatable floor area heat. This means that the area covered by cupboards, bathtubs, lavatories, etc. has to be deducted from the total room area of a room. In order to ensure a quickly responding heating system, the total calculated output has to be increased by approx. 30%. 
The required output can now be found heat [W/m²] = 1.3 x room x room/heat. 
Locally, the output may be up to 2 times higher, e.g., in front of larger window areas. These rim zones are achieved by reducing the distance between the cables. 
Cost
How much does it cost to run electric floor heating? 
The cost depends on the size of the room, available floor space, and whether the system is to be used as the only heating source or as a warm floor. 
A 5m² bathroom with shower would normally require a 4 m² heating mat and a DEVIreg™ / ECreg thermostat. For dimensioning of total heating requirement contact DEVI /Danfoss Electric Heating partner in your local area. 
Electric floor heating normally costs less in purchasing and installation than any other conventional heating system. The general rule is: the bigger installation area is, the lower the system price per square meter. 
 
Safety
What about electromagnetic fields? 
DEVI / Danfoss electric floor heating is a safe solution. It is approved for use in houses, apartments and other facilities. 
Safety is ensured by the high quality, reliable cable construction, and installation in accordance to building standards. The heating conductor is insulated first by a layer of insulation, and then surrounded by a screen that is earthed. Finally, it is protected by an outer layer of insulation. 
The heating mat is water resistant, and features a safety screen under the outer sheath, which is connected to the electricity ground connection. Electric Heating system by Danfoss floor heating is manufactured according to the international IEC standards, ensuring that the customer is protected by the authoritative standards. 
Safety - Electromagnetic fields 
In the last few years, there has been an increased focus on magnetic fields. There has been a lot of research within this area, but despite the large number of studies, there is no proof of health risk possibilities. Consequently, it is not possible to set a precise maximum limit to how much we can exposure ourselves to without causing health risks. 
In relation to suggested limits, our daily exposure values are very low. 
The table below shows measurements of the strength of magnetic fields in both electric heating cables in floor and other frequently used electric appliances. 
| | | | | |
| --- | --- | --- | --- | --- |
| Unit | Distance | Value | Distance  | Value |
| DEVIflex®DSIG          | 6cm | 16µT    | 100cm | 0.8µT |
| DEVIflex®DTIP       |  6cm | 0.04µT    | 100cm | 0.04µT |
| DEVIflex®DSVF       |  6cm | 5.5µT     | 100cm | 0.16µT  |
| DEVIflex®DTVF     |  6cm |     0.4µT         | 100cm | 0.2µT |
| Flourecent lamp, 40 watt   |  6cm | 73.2µT | 30cm | 3.3µT   |
| Transformer, 12V/25 watt |  6cm | 35.1µT | 30cm | 0.7µT |
| PC, in front of screen    |  6cm | 0.9µT | 30cm | 0.1µT  |
| Shaver rechargeable     |  6cm | 940µT     | 30cm | 44µT  |
| Refrigerator, 160 watt    |  6cm | 1.1µT  | 30cm | 0.2µT  |
| Clock-radio   |  6cm | 11.4µT  | 30cm | 0.6µT  |
As the table shows, the strength of the magnetic field around the heating cable is at the same level or lower as other electric appliances. 
Troubleshooting and Support
The system is not heating up. What should I do? 
There are number of reasons why this could happen: 
Check that you have a supply (voltage) to the thermostat.
Check to make sure the thermostat is operating.
Check the settings on the thermostat.
Check the continuity and resistance of the mat.
These checks should be carried out by a qualified electrician
Can we get a DEVI / Danfoss technician to come out and look at the system? 
Yes, we recommend professional installers to help you find any fault and repair it. Contact us and we'll appoint you to your nearest installer. 

DOs and DON'Ts for Indoor Electric Heating
Electric Heating is an energy-efficient and environmentally friendly floor heating solution. You can use it for either newly constructed or renovated homes.
Coming soon...
Coming soon...

Visit our Learning Center
Danfoss offers online training materials for technicians and designers working with electric heating. There are 6 e-lessons available free and on-demand through Danfoss Learning portal. For more information, register in our support section by following the link or find the overview of available relevant trainings in the table below.