In 2016, Russian retailer Magnit opened a new hypermarket in the Moscow region of Voskresensk and is one of several that have opened its doors during last year.
However, this one in Voskresensk is very special and stands out among its peers. It is the first hypermarket in Russia that uses a transcritical booster refrigeration system with carbon dioxide (CO₂), an eco-friendly and natural refrigerant.
Finding an optimal technical solution for a fast growing retail chain is the result of hard and diligent work.
"In our company, the key factors in selecting technical solutions for a new store are quality and reliability, minimum energy consumption, and compliance with the latest environmental standards. The choice in favor of a CO₂ transcritical booster refrigeration system was made due to its low power consumption, compactness, refrigerant charge reduction, and ecological performance. We expect an annual energy saving of around 20% through the use of CO₂ transcritical refrigeration system," says Andrey Budkov, the project manager in charge of CO₂ implementation in the Magnit retail chain.
Magnit has been working on the development and implementation of energy-saving technical solutions together with Danfoss for many years. "I would like to point out that Magnit is one of the few Russian retail chains that pays great attention to innovation and energy efficiency, understanding that the optimization of operating expenses is an integral part of business success. Today's example of CO₂ implementation also demonstrates that the company will not stop its trend leadership in the industry," says Maxim Vysotsky, Head of the Food Retail department, Danfoss Russia.
CO₂ is a safe, natural, and cheap refrigerant that delivers high performance, low power consumption, and significant heat recovery potential. Due to its physical properties, a CO₂-equipped system requires much smaller pipes compared to a similar HFC system (e.g. R404A). In addition, CO₂ has a low global warming potential (GWP = 1) and has no effect on the Earth's ozone screen (ODP = 0), which allows systems that use the refrigerant to meet the latest environmental requirements.
"Experience in the global food retail market demonstrates that CO₂ has gained a higher profile in many regions including South Africa, Japan, Canada, the United States, as well as many European countries. And with the tightening of HFC refrigerant regulation,
the role of natural alternatives, such as CO₂, becomes more important throughout the entire world. It's also worth noting that the cost of CO₂ is ten times lower than that of R404A, and is produced in abundance in our country," says Alexander Seravin, CO₂ technology expert at Danfoss Russia.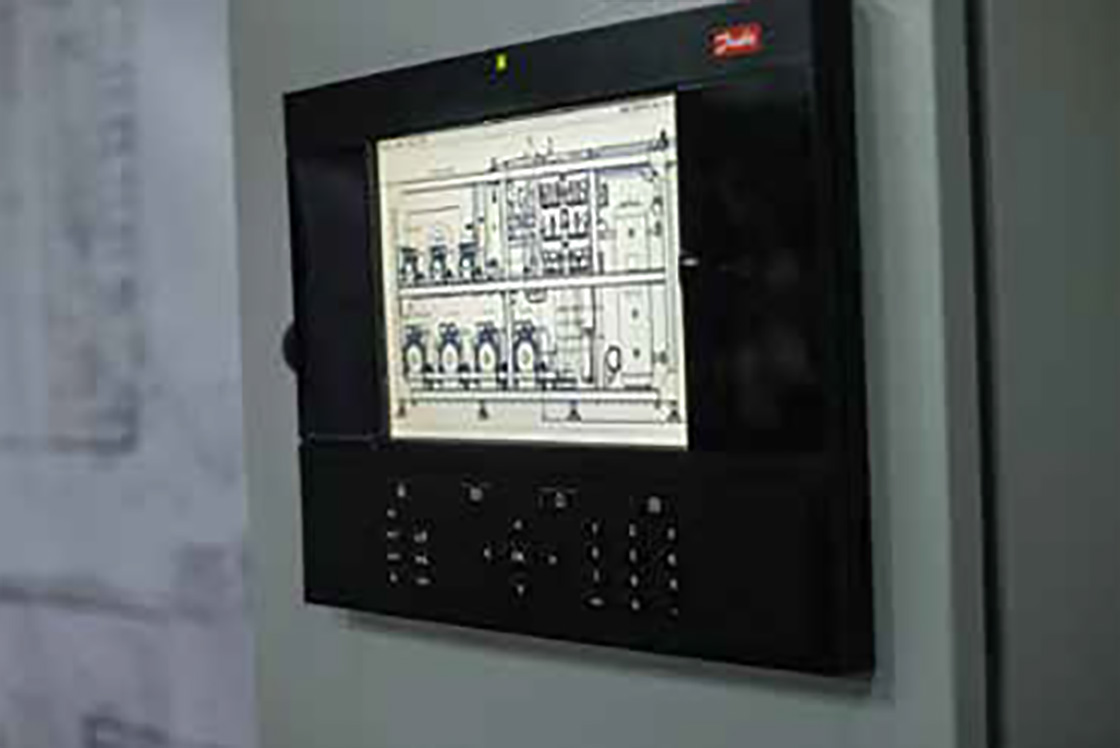 Boldly betting on the future
The CO₂ transcritical booster refrigeration system installed in the store in Voskresensk was manufactured locally in Russia by the Nord-SM company. In order to implement such an ambitious project, Nord-SM, in cooperation with Danfoss and UNIDO, undertook serious preparatory work. Nord-SM built a CO₂ operating stand at their training center and modernized their production lines to produce the CO₂-ready unit. These steps helped improve the product's design and develop the necessary production capacity and assembly technology for the CO₂ units. Nord-SM also provided installation and maintenance training for these systems to ensure the full potential was realized by their staff.
"A few years ago our company decided to bet on CO₂, as we understood that the future of food retail business is closely related to the refrigerant. Since then, we have made a lot of effort in the study, design, and production of systems for CO₂. Among numerous advantages of CO₂, I want to highlight the fact that, due to its low cost, the customer significantly cuts down operating costs associated with the system's charging," says Igor
Palchik, Technical Director, Nord-SM company. The refrigeration cabinets in the store were manufactured in Belarus by FREOR company.
"We supported the project since the beginning. In European countries, the demand for CO₂-enabled equipment is growing every day. Now we offer a wide range of commercial equipment
for CO₂, produced by our factory in the Republic of Belarus. The difference in the price of retail equipment for CO₂ and HFCs is negligible, and that allows innovative technologies to be competitive with traditional systems," says Lyudmila Danuk, Deputy Director, FREOR Company.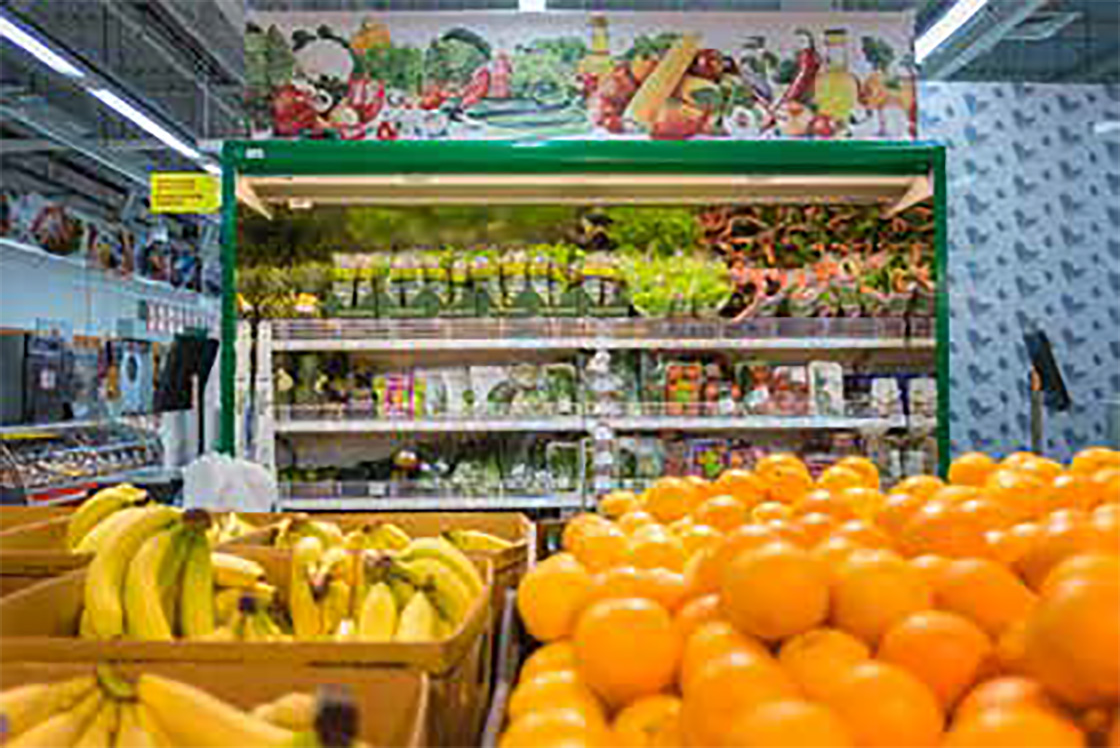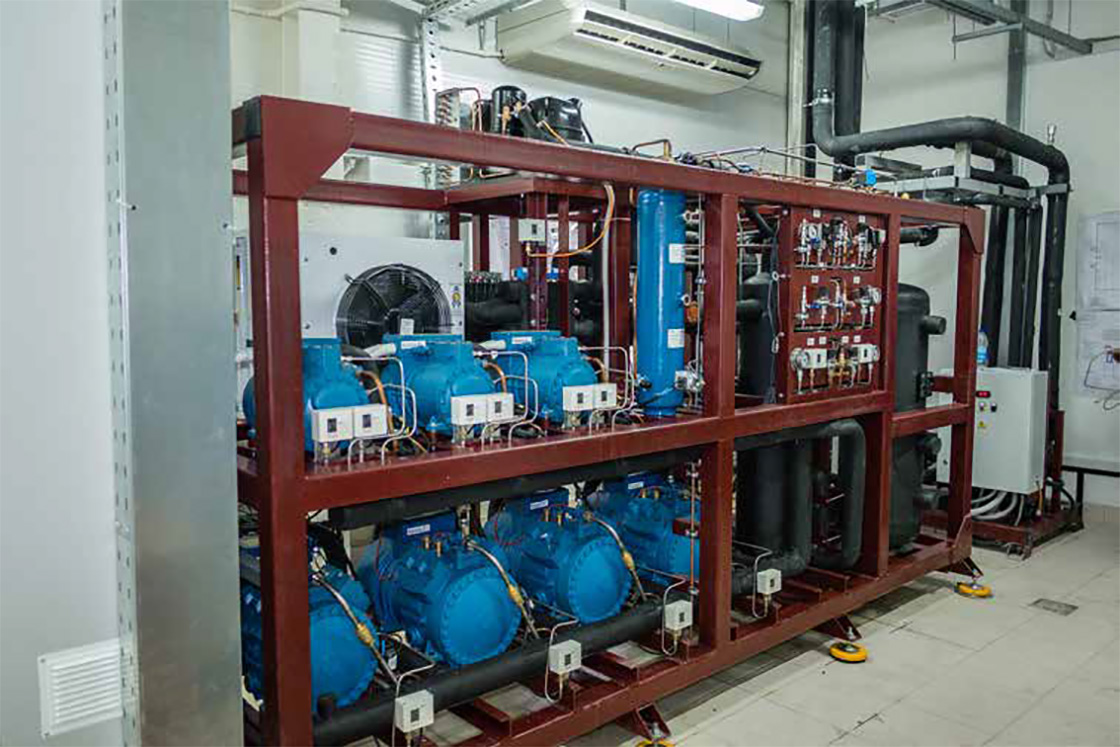 Transcritical booster pack
Transcritical booster pack was produced by Nord-SM company Commercial refrigeration furniture is produced by FREOR company
22 medium temperature cabinets
12 low temperature cabinets
2 medium temperature cold rooms
3 low temperature cold rooms
3 refrigerated zones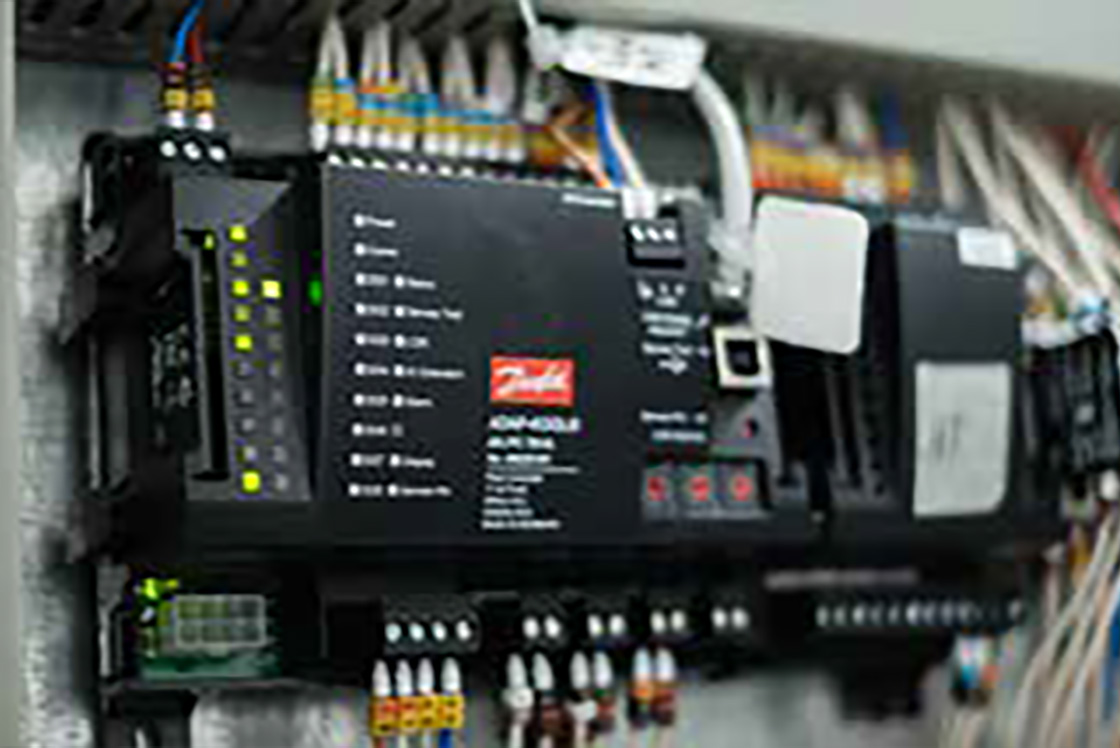 The compressor unit consists of:
Compressors: Frascold 1xS30-18TK, 3xS25-14TK + 1xA2-4SK3, 2xA1,5-3SK3
Gascooler: LU-VE XAV9X 9912, 2 EC fan
Capacity and ejector controller: Danfoss AK-PC 781A
Ejector: Danfoss Multi Ejector
EXV controllers: Danfoss AK-CC 550A
EXV: Danfoss AKVH
High pressure electronic expansion valves: Danfoss ICMTS and CCMT

Line components and automatic controls: Danfoss GBC H-NRVH, DMT KP6W, CCB, MBC
Gas detectors: Danfoss DGS
System Manager: Danfoss AK-SM 850
Danfoss took part in system design, testing of packs and commissioning.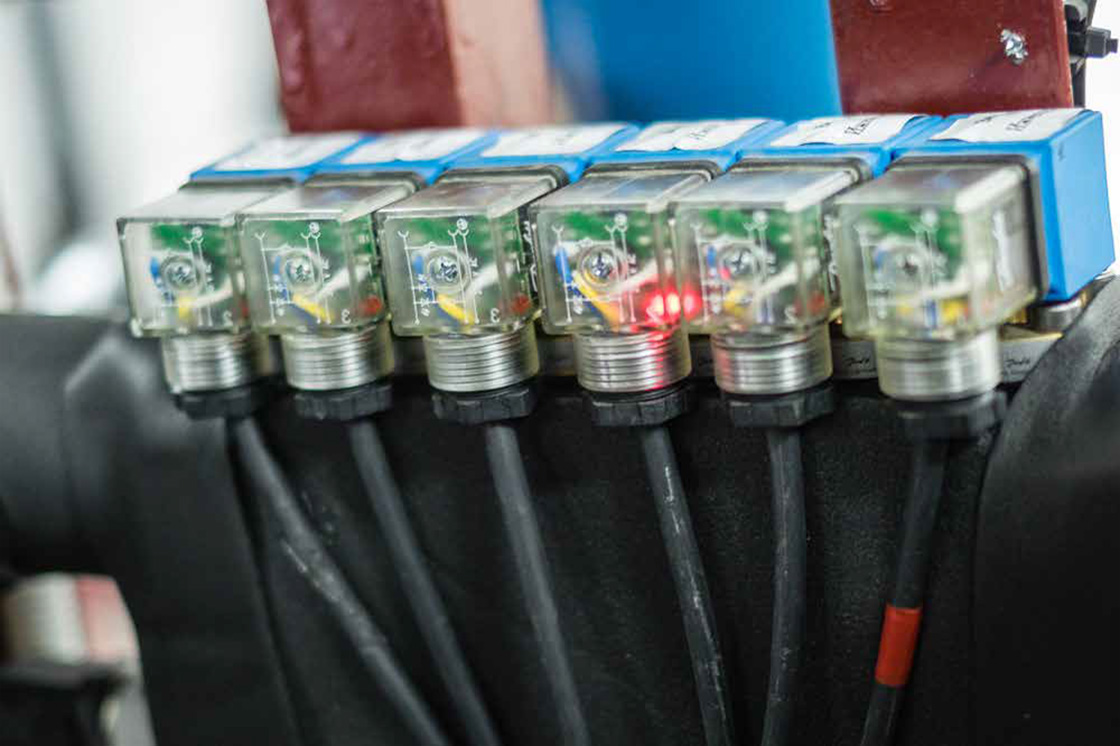 CO₂ - Better with Danfoss ejector technology
It is the use of a Danfoss Multi Ejector that allows the transcritical CO₂ system to obtain maximum energy efficiency. In addition, the Multi Ejector allows for smaller compressor packs to be installed, which reduces the initial costs. Despite the simplicity and widespread popularity of the technology, the Multi Ejector was not previously used in transcritical commercial refrigeration systems. However, as the result of years of work in close cooperation with the organization SINTEF, Danfoss managed to develop a unique Multi Ejector to complement these specific transcritical refrigeration systems.
Magnit was among the first to introduce the new ejector technology in their transcritical refrigeration system. Their decision was made based on the results of numerous tests with ejectors and confirmed efficiency improvements. For the moderate climate zone of Russia, the energy saving potential of transcritical systems with the use of the ejector is 20-25% compared to traditional refrigeration systems that use HFCs (e.g., R404A).
"We see a growing interest in natural refrigerants in Russia,especially in CO₂. Additional new hypermarkets that operate on transcritical systems are expected to open next year. We believe that every year their number will grow rapidly. Danfoss is aware of its role and responsibility in training qualified personnel. For this we offer special CO₂ training in both our own and in our partners' training centers", says Alexander Seravin, CO₂ technology expert at Danfoss Russia

Read more Danfoss Case Stories
Learn more about Danfoss Smart Store Solutions
Danfoss CO₂ solutions