In commercial air conditioning solutions, Danfoss has long been recognized as a market leader. At this year's Chillventa, Danfoss adds new, innovative products to the program: An extension of the VZH inverter scroll compressor family and a true revolution in electric expansion valve technology, the new ETS Colibri® platform.
Extension of Danfoss inverter scrolls
At Chillventa 2014, Danfoss will present an extension of its VZH inverter scroll compressor range with three new models. Designed for close control, small rooftops, air handling units, and process cooling applications, the new VZH models will deliver cooling capacities between 14 and 26 kW and up to 46 kW in manifold configuration. They modulate from 15 to 100 rps and feature the Danfoss Intermediate Discharge Valve for higher part load efficiency.
As part of the official Chillventa congressing program, experts from Danfoss will give two presentations about the use of variable speed technology in data centers and in reversible rooftop units.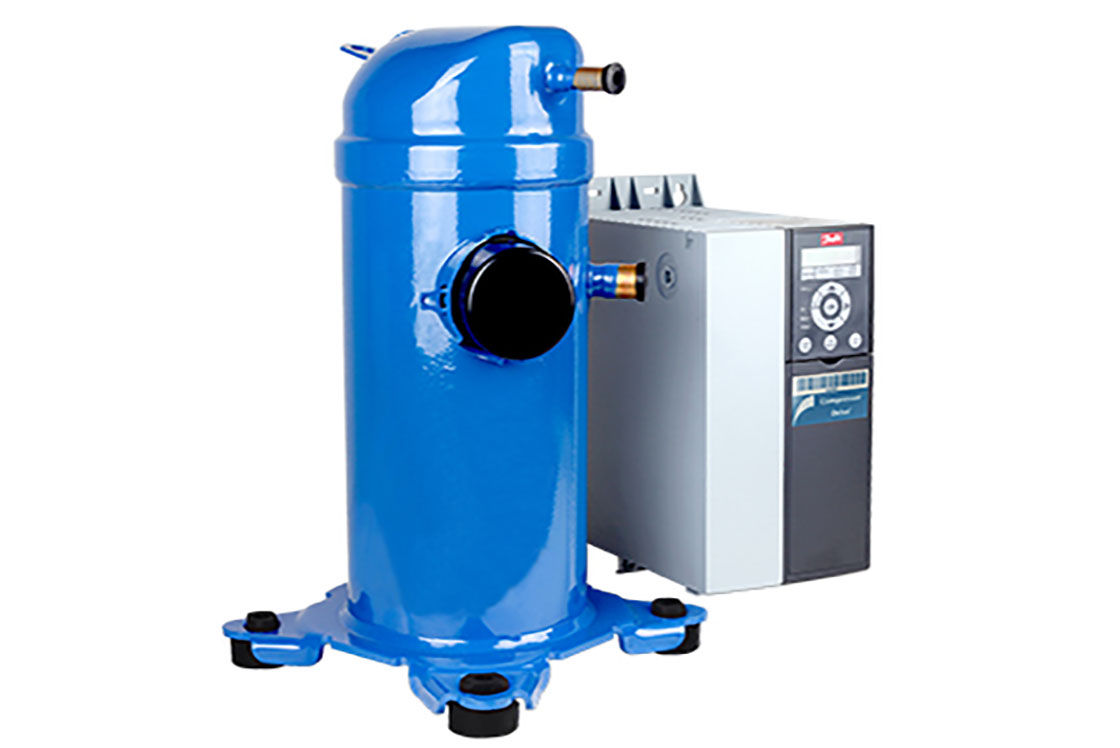 A real breakthrough in electric expansion valves
Danfoss is also bringing its latest development in electric expansion valves to the exhibition: The new ETS Colibri® platform, designed for precise liquid injection into evaporators for air-conditioning, heat pump and refrigeration applications. Thanks to its compact and in-line design, ETS Colibri® easily fits almost anywhere in the system. The hermetic body guarantees uncompromised integrity of internal components and fewer potential leak points in the system.
The new ETS Colibri® platform covers and will gradually replace the current Danfoss range of electric expansion valves: ETS 12.5 to ETS 100.
New Danfoss Turbocor compressors
Another innovation shown at Chillventa is the IntraFlow™ technology in the new Danfoss Turbocor compressor, which improves compressor efficiency and extends the stable operating range while simplifying capacity control. Using only a flow valve to direct the refrigerant, there are no moving parts needed to manipulate aerodynamic conditions. Its increased turn-down capabilities extend the stable operating envelope far beyond what can be achieved using IGVs or Variable Geometry/Mechanical Diffusers and helps improve full load efficiency.
Also on display is the Danfoss Turbocor TG310 compressor, which utilizes the ultra-low GWP refrigerant HFO-1234ze(E). It is a highly energy efficient and environmentally progressive compressor with all the benefits of oil-free operation.
New patented solution for manifold compressors
In order to improve reliability and part-load efficiency with manifold compressors, Danfoss has designed and implemented a patented solution, organ pipe, capable of retaining oil in non-operating compressors under part-load conditions. The solution is available in the R410A SH scroll range from 15HP to 40HP. The organ pipe reduces the risk of failure due to poor lubrication, and improves heat transfer in the evaporator, boosting overall system efficiency. This solution and many others for precision cooling and heating will be on display at Danfoss' Chillventa booth.
For Danfoss, Chillventa 2014 will also be the world premiere of a new visual identity, and the visitors can look forward to a brand new booth design. You will find Danfoss in Hall 4, booth 102 at Chillventa 2014 in Nuremberg, Germany, from the 14th to the 16th of October.
Please write an Email to: chillventa@danfoss.com
Danfoss engineers technologies that enable the world of tomorrow do more with less. We meet the growing need for infrastructure, food supply, energy efficiency and climate-friendly solutions. Our products and services are used in areas such as refrigeration, air conditioning, heating, motor control and mobile machinery. We are also active in the field of renewable energy as well as district heating infrastructure for cities and urban communities. Our innovative engineering dates back to 1933 and today Danfoss is a world-leader, employing 22,500 employees and serving customers in more than 100 countries. We are still privately held by the founding family. Read more about us at www.danfoss.com.