Bearing temperature sensor, type MBT 5310
The MBT 5310 temperature sensor series is specially designed for measuring the temperature in bearings where there is a risk of overheating.
To get a very short reaction time the measuring element is placed in a way to secure a reaction time of down to t0.5 = 6 sec. in water.
The sensor is fitted with an adjustable spring loaded protection tube which ensures metallic contact between bearing and sensor at all times.
Features and benefits
For monitoring of bearing temperatures where there is risk of overheating, in applications such as:
Based on Pt 100 / Pt 1000 technology for use up to 200 °C
Spring loaded to ensure good contact with the bearing
Approvals & Certificates:
Det Norske Veritas, DNV
Registro Italiano Navale, Rina 
Bureau Veritas, BV
American Bureau of Shipping, ABS 
Korean Register of Shipping, KR 
China Classification Society, CCS
Product ordering key
Non-standard build-up combinations may be selected. However, minimum order quantities may apply.
Please contact your local Danfoss Office for further information.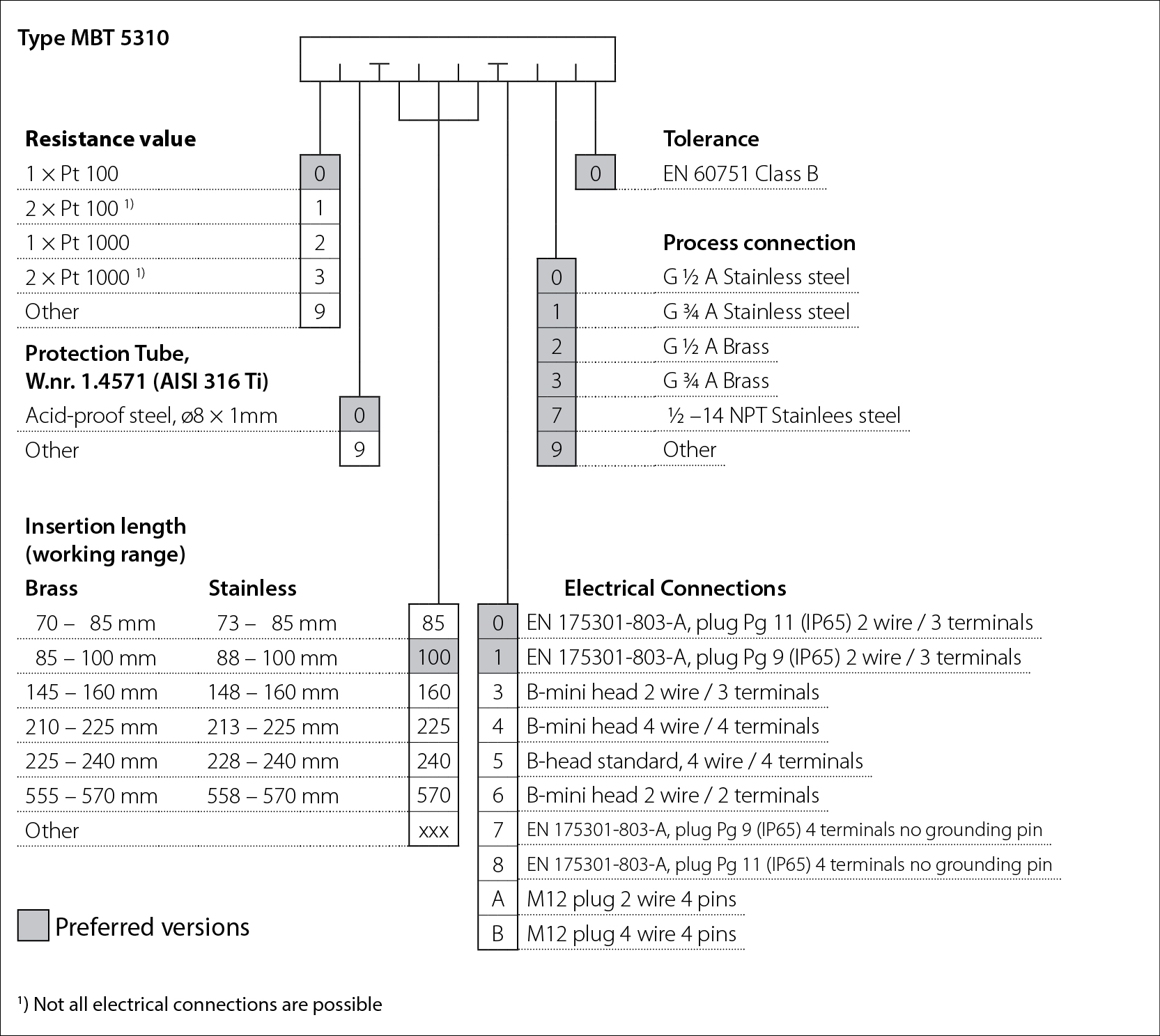 Documents

| Type | Name | Language | Valid for | Updated | Download | File type |
| --- | --- | --- | --- | --- | --- | --- |
| Data sheet | Bearing temperature sensor MBT 5310 | German | Multiple | 04 Aug, 2022 | 921.9 KB | .pdf |
| Data sheet | Bearing temperature sensor MBT 5310 | Chinese (CN) | Multiple | 04 Aug, 2022 | 1.0 MB | .pdf |
| Data sheet | Bearing temperature sensor MBT 5310 | Spanish, Castilian | Multiple | 04 Aug, 2022 | 920.4 KB | .pdf |
| Data sheet | Bearing temperature sensor MBT 5310 | Russian | Multiple | 04 Aug, 2022 | 924.0 KB | .pdf |
| Data sheet | Bearing temperature sensor MBT 5310 | French | Multiple | 04 Aug, 2022 | 922.4 KB | .pdf |
| Data sheet | Bearing temperature sensor MBT 5310 | Ukrainian | Ukraine | 05 May, 2020 | 688.6 KB | .pdf |
| Data sheet | Temperature sensor, type MBT 5310 | Polish | Multiple | 04 Aug, 2022 | 922.4 KB | .pdf |
| Data sheet | Temperature sensor, type MBT 5310 | English | Multiple | 26 Feb, 2021 | 943.1 KB | .pdf |