Temperature sensor, type MBT 5250 & 5252
Heavy-duty temperature sensors for controlling cooling water, lubrication oil, hydraulic oil and refrigeration plants within general industry and marine applications. These temperature sensors are based on a standardized Pt 100 or Pt 1000 element, which gives a reliable and accurate measurement. All three sensor types can be delivered with NTC / PTC elements on request.
In the low temperature version (-50 – 200 °C) the measuring insert is based on a silicone cable, which makes the sensor very resistant towards vibrations. The MBT 5250 with changeable measuring insert and MBT 5260 with fixed measuring insert are equipped with EN 175301-803-A, Pg 9 as standard. The MBT 5252 is equipped with a B-head as standard, but can also be delivered with B-mini Head on request. If needed, a transmitter (MBT 9110) can be ordered as an integrated part of the MBT 5252 sensor.
Features and benefits
Gaseous or liquid media, e.g. air, gas, vapor, water or oil
Up to 200 °C media temperature (MBT 5250)
Up to 200 °C or 400 °C media temperature (MBT 5252)
Pt 100 or Pt 1000 sensing element
Can be used with 2- or 3-wire connections
Gold plated male and female connector (MBT 5250)
Interchangeable measuring insert
Available with built-in transmitter (MBT 5252)
Approvals & Certificates:
Lloyds Register of Shipping, LR
Germanischer Lloyd, GL 
Det Norske Veritas, DNV 
Registro Italiano Navale, RINA
Nippon Kaiji Kyokai, NKK 
American Bureau of Shipping, ABS 
Korean Register of Shipping, KR 
Bureau Veritas, BV 
China Classification Society, CCS
Product ordering key
Non-standard build-up combinations may be selected. However, minimum order quantities may apply.
Please contact your local Danfoss Office for further information.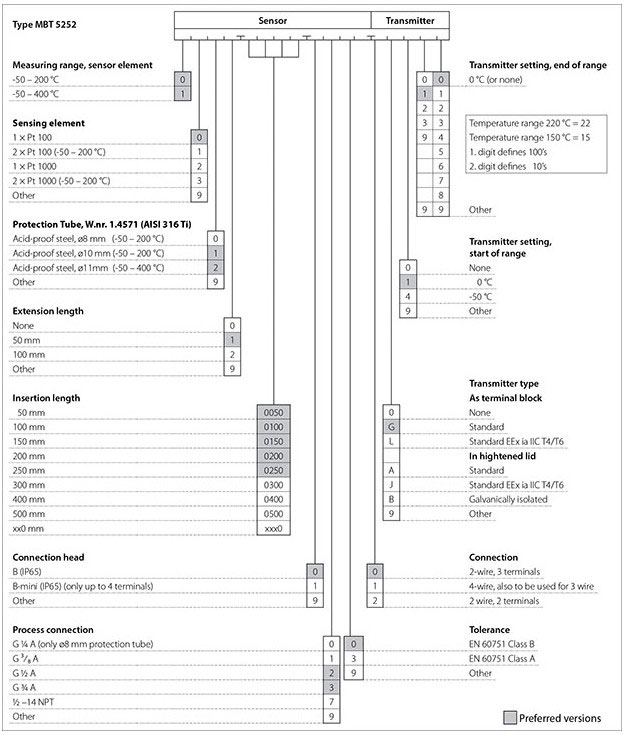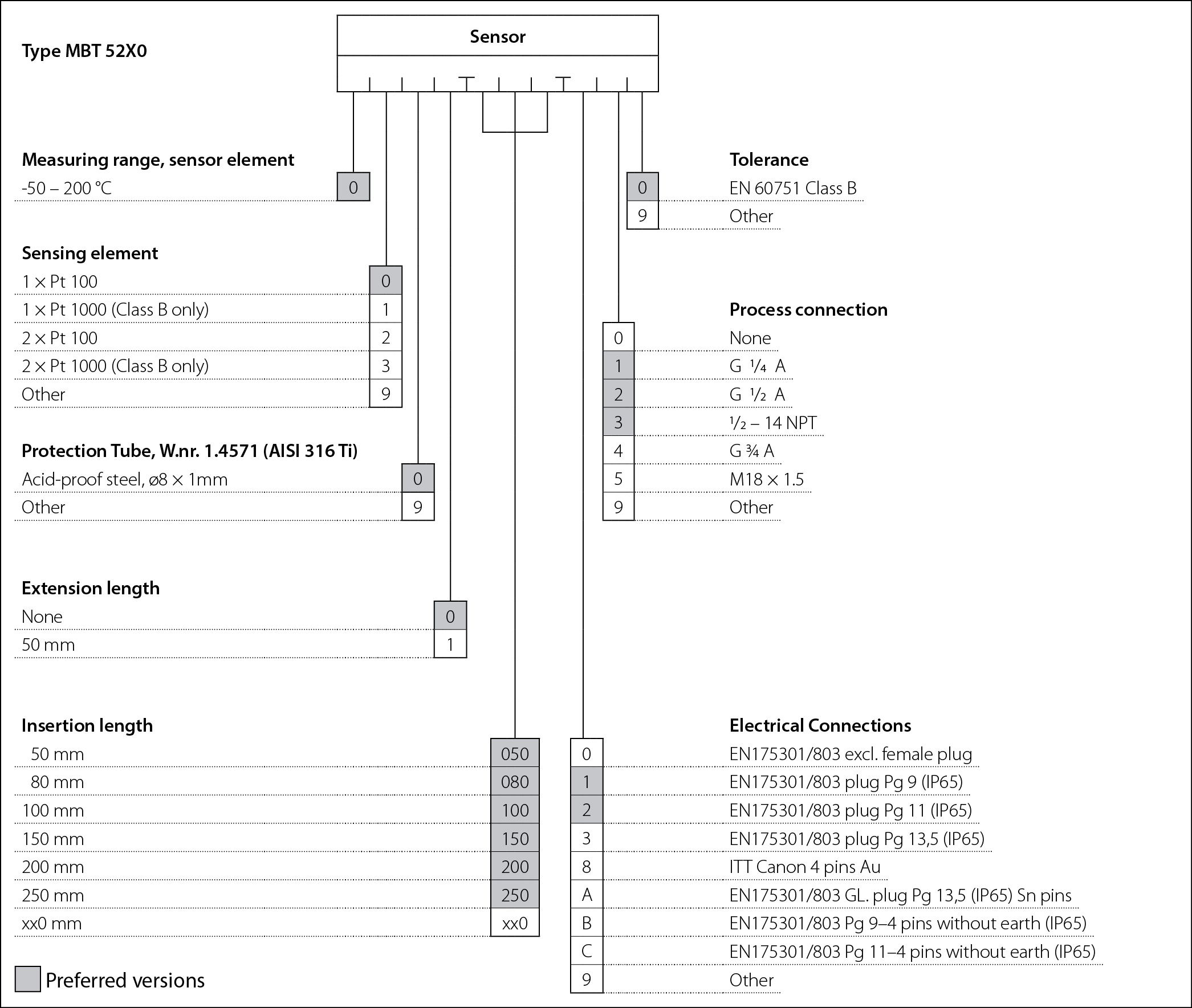 Documents

| Type | Name | Language | Valid for | Updated | Download | File type |
| --- | --- | --- | --- | --- | --- | --- |
| Data sheet | Temperature Sensors types MBT 5250, MBT 5260 and MBT 5252 | Polish | Multiple | 14 Jun, 2022 | 2.4 MB | .pdf |
| Data sheet | Temperature Sensors types MBT 5250, MBT 5260 and MBT 5252 | Chinese (CN) | Multiple | 04 Aug, 2022 | 2.9 MB | .pdf |
| Data sheet | Temperature Sensors types MBT 5250, MBT 5260 and MBT 5252 | Spanish, Castilian | Multiple | 14 Jun, 2022 | 2.4 MB | .pdf |
| Data sheet | Temperature Sensors types MBT 5250, MBT 5260 and MBT 5252 | German | Multiple | 14 Jun, 2022 | 2.4 MB | .pdf |
| Data sheet | Temperature sensors, type MBT 5250, MBT 5260 and MBT 5252 | Russian | Multiple | 14 Jun, 2022 | 2.4 MB | .pdf |
| Data sheet | Temperature sensors, type MBT 5250, MBT 5260 and MBT 5252 | English | Multiple | 26 Feb, 2021 | 2.2 MB | .pdf |
| Data sheet | Temperature sensors, type MBT 5250, MBT 5260 and MBT 5252 | Ukrainian | Ukraine | 19 Jul, 2023 | 2.5 MB | .pdf |