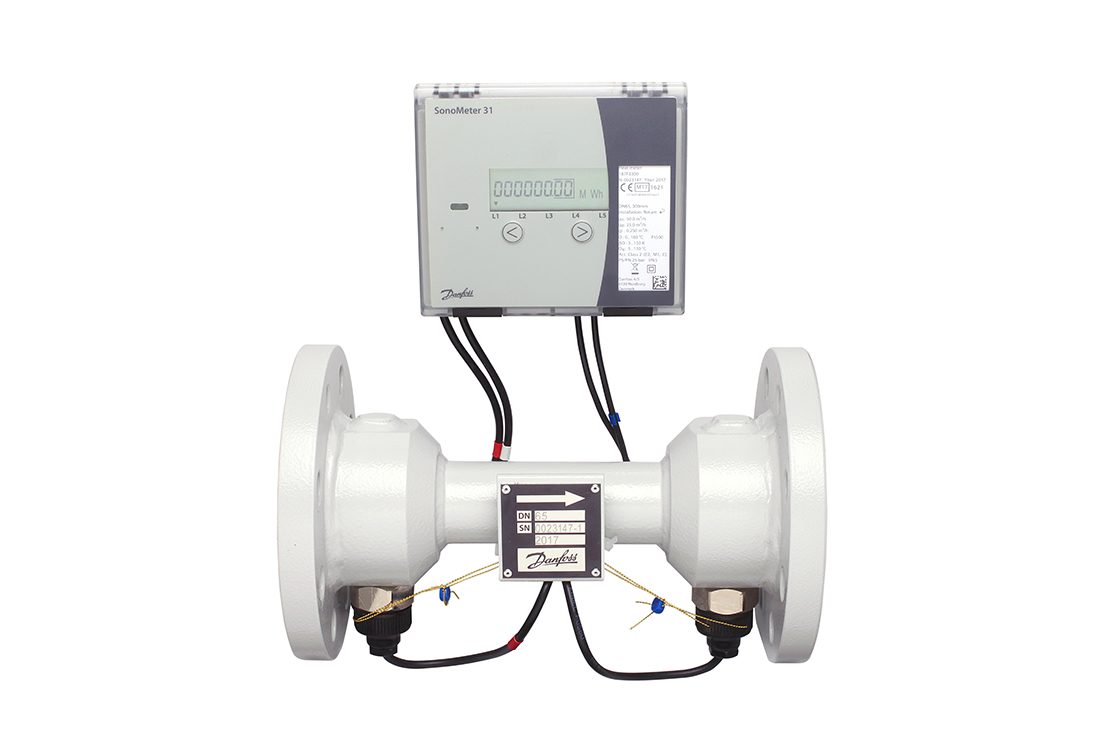 Robust meter for entrance
consumption measurement
The SonoMeter™ 31 is a compact ultrasonic meter for measuring either heat or cooling consumption at the building entrance or within district energy networks. It is highly resistant towards high temperatures and is build for high pressure applications. The meter comes both in a mains powered versions (230 V AC) as well as a battery version with up to 10 years lifetime.
The meter is MID class II B+D certified.
Size | Flow:  DN65 – DN100 | Qp 25 - 60 m3 /h
Temperature | Pressure: 5-130°C | PN16/25
Types: Compact meter (heat, cool and combined)
Approvals: MID class II B+D (heating)
Flow sensor cable length: 3.0m | 5.0m | 10.0m
Temp. sensor cable length: 3.0m | 5.0m | 10.0m
Configuration options: 

Pulse outputs
Additional sensors for flow, pressure and temperature
Size | Flow:  DN65 – DN100 | Qp 25 - 60 m3 /h
Temperature | Pressure: 5-130°C | PN16/25
Types: Compact meter (heat, cool and combined)
Approvals: MID class II B+D (heating)
Flow sensor cable length: 3.0m | 5.0m | 10.0m
Temp. sensor cable length: 3.0m | 5.0m | 10.0m
Configuration options: 

Pulse outputs
Additional sensors for flow, pressure and temperature
Features and benefits
Can be installed in high temperature and high pressure applications
High IP class – lowers the meter damage rate
and replacement costs
Multiple communication options available,
e.g. for building automation purposes
Can be used in glycol applications (not MID certified)
| Type | Name | Language | Valid for | Updated | Download | File type |
| --- | --- | --- | --- | --- | --- | --- |
| Operating guide | Communication description M-Bus SonoMeter 31 | English | Multiple | 02 May, 2019 | 1.8 MB | .pdf |
| Brochure | Energy metering solutions - Product overview | English | Multiple | 14 Jun, 2019 | 1.4 MB | .pdf |
| Declaration | EU declaration - Sonometer 31 | English | Multiple | 04 Jun, 2019 | 414.9 KB | .pdf |
| Brochure | Precision and reliability through advanced ultrasonic technology 4-pager | English | Multiple | 14 Jun, 2019 | 550.4 KB | .pdf |
| User guide | SonoEnergy Control Panel | English | Multiple | 14 Jun, 2019 | 2.9 MB | .pdf |
| Brochure | SonoMeter 30/31 - Ultrasonic thermal energy meters suitable for all applications | English | Multiple | 06 Jun, 2019 | 904.0 KB | .pdf |
| Operating guide | Sonometer 31 | English | Multiple | 02 May, 2019 | 931.2 KB | .pdf |
| Data sheet | Sonometer 31 data sheet | English | Multiple | 02 May, 2019 | 486.1 KB | .pdf |
| User guide | SonoMeter 31 User guide_r2 | English | Multiple | 02 May, 2019 | 1.1 MB | .pdf |