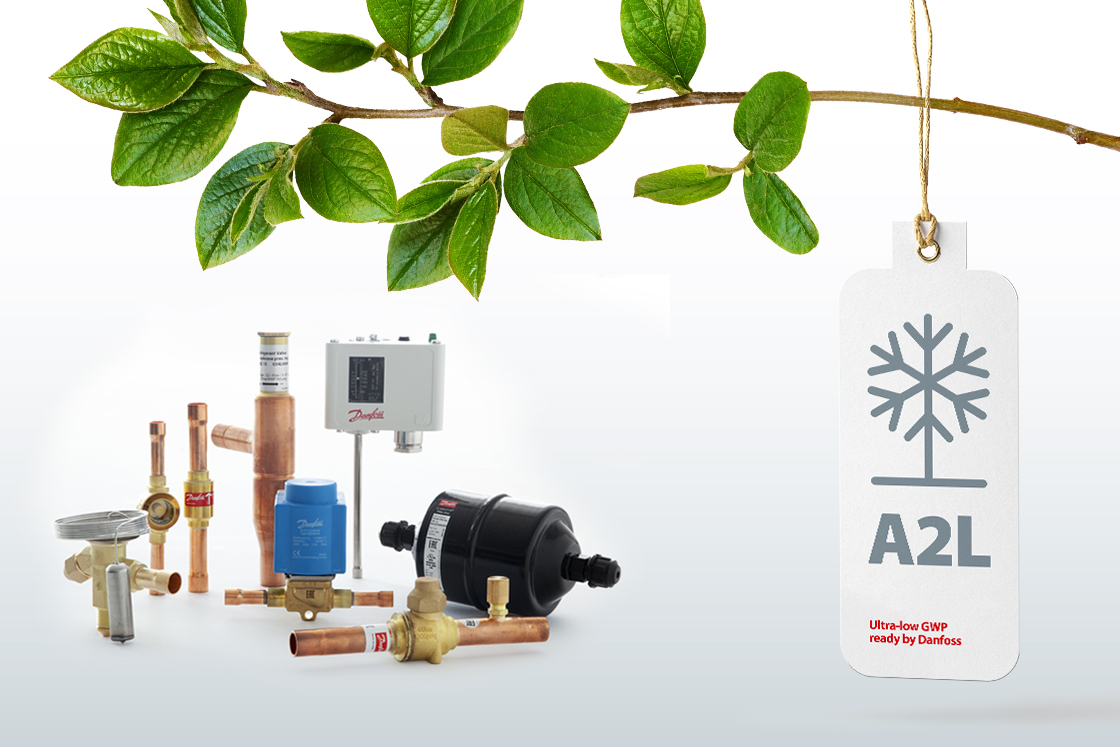 The entire Danfoss portfolio of refrigeration components is now qualified for three A2L ultra-low GWP refrigerants: R454C, R455A, and R1234yf. This complements the previous qualification of the T2/TE expansion valves in July 2020.
In response to demand from customers who want to use A2L ultra-low GWP alternatives to R404A and R134a, we have upgraded our well-known and reliable refrigeration components.
A thorough qualification process has been followed as these ultra-low GWP refrigerants are mildly flammable—carrying the ASHRAE classification A2L—and therefore subject to additional safety requirements. Refrigeration professionals can now safely work with Danfoss products such as the popular T2 expansion valve, EVRv2 solenoid valve, DML filter drier, SGP sight glass, GBC ball valve, and many more.


Danfoss now offers an extended portfolio including product codes with flare connectors (e.g. TE2, TE5) as well as A2L-specific versions of all-electric components—including a dedicated pressure switch range—to prevent ignition.
"When our customers are considering a low-GWP alternative, they can come to us for all the components they need to do a great job," says Gustavo Fernandez, Danfoss Product Management Director of Line Components. "We do not believe that there is one refrigerant for the future, so we have selected the refrigerants that we believe are sustainable in the long term and have developed our product portfolio to cover those refrigerants."
To learn more, watch Gustavo Fernandez and Arpit Sharma, Product Manager Mechanical Expansion Valves, talk about the Danfoss ultra-low GWP portfolio—including CO2 products—during their presentation at the Cooling United Live online conference.
To find the list of components qualified for use with R454C, R455A, and R1234yf, or other refrigerants—and for help with product selection—download our Coolselector®2 software at coolselector.danfoss.com.