It is now less than a year until R404A is banned in new commercial refrigeration applications in Europe, and from 2020 on wards, only recycled refrigerants can be used for servicing. As contractors help hotels, restaurants and food production premises to find alternatives, Danfoss is ready with a wide wide range of components for popular choices like R448A, R449A, R513A, and R452A and more – and free digital tools to help you choose.
With supply uncertain, prices fluctuating and an outright ban on new applications looming, R404A is no longer an option for refrigeration professionals in Europe. Whether you choose to switch to R448A, R449A, R452A or another refrigerant, there are several ways we can help:
Qualified components for the most important recent alternative refrigerants. Our latest approvals and development include EVR v2 solenoid valves; TU, T2, TD1, TE 5-55 thermostatic expansion valves, filter driers, GBC ball valves, NRV check valves and SGP sight glasses. Our MLZ and LLZ scroll (Evolution A), VLZ inverter scroll and MTZ and NTZ (Evolution B) reciprocating compressors are similarly qualified – as well as Optyma indoor and outdoor condensing units.
Multiple-refrigerant compatibility means most of these components are compatible with several refrigerants – which lowers the number of references and brings versatility, while enabling you to keep inventory low.
Free digital tools and apps, to help you choose the right refrigerant and components quickly and easily – from your computer, tablet or mobile device.
In short, when you're ready to move away from R404A, we have several solutions to make the change safe and trouble-free – for both low and medium-temperature applications.  
When is R404A being phased out in Europe?
R404A's Global Warming Potential (GWP) of 3922 is well above the 2500 level imposed by the F-Gas regulation for stationary refrigeration equipment for temperatures above -50°C. It is therefore already affected by EU refrigerant phase-out rules.
Supply has been reduced by quotas, meaning prices have fluctuated a lot in recent months. From 1st January 2020, only recycled R404A will be allowed for servicing – and it can no longer be used in any new cooling and refrigeration equipment.
Official advice is that professionals should stop using R404A as soon as possible.
What is the impact on performance of the system and components?
For cold rooms and other small to medium commercial refrigeration applications, R448A and R449A and R452A or R134a are excellent alternatives to R404A, with from 50 to 65% reduction in GWP. R513A, newer alternative, is also very appropriate in medium back pressure (MBP) applications.
For small, self-contained units (typically in food service), natural refrigerants could be a sustainable long-term option. In new equipment where the charge is less than 150g or when the location permits, A3-class components like R290 and R600A could be ideal. R513A and R134a are also good affordable alternative for MBP systems with a greater refrigerant charge.

These infographics illustrate the impact of refrigerant change on system performance with:
How do I find compatible components that are available now?
Coolselector 2 makes it easy to select the best components to use with low-GWP refrigerants. Enter a few variables – for example, cooling capacity, refrigerant, and evaporation and condensation temperatures – and the software will suggest options to suit your needs. With the "commercial applications" module, you will also find support for cold room load calculations and find all the Danfoss solutions available with your selected refrigerant.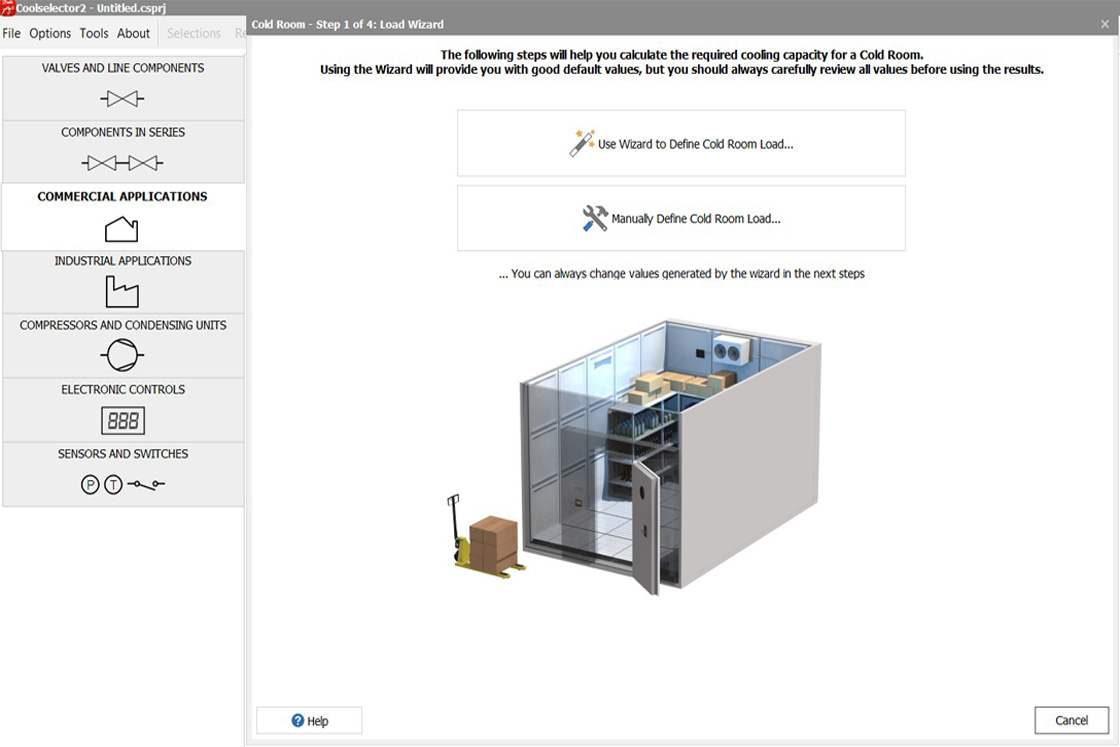 The latest version includes detailed log(p)-h diagrams for a huge selection of refrigerants as well an overview matching components and refrigerants.
It's updated regularly with new products and features – and it's available both online, and as a download for your PC.
Where can I get help with retrofitting new refrigerants?
There is no single, all-purpose replacement refrigerant – but the right tools can make your servicing or retrofitting a lot easier:
Refrigerant Slider is the most popular mobile app for refrigeration professionals worldwide. It turns your smartphone into a pressure-to-temperature ref slider – with detailed information on more than 80 different refrigerants, including GWP, Ozone Depleting Potential (ODP), class, oil type, chemical blend, and CAS number.
The Low-GWP Refrigerant Tool is available in mobile and desktop versions, to help you identify any changes in your TXV's superheat adjustment when switching the refrigerant in your system for a lower-GWP alternative.
Your low-GWP toolbox:
You'll find all these tools in our dedicated Refrigerant Transition Center.
And if you need to know more about the F-Gas regulations, please have a look at our refrigerant white paper.