While much of EcoDesign is around CE marking and ability to sell refrigeration solutions, there is much more to be gained if you approach EcoDesign and HVACR product development in a holistic way. Danfoss is ready to offer compliant solutions as well as guidance. 
Although it is up to the manufacturers to meet these requirements to get the CE marking if they want to sell their products in the EU, the overall refrigeration industry operators will be impacted.
For refrigeration manufacturers, EcoDesign is a chance to stay compliant, future-proof products and get a competitive edge over competitors in the EU – and outside of it. For refrigeration equipment owners, wholesalers and system installers, the legislation marks a turning point towards more sustainable, energy efficient and cost-effective equipment.
The EU EcoDesign directive, also referred as Energy-related Products (ErP) directive, ENTR Lot 1 2015/1095 and 2015/1094 for Professional Refrigeration will enter in its second tier in July 1st, 2018. Affected applications are condensing units, professional refrigerated storage cabinets, blast cabinets, and process chillers.
The directive sets out minimum mandatory requirements for the energy efficiency of products with the aim to improve the overall performance of products and thereby protect the environment by reducing indirect CO2 emissions.
Energy performance targets of the condensing units
After a 1st step in July 2016, the energy performance levels of the condensing units are becoming more stringent. From July 1st, 2018, the Seasonal Energy Performance Ratio (SEPR) or the Coefficient of Performance (COP), depending on the cooling capacities, cannot go under these values:
| | | | |
| --- | --- | --- | --- |
| Temperature | Cooling capacity(kW)* | Measurement | Value |
| Medium temperature(-10°C) | 0.2-1 | COP | 1.4 |
|   | 1-5 | COP | 1.6 |
|   | 5-20 | SEPR | 2.55 |
|   | 20-50 | SEPR | 2.65 |
| Low temperature(-35°C) | 0.1-0.4 | COP | 0.8 |
|   | 0.4-2 | COP | 0.95 |
|   | 2-8 | SEPR | 1.6 |
|   | 8-20 | SEPR | 1.7 |
* Rated Capacity at full load with ambient temperature set at 32°C (Standards: EN13215 / 13771-2)
Highly efficient condensing units
The Danfoss OptymaTM condensing units, both packaged and bare ranges, have successfully passed the EcoDesign 2018 step with SEPR or COP values well above the thresholds. Some of them are also ASERCOM certified and the list is accessible from their website. On top of that, all the ranges come now with lower-GWP refrigerants such as R448A, R449A, R452A, and soon R513A and R290 on the bare light commercial range.
With the CE marking on the products, professionals and end-users are guaranteed to choose compliant, future-proof solutions, achieving substantial savings on electricity consumption. In a transparent approach, Danfoss communicates on the annual electricity consumption of their units and has converted the cooling kW/h ratio into € savings, in an infographic available from their website.
Abstract from the infographic:
OptymaTM Plus INVERTER unit with a certified SEPR of 3.84 is compared with an alternative product in the market using a mechanically modulated technology (source test Danfoss).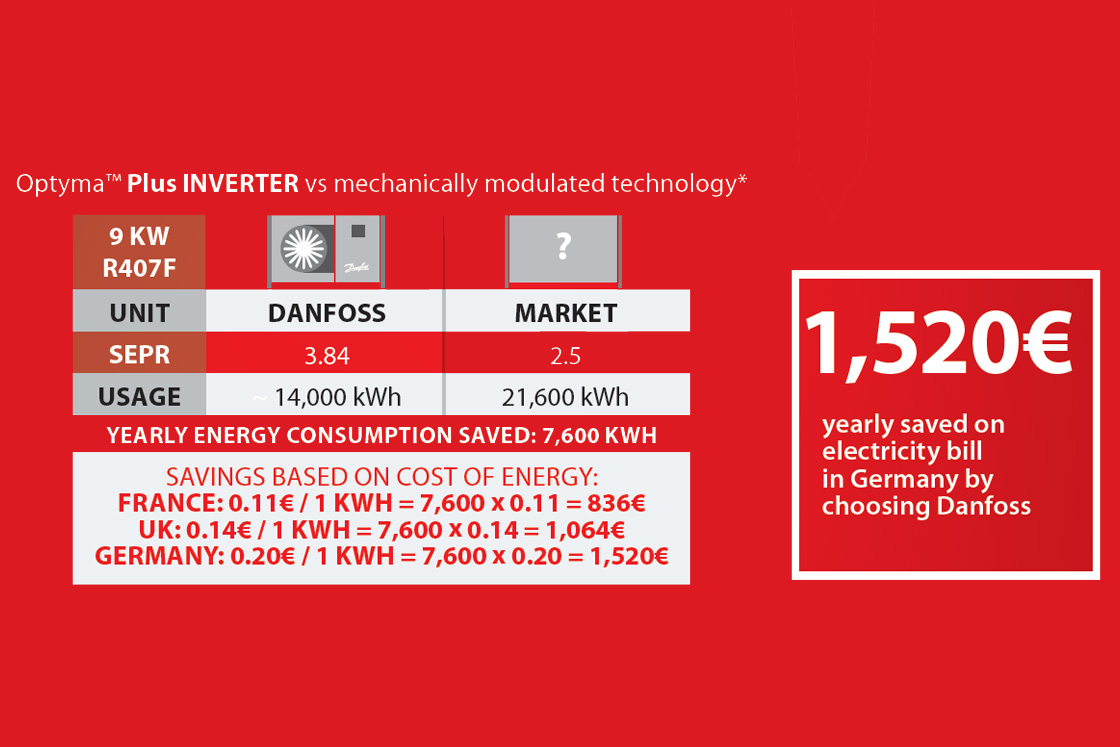 Your toolbox for more information about EcoDesign: